Sadly, XXXTentacion may have disregarded his own fateful advise to 6ix9ine.
Hours after news broke out that rapper XXXTentacion had been shot and killed in a drive-by shooting in Florida, fellow rapper 6ix9ine left a comment on XXXTentacion's final Instagram post.
The comment reads as follows:
"I know I troll a lot but this makes me think twice about shit… nothing but positive vibes you had. I love you man."
Shortly afterward, 6ix9ine posted a video on his own Instagram account, reflecting on mistakes made in his life and talking about the kind of person XXXTentacion was.  He goes on to state he was always spreading positivity and telling 6ix9ine that he could talk to him about anything.  He also apologized to anyone he has offended in the past.
+ XXXTentacion Is Dead: Rapper Gunned Down In Violent Drive-by Shooting
6ix9ine, whose real name is David Hernandez, also posted a tragic conversation he had with XXXTentacion two days ago.
In that conversation, XXXTentacion (Jahseh Dwayne Onfroy) warned 6ix9ine to be safe and to never let his guard down.  All before he was gunned down and killed himself.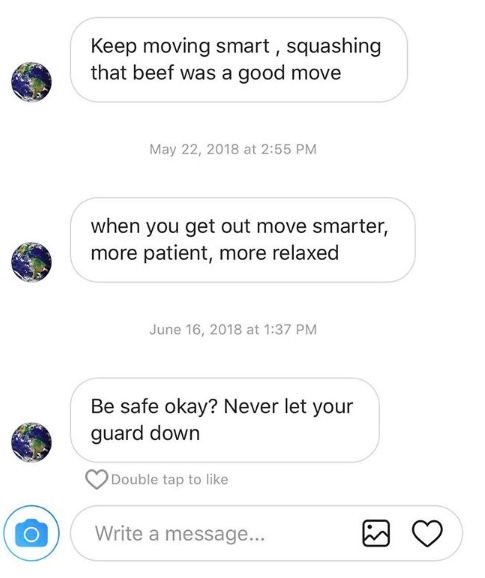 Many celebrities and fans have come out and praised 6ix9ine for his actions in the aftermath of XXXTentacion's death, specifically for taking responsibility for his actions and reflecting upon them.  He has also received many messages of encouragement, as well as prayers to stay safe.
Prayers are something the young rapper can use, especially given his extremely controversial profile.
Many have speculated that XXXTentacion was killed because of a beef with rival rappers. However, many of these beefs were relatively mild.  That includes spats with Migos and Drake, none of which seemed too serious.
6ix9ine, on the other hand, has a notorious reputation for talking a whole lot of smack, and beefing with actual gang sets, members, and gang-affiliated rappers.
Frankly, 6ix9ine carries a far higher risk profile than Onfroy.
For example, 6ix9ine has had a back-and-forth feud with former friend and collaborator Trippie Redd.  Both rappers have been assaulted by members from each other's camps in the past, and Redd has publicly stated that 6ix9ine is banned from L.A.  6ix9ine has also had beef with rappers like the Game, J Prince Jr., and Acie High.
Some these beefs went from verbal to physical.  And that's not even taking into consideration 6ix9ine's alleged gang affiliations, which themselves are the subject of serious dispute.
In fact, people have routinely joked about 6ix9ine getting shot and killed, based on his confrontational and aggressive behavior.  But that talk has now gone from joking to dead serious.  And if XXXTentacion was killed because of a beef, it's reasonable to think that 6ix9ine's past behavior may be putting him in serious danger.
Hopefully, the tragic passing of a friend will be the wake-up call that he needs to get his life together.  His last social media posts seem to indicate he's transitioning to the right path.  Hopefully, this change hasn't come too late.
---