Last night in Los Angeles, a flash mob congregated to commemorate the life and music of XXXTentacion.  Others are deeply questioning the rapper's legacy given his extremely violent abuse against his pregnant girlfriend.
Warning: this post contains graphic images.
In the wake of XXXTentacion's brutal murder on Monday, reactions are predictably polarized.  Fans of the rapper's music are mourning the loss of a talented and influential musician, while critics are wondering whether XXXTentacion is better off dead.  Shortly after his death, gruesome pictures of the rapper's girlfriend circulated, raising questions about whether this talented guy was simply a monster.
Now, a group of XXXTentacion critics are doing something unexpected.  Since the fatal shooting, the rapper's battered ex-girlfriend has received thousands of dollars for reconstructive eye surgery as grim pictures came to light.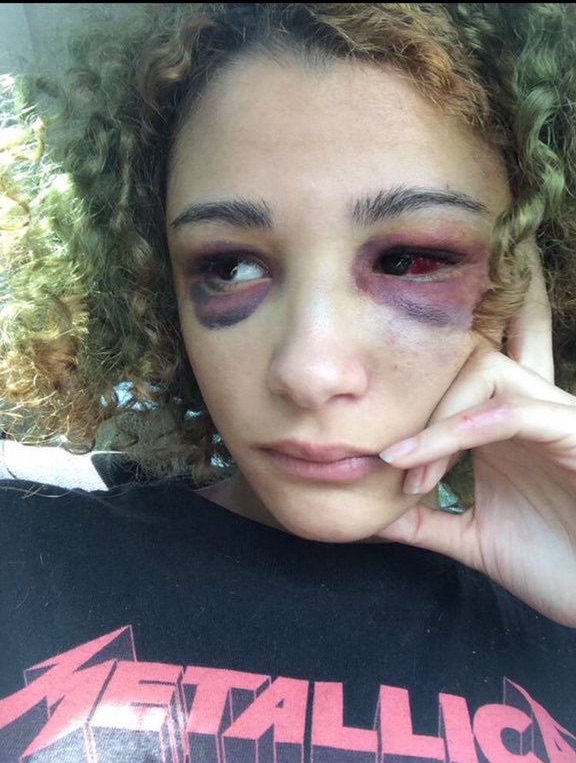 The above image started going viral on Tuesday, roughly 24 hours after XXXTentacion's death.
It became a top-ranked Reddit post, with commenters wondering if the world was celebrating the legacy of a violent and deranged animal.  Given that Ayala was repeatedly getting brutalized by her boyfriend, it's unclear exactly when this photo was taken.
+ Is XXXTentacion Just Another Chris Brown Piece of Garbage?
Even worse is that XXXTentacion (whose real name is Jahseh Onfroy) was assaulting Ayala while she was pregnant with his child.  He even threatened to kill her, multiple times.  According to court testimony, he even threatened to murder the unborn child.
After one particularly violent assault, Ayala was punched so hard that she developed problems with her vision.  Bone fractures also caused her to lose sensation in her face, and she even faced the prospect of blindness in one eye.
At the time of his death, XXXTentacion was fighting felony charges on aggravated battery on a pregnant victim, false imprisonment, strangulation, and witness tampering.  It should be noted that the rapper was still battling those charges, and claimed complete innocence throughout.
Back in 2016, Ayala opened a GoFundMe campaign to pay for reconstructive eye surgery.  As of Wednesday morning (June 20th), the campaign has already raised about $35,000, with more funds likely.
In the campaign, Ayala attaches a detailed doctor's examination.
The report shows serious damage to one eye, as well as numerous fractures to facial bones.  Those fractures were pinching into the eyeball, creating partial blindness and potentially creating permanent blindness.
+ Who Killed XXXTentacion? Soldier Kidd, Soldier JoJo May Face Homicide Charges
The effort started back in late 2016, and we're unclear if Ayala has already been able to start the surgery.  She initially asked for $25,000, and it appears that she reached that goal initially (or came close to it).  But an outpouring of support this week has caused that goal to be greatly exceeded, with roughly $10,000 being added this week.
Here's the description that Ayala initially posted:
october, 2016: there's two fractures in my left eye socket due to an aggressive hit, along with nose and jaw fractures. since these bones are fractured they're piercing into the back of my eyeball causing damage to an optical nerve and my eye itself. the left side of my face has lost some sensation, i cannot feel my upper lip on the left side, and same for my upper teeth on the left side. and as for my left eye's vision, it's diminishing as the days go by. it's crucial i get the surgery otherwise my eyeball will die and the nerve connecting my lip/cheek and teeth will eventually die as well. i'd appreciate anything, this is a very strenuous obstacle that has been put into my hands. also could use money towards my living situation and food. thank you.
Sadly, XXXTentacion's sudden death has been the trigger for the donation surge.  Hopefully it's not too late for Ayala to not only reconstruct her face and regain vision, but also to restart a happy, productive life.
---