California Congressman Miguel Santiago, who counts AT&T as a top donor, recently 'mutilated' California's net neutrality bill, SB 822.
In a move described as a legislative sneak attack, California Congressman Miguel Santiago recently stripped California's net neutrality bill of virtually all of its important protections.  Santiago, who has now been re-branded 'Sellout Santiago,' altered the bill in a late-night session prior to a broader hearing on the bill.
The resulting amendments to SB 822 made it almost unrecognizable.  Even worse, Santiago — as chair of the review committee — refused to allow any debate or changes.  The next morning, California Senator Scott Wiener described SB 822 as 'mutilated,' while noting that 'this is no longer net neutrality bill'.  The full hearing was now focused on a completely different bill, one without any authority to regulate net neutrality.
Laughably, the bill is still labeled a net neutrality bill, but allows mega-ISPs like AT&T to throttle, create paid 'fast lanes,' and discriminate against different websites and apps.  The move was viewed as legislative sabotage, and critics immediately pounced on the discovery that AT&T is Santiago's biggest donor.  Others, including Comcast, have also contributed money to Santiago, raising questions of whether this was outright and blatant corruption.
Now, Santiago is facing the wrath of the internet — both online and offline.
In a scathing attack, the Electronic Frontier Foundation (EFF) called Santiago 'corrupt'.  Others had stronger words, accusing Santiago of selling out his state to high-paying corporate donors.  Twitter decried the 'betrayal,' others flooded Santiago's office with calls or trolled his personal residence.
Someone even altered Santiago's Wikipedia page, putting 'AT&T' as his spouse.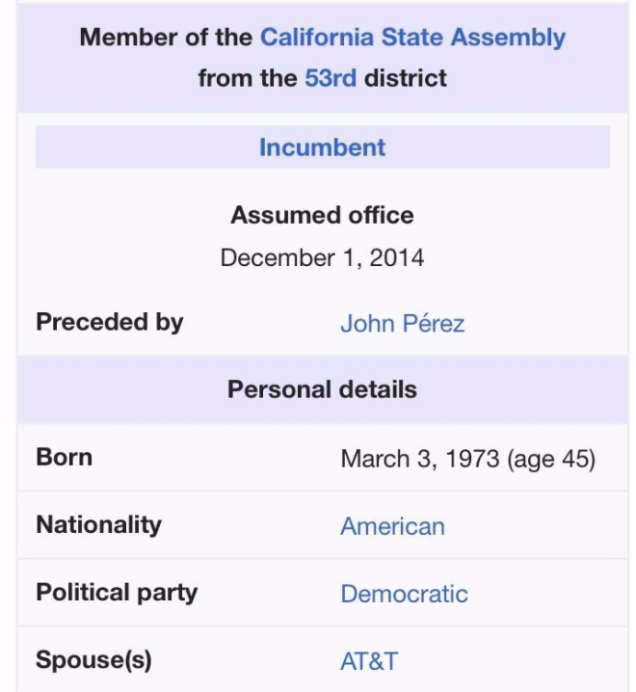 That seething outrage led to protests in the streets, with AT&T a target.
That includes a giant projection of of Santiago's face onto AT&T's corporate offices in Oakland (see above).  The image was accompanied by the message, "Sellout Santiago Must Resign.  #Net Neutrality".
Meanwhile, Santiago has complained of harassment, including attacks against his family. "My personal family pictures have been stolen from my social media platforms and used to create memes. Really? Using pictures of my kids? This is a new low," he said.
Separately, Senator Wiener is making moves to remove SB 822 from the Assembly.
Given that SB 822 is no longer a net neutrality bill, Wiener demanded its removal from the voting process.  That immediately drew the support of Los Angeles mayor Eric Garcetti, who applauded attempts to revive a new net neutrality bill.
California's innovative economy depends on a free and open Internet," Garcetti tweeted.  "With the FCC backing down, we must lead the way on enacting a strong #NetNeutrality law at the state level. Thank you, @Scott_Wiener and @CAptEmeritus, for leading this fight."
California Representative Nancy Pelosi also expressed serious reservations about Santiago's late-night power-move.
Others promised to retaliate with something more severe — the ballot box.
---