Is Childish Gambino's 'This Is America' a rip-off?
Sorry — I'm having a hard time writing this off as plagiarism.  The tracks just don't sound similar enough.   But the runaway train that is the internet is talking these accusations to the extreme.
Accordingly, Childish Gambino, aka Donald Glover, is battling accusations of copying someone else's work.  Plunge into the appropriate Reddit, Twitter, or Instagram thread, and you'll hear people screaming that 'This Is America' wasn't Gambino's work.   Instead, the inspiration apparently came from a relatively unknown rapper named Jase Harley.
Here's the side-by-side.
First, here's Harley's allegedly-lifted track, which is called 'American Pharoah'.
And, here's Childish Gambino's 'This Is America,' which you've probably already heard.
Jase Harley also seems to believe that his work was stolen.
Though he refrained from directly accusing Gambino of theft, Harley tacitly accepted the charges.  Here's what he stated on Instagram:
"I feel extremely humbled to be recognized and labeled as one or the original inspirations for one of the most important pieces of music and visual art of our time.  I appreciate all the love and support! But PLEASE DON'T let this controversy dilute the message me and @childishgambino are trying to convey. We are speaking about injustices we've encountered and he's helped to provide a platform for all our voices to be heard. Let's not discredit him for that! The focus should be on affecting change in our communities and building equality. This is bigger than me and him and bigger than music. Let's not lose focus ??"
Gambino's manager, Fam "Rothstein" Udeorji, has now responded.
He initially blasted Toronto Akademiks/Every White Blogger, who apparently started the accusations.  But Udeorji has since deleted this tweet, raising more suspicions:
"The Internet is a place of no consequences. I hate that [blogger] Toronto Akademiks/every white blogger can say something gospel and y'all take it. this song is 3 yrs old, and we have the pro tool files to prove it."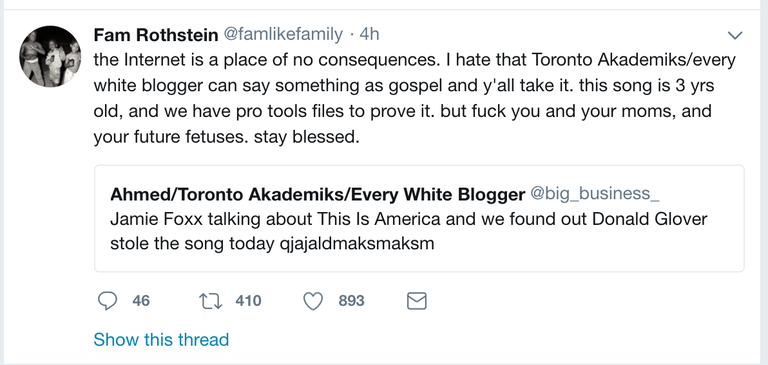 ---