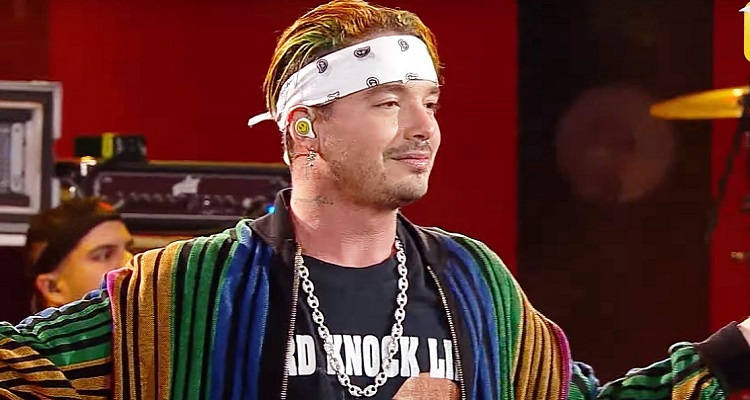 J. Balvin becomes Spotify's most streamed artist.
Spotify has announced that Colombian singer J. Balvin has become the No. 1 artist on the platform.  Thanks to the success of his fifth album, Vibras, he has over 48 million monthly listeners on Spotify, beating out Drake.
---
UTA signs London on da Track.
United Talent Agency (UTA) has signed producer and rapper London on da Track in all areas.  The talent and entertainment company will represent the artist worldwide.
---
PRS for Music signs deal with Auddly.
PRS for Music has signed a long-term licensing deal with song data hub Auddly.  Using a new tool from Auddly, PRS for Music members can capture song and composition data – including agreement of shares – and register their works with PRS at the point of creation.  The partnership also enables creators to communicate directly with other creators to propose and agree on share splits.
---
IFPI targets Twitch livestreams.
The International Federation of the Phonographic Industry (IFPI) has targeted Twitch streamers for playing copyrighted music during their streams.  Following DMCA claims, the platform has hit 10 major streamers with a 24-hour ban.  Affected streamers include xQc, Sinatraa, Daequan, Alfie, Avxry, KittyPlays, Pokelawls, Sneaky, Castro1021, Nico, Symfuhny, and Solluminati.
---
United Sound Systems listed for sale.
Detroit's United Sound Systems has been listed for $1.5 million.  Founded by Italian violinist and recording engineer James "Jimmie" Siracuse, Tamla Records – which later became Berry Gordon's Motown Records – recorded the label's first single there.
---
The Official Irish Charts will also include YouTube music video views.
The Irish Recorded Music Association (IRMA) has partnered with The Official Charts Company and OfficialCharts.com to include music video streams on The Official Irish Charts.  Unveiled every Friday, The Official Irish Charts will include Apple Music, Spotify, TIDAL, and YouTube music video views.
---
Jay-Z launches a VC fund.
Jay-Z, Walden Venture Capital's Larry Marcus, and Roc Nation's Jay Brown have launched a new venture capital.  Marcus will lead Marcy Venture Partners.  Not much is known about the investment platform.
---
Sony Music UK launches Since '93.
Sony Music UK has launched a new label aimed at nurturing grassroots talent – Since '93.  Glyn Alkins and Riki Bleau will serve as Co-Presidents.
---
The Recording Academy announces new changes to the Grammys.
The Recording Academy has expanded the number of eligible nominees from five to eight in four categories – Record, Song, and Album of the Year as well as New Artist.  Recording Academy President and CEO said that the expansion provides "more flexibility to our voters when having to make the often challenging decisions about representing excellence and the best in music for the year."
---
Dawn Ostroff named Chief Content Officer at Spotify.
Spotify has named Dawn Ostroff as Chief Content Officer.  Based in the company's New York office,t he ex-Conde Nast executive will lead content partnerships across music, audio, and video.  Ostroff will oversee Shows & Editorial, Studios & Video, Creator Services, Creator Marketplace, and Content Operations.
---
CAA poaches Josh Lindgren from Billions.
Josh Lindgren has joined the Creative Arts Agency (CAA) as a podcast agent.  He will expand the agency's portfolio of podcasters.  Based in Minneapolis, Lindgren joins from Billions.
---
AEG selected to run Buenos Aires Arena.
AEG Facilities will manage and operate the Buenos Aires Arena in Argentina.  The 16,000-capacity will open in mid-2019 and will host approximately 100 events annually.
---
15 people treated for drug overdoses at Ottowa's Escapade Music Festival.
EMTs in Ottawa treated fifteen people and transported nine people to the hospital during the Escapade Music Festival.  The people were treated "mainly for overdoses" of gamma-hydroxybutyrate (GHB), a party drug.
---
Loreena McKennit announces Lost Souls Tour in the UK.
Canadian singer and songwriter Loreena McKennitt will bring her Lost Souls Tour to the UK next March.  Tickets go on sale on Friday, June 29th.
---
The Joy Formidable announces a North American tour.
Following the release of the group's first single – 'Dance of the Lotus' – the Joy Formidable has announced a North American tour.  The tour to support the group's newest album, AAARTH, kicks off on September 1st in Seattle, Washington, and wraps up on November 10th in Washington, DC.  The Foo Fighters will perform on the tour's first six stops.
---
Tim McGraw and Faith Hill named most anticipated country concert this year.
Tim McGraw and Faith Hill have topped TickPick's list of Top 10 Upcoming Country Concert Tours of 2018.  Ticket prices averaged $148.76.  Luke Bryan/Sam Hunt/Jon Pardi came in second with $130.22.  Rascal Flatts came in last with ticket prices averaging $58.31.

---
Featured image by festivaldevinachile (CC by 3.0)