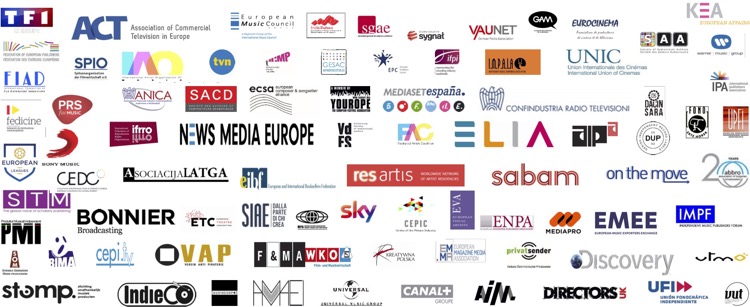 The European music industry is now rallying for the passage of Article 13 and the EU's broader Copyright Directive.  But Article 13 has just as many opponents — including heavily-funded tech giants like Google.
Just last week, the European Union's Legal Affairs Committee (JURI) voted in favor of the Copyright Directive (here's our complete coverage).  That includes the controversial Article 13, which would force companies like YouTube to install active filters on all uploaded content — or face serious penalties.
The broader European Parliament will now vote on the measure in a plenary vote.  That vote now appears slated to happen as early as July 5th.
We've tried to forecast exactly what Article 13 would mean for YouTube, the largest streaming music destination on the planet.  But regardless of the actual numbers involved, the results could be dramatic.  Instead of YouTube's age-old game of allowing uploads en masse, then forcing content owners to deal with it, the burden of proof suddenly shifts.
And with it, so do the legal ramifications.  If the Copyright Directive and Article 13 passes, YouTube could face billions in copyright damages if its filters aren't properly monitoring content uploads.  Suddenly, YouTube's premium music launch has a whole new context.
+ 83% of All Music, Film & TV Piracy Is Motivated by a Lack of Paid Options, Study Claims
The 'value gap,' which refers to the massive price discount that YouTube enjoys on content, would probably vanish overnight.  And theoretically, that would dramatically shift the tables in the music industry, with YouTube forced to pay demanded prices.  All great news for mega-streamers like Spotify and Apple Music, who have been paying full fare since their respective beginnings (and complaining about YouTube's free ride).
It's interesting to note that YouTube frequently responds that there isn't a value gap.  Instead, everything is properly monetized via Content ID, with billions flowing back to content owners.  Critics, including major content owners, have been crying foul on that counter-argument for years.
Now, a total of 84 music organizations and companies have banded together to put pressure on European Parliament.
The group has been rallied by Impala, a longtime activist organization for independent music companies in Europe.  Here's the opening salvo that Impala is sending European legislators.
"We represent 4.5% of EU GDP and 12 million European jobs. We are the heart and soul of Europe's plurality and rich identities. On July 5 we ask for you to back the mandate adopted by JURI on 20 June which is the result of long and intense negotiations. There is a cynical campaign from tech companies flooding the inboxes of MEPs with scaremongering that the copyright directive would be the end of the internet. Please note that this is the 20th anniversary of their first claim that copyright provisions would break the internet. This has never happened."
Here's the list of signatories, which actually goes far beyond the music industry.
Abbro (Association of Bulgarian Broadcasters)
ACT (Association of Commercial television in Europe)
AIM (Association of Independent Music)
AIPA (Collecting Society of Authors, Performers and Film Producers of Audiovisual Works of Slovenia)
AMEI (Associao de Musicos Artistas e Editoras Independentes)
ANICA (Associazione Nazionale Industrie Cinematografiche Audiovisive Multimediali)
Audiocoop (Independent Labels Meeting)
BIMA (Belgian Independent Music Association)
Bonnier Broadcasting
Canal+
CEDC (European Coalitions for Cultural Diversity)
CEPI (European Coordination of Independent Producers)
CEPIC (Centre of the Picture Industry)
Confindustria Radio Televisioni
DACIN SARA (Copyright in Cinematography and Audiovisual Society of Romanian Authors for Audiovisual Works)
Directors UK
Discovery
DUP (Danish Independent Record Association)
ECSA (European Composer and Songwriter Alliance)
EIBF (European and International Booksellers Federation)
ELIA (European League of Institutes of the Arts)
EMC (European Music Council)
EMEE (European Music Exporters Exchange)
EMMA (European Magazine Media Association)
ENPA (European Newspaper Publishers' Association)
EPC (European Publishers Council)
ETC (European Theatre Convention)
Eurocinema (Association de Producteurs de Cinéma et de Télévision)
European Leagues
EVA (European Visual Artists)
FAC (Featured Artists Coalition)
FAMA (Film and Music Austria)
Fedicine (Federación de Distribuidores Cinematográficos)
FEP (Federation of European Publishers)
FIAD (International Federation of Film Distributors' Associations)
FONO (Association for Norwegian Record Companies)
GAM (Guild of Artists of Music)
Gesac (European Grouping of Societies of Authors and Composers)
IAO (International Artist Organisation)
ICMP (International Confederation of Music Publishers)
IFPI (International Federation of the Phonographic Industry)
IFRRO (International Federation of Reproduction Rights Organisations)
IMPALA (Independent Music Companies Association)
IMPF (Independent Music Publishers International Forum)
INDIECO (Finnish indie labels and producers association)
INDIESUISSE (Association of Swiss Independent Music Labels and Producers)
IPA (International Publishers Association)
KEA
LATGA (Lithuanian Copyright Society)
Mediapro
Mediaset España
MPA (Motion Picture Association)
News Media Europe
PMI (Produttori Musicali Indipendenti)
PRS for Music
Res Artis (Worldwide Network of Artist Residencies)
SAA (Society of Audiovisual Authors)
SABAM (Société d'Auteurs Belge – Belgische Auteurs Maatschappij)
SACD (Société des Auteurs et Compositeurs Dramatiques)
Sgae (Sociedad General de Autores y Editores)
SIAE (Società Italiana degli Autori ed Editori)
Sky
SOM (Svenska Oberoende Musikproducenter)
Sony Music
SPIO (Spitzenorganisation der Filmwirtschaft (Association of the German Film Industry))
STM
STOMP (Stichting onafhankelijke muziek producenten)
Stowarzyszenie Kreatywna Polska (Creative Poland Association)
Stowarzyszenie Sygnał (Audiovisual Association for the protection of Intellectual Property Rights)
TF1
TVN
OTM (On The Move)
UFI (Union Fonogragrafica Independiente)
UNIC (International Union of Cinemas)
Universal Music Group
UPFI (Union des Producteurs Phonographiques Francais Independants)
VAP (the anti-piracy group for film and video in Austria)
VAUNET (Association of Commercial Broadcasters and Audiovisual Services in Germany)
VdFS (Verwertungsgesellschaft der Filmschaffenden)
VÖP (Association of Commercial Broadcasters in Austria)
VTMOE (Austrian Association of Independent Music)
VUT (German Association of Independent Music Companies)
Warner Music Group
Yourope (European Festival Association)
---