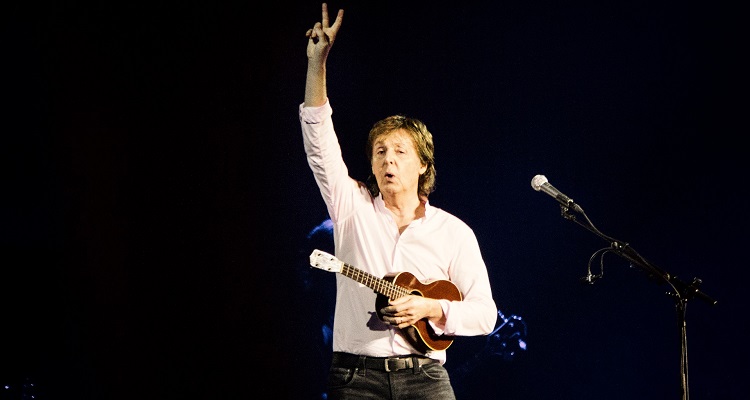 Article 13 just found its biggest backer yet: Sir Paul McCartney.
Paul McCartney has joined the music industry's effort to support the reform of copyright rules in Europe.  On the eve of a momentous vote, McCartney urged legislators pass the Copyright Directive to protect musicians, songwriters, and music creators.
The British legend called on members of the European Parliament (MEPs) to vote in favor of the 'Directive on Copyright in the Digital Services Market' initiative.  The measure, according to McCartney, would protect creators and publishers' works online.  Specifically, the singer has lobbied for a controversial provision of the bill known as Article 13.
Article 13 would force tech giants to install "effective technologies" to identify if user-generated content (UGC) on their platforms infringes on existing copyrights.  The provision would end YouTube's historic exploitation of safe harbor loopholes in Europe.  Google would have to eliminate the "value gap," thus ensuring the music industry receives fair payouts for artists' works.
Article 13's opponents have lambasted the Copyright Initiative.  Supported by tech giants – including Google – critics argue the measure would effectively 'censor the internet.'  Thanks to what they call "censorship machines," users, for example, won't be able to share memes, remixes, and other unique UGC.  The Open Rights Group, pushing MEPs to sink the initiative, wrote on Twitter,
"If #Article13 passes, it will change the way that the Internet works, from free and creative sharing, to one where anything can be instantly removed, by computers."
Wikipedia also joined the protest, placing a geoblock in Italy yesterday, effectively preventing Italian users from accessing the site.  In France, the online encyclopedia flooded visitors with banners urging them to sign a petition titled 'Save Your Internet.'
Supporters have said that the Copyright Initiative would guarantee content creators fair payment for their work online.  The measure includes Article 11, which would forces news aggregators to pay a link fee to news sites for using snippets from their articles.
Michael Dugher, Head of UK Music, fought back against claims of censorship.  On Twitter, he told his followers,
"Some absolute rubbish has been written about the EU's proposed #copyright changes.  Among the most ludicrous is the claim it will mean the end of memes, remixes + user-generated content.  This is desperate + dishonest."
Alex Voss, a German MEP who advocated for the Copyright Initiative, lambasted critics' attempts to sway MEPs.  Calling opponents' arguments to end Article 13 "fake news," Voss wrote,
"This is going beyond what is acceptable.  We had this with banks, with telecoms, and with internet giants.  We will not end the internet."
MEPs will vote on a draft text of the new laws on Thursday (July 5th).  If passed, the European Parliament will debate on the Copyright Initiative, which requires the majority approval of EU members and the European Parliament before it becomes law.
You can read McCartney's letter in full below.
"Dear Members of the European Parliament,

I write to urge your support for the mandate on Copyright in the upcoming plenary vote this week.

Music and culture matter.  They are our heart and soul.  But they don't just happen: they demand the hard work of so many people.  Importantly, music also creates jobs and economic growth and digital innovation across Europe.

Unfortunately, the value gap jeopardizes the music ecosystem.  We need an Internet that is fair and sustainable for all.  But today, some User Upload Content platforms refuse to compensate artists and all music creators fairly for their work, while they exploit it for their own profit.

The value gap is that gulf between the value these platforms derive from music and the value they pay creators.

The proposed Copyright Directive and its Article 13 would address the value gap and help assure a sustainable future for the music ecosystem and its creators, fans and digital music services alike.

Please vote to uphold the mandate on Copyright and Article 13. You hold in your hands the future of music here in Europe.

Thank you for your consideration.

Sincerely,

Sir Paul McCartney."
---
Featured image by darkmoon1968 (CC0)