Rap, hip-hop, and R&B account for more than one-third of all music streaming this year, according to Nielsen Music.  But rock n' roll isn't nearly as dead as you think.
If you're wondering why Spotify so quickly retired its 'Hate Conduct Policy,' here's your answer.  That's right, the data on rap is overwhelmingly strong, which means Spotify's moral crusade would have been a costly one.
According to data shared with Digital Music News by Nielsen Music this morning, more than one-third of all music streaming comes from the uber-genre of rap, hip-hop, and r&b.  More specifically, 36.4% of all on-demand music streams counted by Nielsen came from the 'Hip-Hop/R&B' genre, which also encompasses Rap as a sub-genre.
Even more astounding: 37.5% of all audio-only on-demand streams come from the genre, particularly on Spotify and Apple Music.
But even YouTube's music streams are dominating by hip-hop n' r&b.  According to the Nielsen dataset, 34.2% of all on-demand video streams come from the genre.
Amazingly, R&B/Hip-Hop accounts for 12.2% of physical albums, and 31.2% of all music sales in the US.
Here's a quick genre breakdown for the first half of 2018 — for all formats.
As you can see, good ol' rock n' roll is still holding its own.  Pop and Latin are also trending well across on-demand streaming platforms, though EDM is decidedly fringe.
For the classical and jazz aficionados, it looks like more people listen to Migos than Mozart or Miles Davis.  But the finer genres are still on the charts, and may always remain solid niches.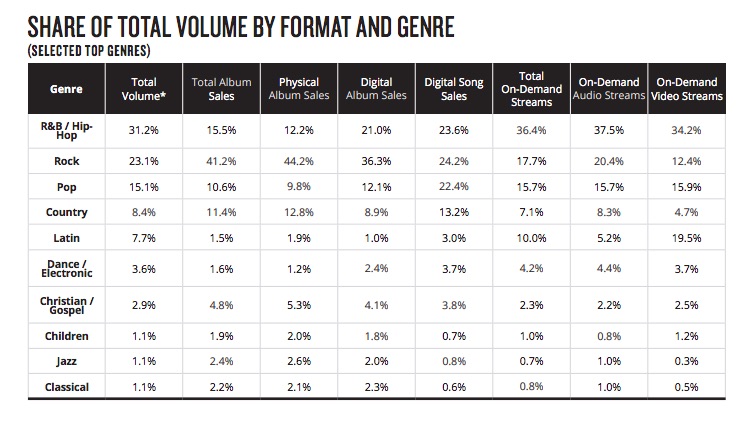 We don't have a similar dataset for internet radio, technically referred to as 'non-interactive digital streaming' (sexy name).
But Nielsen did note that non-interactive platforms like Pandora were dominated by artists like Drake, Post Malone, Cardi B, and Khalid.  In fact, the two most-played songs during the first half of 2018 were Drake's 'God's Plan' and Post Malone's 'Psycho,' with Bazzi's 'Mine' coming in 3rd.
Of course, one can correctly quibble that Bazzi is categorized as Pop.  But a quick listen to the beat of 'Mine' blurs that definition a bit in the direction of hip-hop.  Woe is she who attempts to silo genres.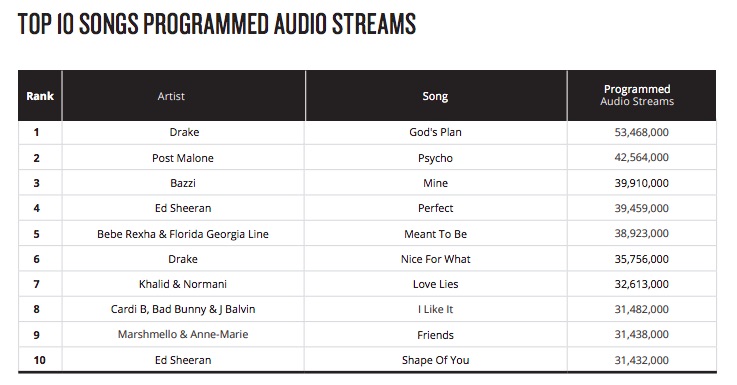 Swing over the top 10 songs list happening across on-demand streams, and the story shifts a bit.
Taking a step back, overall on-demand streaming boomed 43.6% during the first half of 2018.
That is, to a very powerful 403.4 billion streams.  Of that, audio-only streaming on platforms like Apple Music and Spotify boomed 45.4% to 268.2 billion streams.  Video on-demand streams jumped 34.7% of 135.2 billion streams, which is roughly half of audio-only plays.
That last statistic will be a very interesting one to watch, especially as the music industry kvetches over YouTube's outsized influence on streaming valuation.  Perhaps a greater shift towards audio-only on-demand streaming will shift the negotiating table a bit, though Google's recent victory over Article 13 means that YouTube's user-generated loophole will continue indefinitely.
It should also be noted that these YouTube figures may be seriously underrepresented.  Separate data shows an eclipsing YouTube total, with the video hub often regarded as the biggest music listening platform in the world.
Outside of vinyl, pretty much every other 'traditional format' is plunging.
That includes paid song downloads, which tanked 27.4% to 223.1 million units.  That suggests a serious plunge towards zero, with platforms like Apple's iTunes becoming irrelevant next to streaming.
Digital album downloads were in the same leaky boat, with a 21.7% drop to 27.5 million.
On the physical side, vinyl LPs bumped another 19.2% in the US, according to the stats.  In total, Nielsen counted 7.6 million LPs sold during the first half, with Record Store Day undoubtedly playing a critical role in that bump.  Also getting kudos is Jack White, who has now emerged as vinyl's most charismatic spokesman.
Appropriately, White's Boarding House Reach topped the US-based LP chart for the first half, with 37,000 units.
Actually, the whole 'rock is dead' mantra took another twist in 2018.  Expectedly, the format totally over-performed in categories like physical albums and paid album downloads.
---