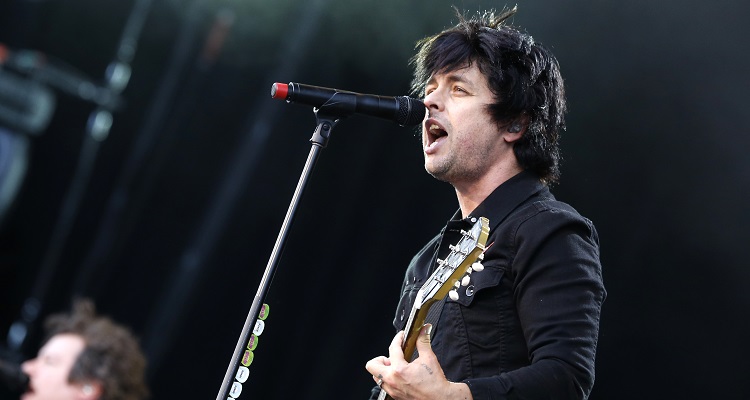 In case you were wondering how the British feel about Donald Trump…
Green Day's 'American Idiot' has steadily climbed the UK Charts ahead of President Donald Trump's visit.
Yesterday, the song topped Amazon's ranking of best-selling songs.  It also ranked on iTunes Top 10.  According to Chart Data, the song landed on the Top 20 on Britain's Official Singles chart.
Fans have apparently rallied together to increase the song's popularity and keep it at the top spot.  First posted on Facebook late last week, a new campaign launched with a very particular motto – 'Make American Idiot Great Again.'
A post on the social media platform page reads,
"Let's give him the welcome he deserves.  We're doing this for the amusement as it will annoy him."
A separate post on Twitter last week invited people in the UK to frantically download and stream 'American Idiot.'
Speaking about the campaign's sudden popularity, founders Keith Curle and Geoff Thomas told the Washington Post,
"Us in the UK have a good record of protesting in this way.  We are the country who put Sex Pistols and Rage Against the Machine at No. 1 in the past."
Green Day first wrote the song to protest the Iraq War.  The group has yet to issue a comment on the campaign.  Yet, band members have previously expressed their frustration at the current US President.  Specifically, with Donald Trump's politics.  During a performance at the 2016 American Music Awards, they famously chanted,
"No Trump / No KKK/ No fascist USA!"
Though undoubtedly popular, 'American Idiot' faces stiff competition from another well-known track in the country.  Thanks to England's success thus far in the World Cup, soccer fans in the UK have tried to get The Lightning Seeds' 'Three Lions' to No. 1.
Protestors have planned a series of events when President Donald Trump visits the country.  A giant "angry baby" balloon will reportedly fly over London when he stops by this Friday.
According to Bloomberg, President Trump had caught wind of the protests.  He reportedly asked Prime Minister Theresa May to "guarantee" there would be no protestors.  She ultimately denied the US President's request, however.
"May responded to say such treatment was simply the way the British press operate, and there wasn't much she could do.  In the secure bunker underneath the prime minister's office, her advisers listened in to the call in astonishment at Trump's demand."
---
Featured image by Sven-Sebastian Sajak (CC by 3.0)