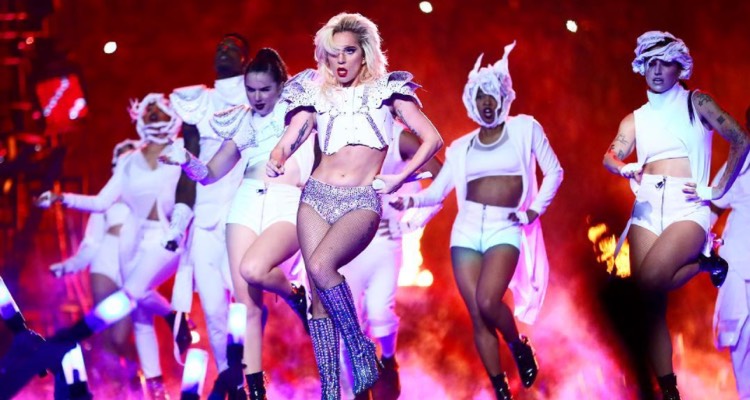 Lady Gaga founds Haus Beauty.
Lady Gaga has quietly launched a new startup.  Dubbed Haus Beauty, the company has the support of an influential Silicon Valley VC firm – Lightspeed Venture Partners.  CEO Ben Jones runs the startup, currently in 'stealth mode,' and its offshoot, Honest Beauty.
---
Duran Duran frontman denies sexual assault allegations.
Duran Duran frontman Simon Le Bon has denied sexually assaulting an employee at a record store.  Shereen Hariri alleged he groped her during an autograph session held at the Los Angeles store.  In a statement to the Detroit Free Press, she explained in graphic detail,
"And while cameras clicked away, I felt Simon Le Bon's left hand brashly and ridiculously move to my right butt cheek.  He started massaging it, then kneading it more firmly, then making his way down my butt to my genitals, then rubbing my labia."
In a Facebook post, Le Bon denied the allegations.
"The behavior that Ms Hariri has accused me of would have been just as inappropriate and unacceptable to me then as it is today.  But the allegation is simply untrue.  When Ms. Hariri first contacted me about her claim months ago, I proposed meeting with her in person so I could set the record straight.  Instead, she has decided to pursue this publicly.  I have always been one who can admit to my mistakes and apologize for my failings.  But I cannot apologize for something I did not do."
---
Spotify stock reaches all-time high.
Spotify's share price has reached an all-time of $189.97, valuing the company at over $33 billion.  The company's stock price is 42.6% higher than its opening reference price ($132) and 26.3% higher than its first-day closing price ($149.01).
---
Shaun White's Air + Style Festival canceled in Australia.
Organizers have canceled snowboarder Shaun White's inaugural Air + Style Festival in Australia weeks before launching.  The three-day event has successfully taken place in Los Angeles, Innsbruck, and Beijing.  It's unknown if previous allegations of sexual assault played into the cancellation.
In a statement to festivalgoers, White explained,
"We had partnered with a company that we believed shared our vision and values, but ultimately they did not.  Unfortunately, this left us in difficult situation, which resulted in a forced cancellation of the weekend."
---
Truck hits Glass Animals drummer Joe Seward, forcing performance cancellations.
Glass Animals has postponed several upcoming performances after a truck hit drummer Joe Seaward.  The incident occurred in Dublin almost two weeks ago while Seward rode his bike.  Seward broke his leg in the accident and was "tangled in the truck's trailer where his skull suffered a complex fracture."  He has had two operations but remains on a "long, difficult, and winding road" to recovery.

---
Paul Simon releases new album for last dates of his final tour.
Legacy Recordings has announced the release of Paul Simon's 14th solo album – titled In The Blue Light — on September 7th.  The date coincides with the final dates of his farewell tour.
---
The YouTube vs. Twitch streaming war heats up.
YouTube has reportedly terminated accounts promoting Twitch streams.  The company removed Linus Tech Tips, Surny, and Aztroszt's channels after they uploaded videos to promote their content on Twitch.  The content creators have millions of followers.  YouTube has denied taking action against them and has since reinstated their accounts.
---
K-Pop still on the rise, with TWICE's new music video hitting 200 million views.
TWICE's 'Heart Shaker' has surpassed 200 million views on YouTube.  The K-Pop girl group's management agency, JYP Entertainment, uploaded the video last December.  'Heart Shaker' has become TWICE's fifth music video to cross 200 million views.
---
Can Sprint's new phone plans revive Jay-Z's sinking TIDAL?
Sprint has unveiled a new Unlimited Plus phone plan bundling a subscription to TIDAL.  The new plan will also include Hulu access, a 15GB mobile hotspot, global roaming, and unlimited talk, text, and data in the US.
---
Triller unveils monetization feature.
Triller, a music video maker app, has launched a monetization feature allowing influencers to raise money from fans, brands, and music labels.  The company hopes creators use the money for college as well as new video equipment to further their careers.  Triller has over 28 million users around the world.
---
ICM Partners signs Young Jefe.
Rapper Shy Glizzy – also known as Young Jefe – has signed with ICM Partners for worldwide representation in all areas.  A team of international agents led by Mari Davies will represent the rapper.
---
Five employees exit BBRMG as several more join.
Five employees have left BBR Music Group (BBRMG).  The news comes after reports confirmed BBRMG and BMG have restructured, folding Red Bow Records into BBRMG's core imprints – Broken Bow Records, Stoney Creek Records, and Wheelhouse Records.  Exiting staff members include Neda Tobin (Red Bow Director of National Promotion), Jeff Davis (Red Bow Director of Northeast Promotion), Jim Malito (Broken Bow Records Director of National Promotion), Allyson Gelnett (Stoney Creek Records Director of Northeast Promotion), and James Wesley (BBRMG Secondary Promotion).
BBR Music has also announced new appointments.  Shelley Hargis has joined Broken Bow Records as Co-Vice President of Promotions alongside Lee Adams.  Kendra Whitehead and Caitlyn Gordon will transition from Red Bow Records to Wheelhouse Records as Directors of Promotion.  Lexi Wilson, Wheelhouse Records' Director of Promotion, West Coast, will move to Stoney Creek Records and will serve as Director of Promotion, Northeast.  Matt Holmberg will serve as Manager of Secondary Promotions.  Andrea Knipp will serve as Promotion Coordinator for Wheelhouse Records, Broken Bow, and Stoney Creek Records.
---
Crowd Surf makes two appointments.
Crowd Surf has appointed Sarah Gaupel and Emily Bowman as Marketing Account Managers.  Co-founders Cassie Petrey and Jade Driver confirmed the announcement.
---
BMG announces two key promotions.
BMG has promoted Ben Katovsky to Chief Operating Officer.  He will oversee key functions contributing to the growth of the business.  Ama Walton has also received a promotion.  She will serve as Global General Counsel and Chief Human Resources Officer.  Walton will oversee all human resources functions and HR teams across BMG's worldwide team, in addition to her responsibilities for legal, digital, and business affairs.
---
Nancy Sinatra passes away.
Nancy Sinatra, Frank Sinatra's first wife and the mother of three of his children, has passed away.  She was 101. Nancy Sinatra confirmed the news in a Twitter post.
"My mother passed away peacefully tonight at the age of 101.  She was a blessing and the light of my life.  Godspeed, Momma. Thank  you for everything."
---