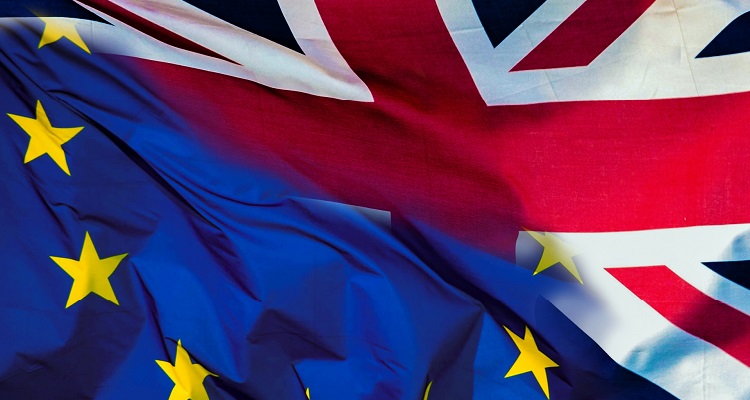 According to Beggars Group, Brexit could have a serious impact on the British music industry.  Especially on indie artists.
Beggars Group, a UK-based label group, has issued a warning to the British music industry.  The group – which houses labels Rough Trade, XL Recordings, and 4AD – expressed its concerns about the impact of Brexit on local artists.
In a statement, the company's Directors wrote,
"Revenues from the EU are a critical element of the business.  Therefore, it is of some concern that the arrival of Brexit may hold back further growth."
Specifically, the music group worries Brexit will lead to "restrictions on passage for staff and artists."  Local musicians, labels, trade bodies, and other organizations will have to deal with tariffs, duties, and tax withholdings on royalty payments.  In other words: endless paperwork, extra costs, and head-splitting hassles could be ahead for British acts and labels.
Brexit, the group argues, will ultimately hinder the industry's relationship with EU-based independents.
"We are concerned with the uncertainty around post-Brexit plans for adopting EU Directives and Regulations that currently serve to protect our IP rights."
The announcement echoes a similar warning made earlier this year.
Speaking about the political impact of Brexit, Geoff Taylor, BPI's CEO, said,
"[The] government must ensure our musicians are able to tour freely even after we leave the EU.  We should also make the UK the best place to invest in new content by forging an online environment that is safe for consumers and where illegal sites cannot flourish."
But how will Brexit truly impact the British music industry?
Nobody really knows.  Yet, several top executives have issued strong warnings about what could happen.
First, artists would have to apply for costlier visas to travel around and perform in EU member countries.
Achal Dhillon, Managing Director of Killing Moon Records, says EU countries could heavily tax artists while transporting goods.  Musicians would also have to file for an additional legal documents to travel with their music equipment.  An EU tour carnet would cost around £1000 to £2000 ($1,313 to $2,627) for 12 months.
Major artists like Ed Sheeran and Dua Lipa can easily afford to cover the visa; most indie artists can't.
Dhillon explained,
"The idea of having to apply for visas, insurances and other tax levies that may well occur as a result of leaving the EU – particularly when record release campaigns and indeed our artist management clients' projects are already on a shoe-string budget that just about makes these project viable as it is – are obviously going to unduly affect both my own business and the UK industry as a whole."
Second, the cost would hit festivalgoers the most.
Samuel Nicholls, Senior Lecturer in Music at Leeds Beckett University, explained consumers would have to foot the bill.
Musicians would have to declare merchandising brought into the EU zone – T-shirts, CDs, vinyl, etc.  Fans would have to pay more just to support an up-and-coming musician.
"Dependent on what the agreements are, it could mean having to declare any merchandise you are bringing into the EU zone (tshirts / cds / vinyl), and possibly pay duty on them at entry / exit."
British indie artist Ady Suleiman currently enjoys traveling across Europe to perform in front of fans.  Speaking with the BBC, he explained,
"We just did 14 different dates in 14 different cities.  It's been so easy to get to the shows, we get in the van and drive."
Yet, once Britain leaves the EU, he expects things to become financially difficult.
"But if that became more expensive and you had to get things like visas, I'd start making quite a big loss."
BPI Council Member Vanessa Higgins agrees.  Speaking with Metro UK, she explained the additional cost of the tour carnet would eventually lead to higher ticket prices.  Indie artists performing in Poland, for instance, would likely charge much higher rates.  This, of course, could discourage them from performing in EU countries altogether.
"That could stop many acts of all sizes from being able to tour in Europe.  A real shame for the careers of home-grown talent, for European audiences, and for British audiences who enjoy a festival in the European sunshine."
Third, physical album sales – currently on the decline worldwide – would plummet altogether.
According to Paul Pacifico, CEO of the Association of Independent Music, Britain remains a strong net exporter of music.  Yet, he fears opportunities for local artists and commercial partners will eventually diminish.
"Anything that reduces access to international markets is not in the best interests of UK music and particularly the dynamic and creative independent sector which is responsible for so much of the most creative output."
Fourth, don't expect just British artists to feel the pinch.
Barcelona singer/songwriter Pavvla loves performing in Europe.
"At least for Spain, the British industry is something people really look up to, it's a massive influence.  I still want to give it a go."
Thanks to Spotify UK featuring her songs across multiple playlists, she performed in London last year.  Yet, Brexit will likely complicate her opportunities to freely perform in the country.
Live Europe, an organization that works with emerging talent to reach a new audience, called Brexit "a wake-up call."
"A lot of people in the music sector were against Brexit and they really want to continue working with the networks they have established in Europe."
But, have some executives merely exaggerated the risk?
Britain currently accounts for a quarter of the music market in Europe.  Alison Wenham, CEO and Chairwoman of Worldwide Independent Network, doesn't believe Brexit will truly impact on the industry.
"The music industry has always been an international market and our global success will continue with Brexit unlikely to reduce demand for our artists across the world.  With the creative industries driving strong growth in the U.K. we are confident that we can maintain our enviable international position, with our government acutely aware of our cultural and economic value."
That's all well and good for major artists.  But what about more vulnerable indie artists?
---
Featured image by George Hodan (CC0)