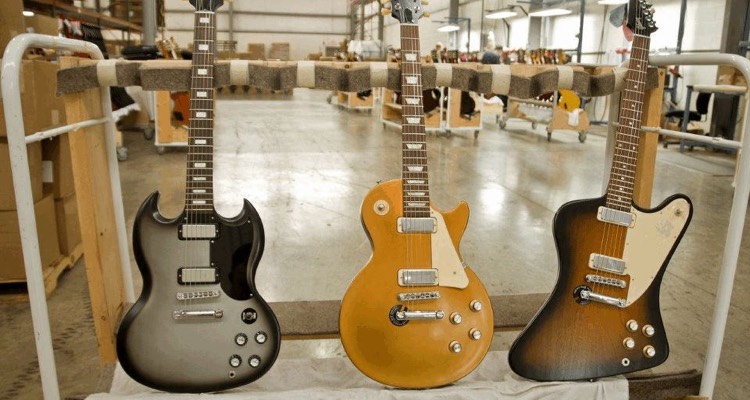 Gibson Guitar's financial mess has only been worsening since declaring Chapter 11 bankruptcy.
After months of speculation, Gibson Brands, Inc. finally filed for bankruptcy protection back in May.  But it's unclear if the company is going to make it out of the woods.
Since May, Gibson has been attempting to restructure its corporate debt and determine a designated debt payment plan.  The secured creditors of Gibson Brands are actually in agreement with the bankruptcy repayment schedule, but that only represents 69% of the company's debt.
The other 31% is unsecured debt with GSO Capital Partners, who loaned Gibson operating capital alongside its acquisition of a musical accessories company selling Phillips electronic products.  That integration into the Gibson musical instrument sales business turned out to be a disaster, with Gibson now reverting back to the traditional instrument sales market.
Actually, that's just one of several diversification attempts gone sour, with Gibson's core guitar business suffering.
+ Gibson Guitar Was Stiffing Its Top Suppliers for Months — With Millions In Unpaid Invoices
Just recently, Gibson submitted a bearish statement concerning the instrument sales outlook for its standard product line that includes the iconic Les Paul, SG, Flying V, and acoustic J-45 and Hummingbird models.  Gibson Guitar also manufacturers Wurlitzer and Baldwin Pianos as well as an assortment of mandolins.
They actually hold a 40% market share among sales of high-end guitars beyond the $2,000 price threshold, even though sales have been down during the past year.
Overall, sales have been soggy, raising questions of whether a structured comeback is possible.  GSO Capital Partners has argued that the company should potentially consider liquidation of the remaining inventory to pay their debt in full in short order.
What this means is that the maker of what many call the "world's finest guitars" could be poised to end their rein as a leading guitar manufacturer.
The reason is that Gibson simply cannot arrive at an agreement with their creditors over the financing of their previous business venture.  Anticipated sales did not measure up to expectations.
A bankruptcy magistrate will now have to review the bankruptcy protection payment plan and approve the submission.  That submission is already receiving serious argument from various creditors.
The show is not over until the last song is played, but Gibson Guitar may be playing its last notes.
---