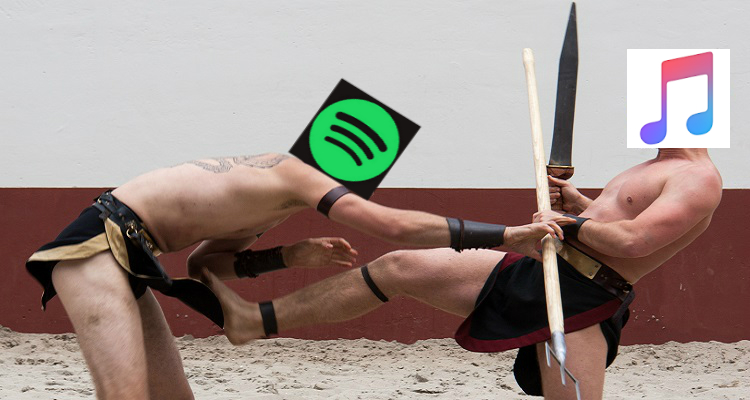 Family plans, student discounts, and even Hulu bundles.  No wonder Spotify has fallen to second place in the US.
Earlier this year, the Wall Street Journal published a very surprising report.
According to the newspaper's research, Apple Music would overtake Spotify's total US subscriber tally this summer.  Earlier this month, a US-based music distributor confirmed that the prediction had become reality.  Apple Music was "a hair ahead" Spotify in terms of US-based subscribers.
Now, a new study explains why Spotify has seemingly 'lost' the music streaming wars in the US.  And, why it will continue to lag behind.
So, why do so many Americans readily abandon Spotify?  Options, options, and even more options.
Consumer Intelligence Research Partners (CIRP) has published its analysis of Spotify's user consumption patterns.
At the end of the second fiscal quarter of 2018, 35% of users had a Premium plan.  Breaking down Premium subscriptions, only 55% had an individual $9.99/month subscription.  24% – a "significant amount," according to CIRP – have a Family Plan, and 12% a student plan.
Showing a slight success with its recent partnership, 9% have a Spotify Premium/Hulu subscription.
CIRP based its finding on surveys of 500 people in the US who used Spotify in the period from April to June 2018.
According to the Wall Street Journal, Apple Music has a 5% subscriber growth rate in the US.  Yet, the newspaper admitted that analysts shouldn't expect the service to replicate its success worldwide.  While Spotify has a 2% subscriber growth rate in the US, it has an explosive 7% growth rate around the world.
But, why does Spotify have a lower subscriber growth rate in the US?  Josh Lowitz, Partner and Co-Founder of CIRP, explains,
"The US is a competitive market with a number of options for both free and paid streaming music."
Just take a look at Amazon Prime.  The e-commerce giant has 90 million subscriptions in the US alone.  That number increases each financial quarter.  Amazon offers two streaming music options for its 90 million subscribers – Prime Music for free and Amazon Music Unlimited at a discounted price.
Once Prime users become aware of this option, signing up for a $9.99 individual plan on Spotify doesn't really make much financial sense.
In fact, Lowitz adds that because of Spotify's "alternative subscription options," people may not want to pay for an individual plan.  This explains why Spotify has a much higher 'churn rate' – the percentage of subscribers that cancel Premium.  For the second quarter of 2018, CIRP calculated a 16% churn rate in the US, much higher than the company's global rate.
In addition, CIRP found that Spotify's free, ad-supported model remains the company's Achilles' heel.  16% of Premium subscribers ended their subscription, choosing instead to stream music on the ad-supported model.  Some stopped using the service altogether.  Only 11% of the company's users on its ad-supported service started a trial Premium subscription – not exactly the figure company executives or investors want to hear.
Yet, the report also reveals a silver lining for Spotify.
In the US, 74% of trial Premium users continue with a Premium subscription once the trial ends.  The company has recently revealed it has 75 million subscribers worldwide, with an additional 95 million monthly active users streaming music on its ad-supported service.
So if CIRP's 74% trial Premium-to-paid-subscription rate remains constant around the world, expect Apple Music to remain in second place for a long time.  At least, around the world.
---
Unedited featured image by Hans Splinter (CC by 2.0)