Atlanta-based rapper Rich the Kid has teamed up with Adidas and two other Atlanta natives to design a new pair of sneakers with a musical twist.
The Adidas SpeedFactory AM4MLS is a collaborative design by Darlington Nagbe, rapper Rich the Kid, and Travis Love. The project was dedicated to the rising Atlanta music scene.
Production of the shoe started on July 23rd and was made available for sale on July 28th in limited quantities. The shoe is available exclusively through a pre-order process and cannot be found in retail stores.
The AM4MLS features a red and black crossfaded design, which are the two primary colors associated with Atlanta.  According to the graphic designer Travis Love, the interweaved design on the sneakers is designed to be representative of the unity and interaction among the diverse creative community that lives in Atlanta.
A heart has been incorporated into the design to represent the pulse of Atlanta and trends that surpass the bounds of the city to become national influences.
The design was created with the help of Speedfactory, an Atlanta-based design firm.  The company says that it helps designers get their creations into the hands of consumers much faster than standard industry practices.
All three creators attributed their own personal touch to the new pair of sneakers, with Rich the Kid supplying a curated Spotify playlist that is embedded in the sneakers via an NFC chip.
Rich the Kid's Spotify playlist includes 21 tracks that are intended to pay tribute to the Atlanta hip-hop scene.  Aside from the nifty playlist included, these shoes also feature a patented Torsion system that provides maximum cushioning and smooth heel to toe movement.  Or at least that's the rap from Adidas — we haven't tried them!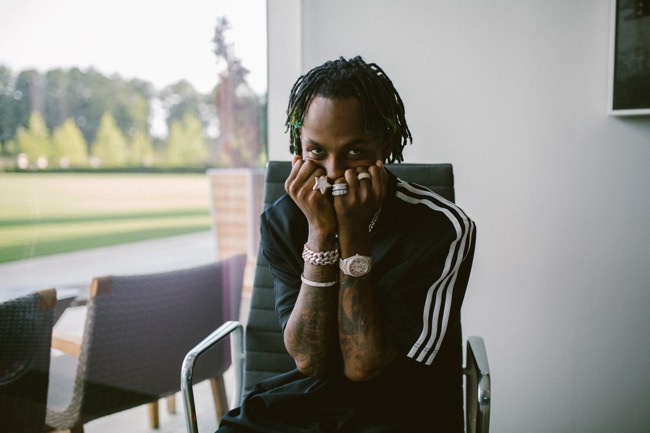 Meanwhile, it looks like Rich the Kid's involvement is lending these kicks some serious credence.  Of course, this isn't the first time Adidas has tied with a major rap celebrity.  The company's Yeezy Boost series was designed by Kanye, and carries price tags that cross the $300-mark.  More limited editions have surged past $700 or more.
---