After a backlash against Spotify for hosting right-wing conspiracy theorist Alex Jones' podcasts, users aren't happy with the partial 'removal' of InfoWars episodes.
Earlier this week, thousands of users were threatening to cancel their premium subscriptions if Spotify didn't remove Alex Jones' InfoWars podcast.  After uploading the InfoWars series, Spotify described Jones as a 'seasoned radio broadcaster' in their promotional material for the show.
Now, subscribers are wondering if Spotify is merely throwing them a bone.  Yesterday, the streaming service responded to the controversy by removing episodes of The Alex Jones Show from its streaming service for violating its 'Hateful Conduct Policy'.  But a large number of episodes remain available for listening, a situation that is drawing continued criticism this morning.
Spotify has removed a total of four episodes of Infowars from its service, while 613 other episodes remain online for listening.
Since the announcement that Alex Jones would be available on the platform, social media users who are fed up with the spread of hate and bigotry have started a #BoycottSpotify movement on Twitter.  That effort is continuing today (Thursday), despite the 'concession' by Spotify.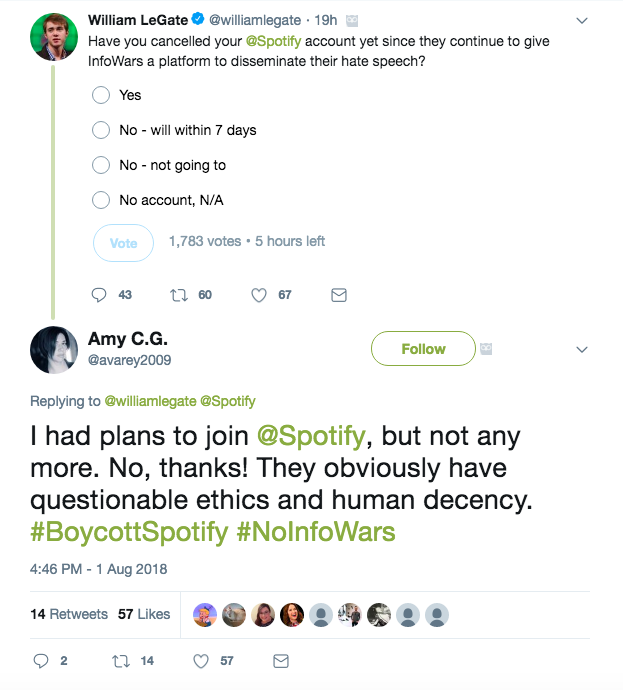 Some users have outright taken screenshots showing their subscription is canceled, while others have threatened to leave if the entire show is not removed from the service.  It's unclear how many users are satisfied with Spotify's partial removal of episodes.
Jones responded to the controversy on a recent episode of Infowars, running the gamut of emotions from attacking his core userbase to blaming liberals for the removal of content.
Jones states that he "belongs to some other age" and blamed Hollywood elites for "illegal censorship" of content.  An emotional Jones' then broke down into tears, saying those who promote this censorship leave us "two inches away from collapsing like Venezuela."
Jones has come under fire recently for promoting the idea that Sandy Hook parents were crisis actors who were paid to manufacture outrage to support stricter gun control in the United States.
The music streaming giant previously banned rappers like XXXTentacion and R. Kelly under the same policy, citing hateful lyrics as the reason for their removal.  That provoked its own backlash, with Spotify ultimately reinstating XXXTentacion but keeping R. Kelly off the platform.
---