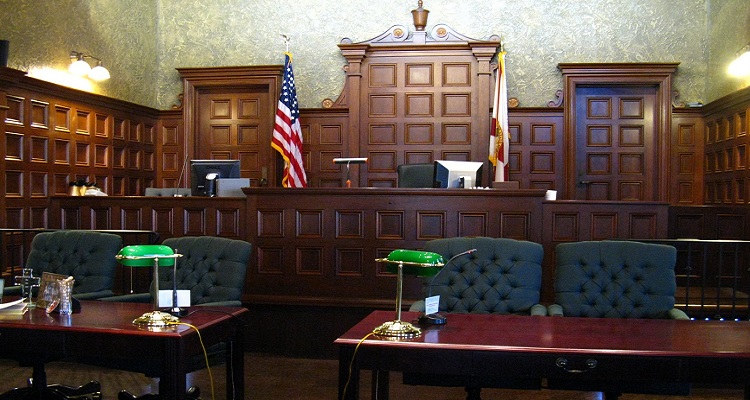 Has Cox Communications knowingly profited from subscribers' willful copyright infringement?
Sony Music, Universal Music Group (UMG), Warner Music Group (WMG), and a host of other labels have filed a lawsuit against Cox Communications.
Filed in the US District Court for the Eastern District of Virginia, the major labels — including divisions Arista, Sony/ATV, and Warner Bros. Records — claim the ISP has knowingly contributed and reaped substantial profits from "massive copyright infringement committed by thousands of its subscribers."
The suit comes several years after BMG took the ISP to court.
BMG Rights Management had accused Cox of deliberately refusing to disconnect persistent music pirates despite multiple warnings.  After a short two-week trial in December 2015, a Virginia jury found the ISP liable of willful contributory copyright infringement.  The jury noted Cox Communications "knew or should have known of such infringing activity."
A federal court had ordered Cox Communications to pay BMG $25 million in damages along with millions in legal fees, including attorney costs.  The ISP also lost its fabled DMCA 'safe harbor' protection for failing to implement an effective repeat infringer policy.
Cox Communications quickly appealed the ruling.
Earlier this year, the Court of Appeals for the Fourth Circuit sided with the ISP.  According to the Court, the "should have known" argument was too flimsy.  Thus, the Court reversed the ruling.  The ISP no longer owed BMG a dime.
Yet, it wasn't all good news for Cox.  The Court of Appeals didn't reinstate the company's safe harbor protection.  Calling out the company over its ineffective "thirteen-strikes policy," Circuit Judge Diana Gribbon Motz wrote,
"Cox failed to qualify for the DMCA safe harbor because it failed to implement its policy in any consistent or meaningful way — leaving it essentially with no policy."
Now, the major labels have capitalized on this ruling.
According to the labels, Cox Communication actively contributes to "subscribers' infringement," both willfully and extensively.
Echoing Motz's judgment, the filing states,
"For years, Cox deliberately refused to take reasonable measures to curb its customers from using its Internet services to infringe on others' copyrights – even once Cox became aware of particular customers engaging in specific, repeated acts of infringement."
Represented by the RIAA, Sony Music Entertainment, Warner Music Group, and Universal Music Group recently accused another ISP – Grande Communications – of doing the same.
The labels reportedly sent "hundreds of thousands of statutory infringement notices" to the ISP over its subscribers' blatant piracy.  Yet, the pirates continued using Cox to illegally download, copy, and distribute music on BitTorrent, among other services.
The ISP, upon receiving the notices, only imposed an 'arbitrary cap' on the number of infringement notices it received.  Cox last agreed to receive around 600 notices per day in 2013.
The labels also called Cox's "thirteen-strike" policy a "sham."
When consumers violate the thirteen-strike policy, Cox disconnects repeat infringers, but only temporarily.  The ISP only implemented "soft terminations" with "virtually automatic reinstatement."  Infringing users could then freely continue pirating music.
In fact, wrote the labels, Cox offered its service "as an attractive tool, and as a safe haven, for infringement."  The ISP's "unlimited ability to download and distribute Plaintiffs' works" made it a draw for pirates.  In turn, the company deliberately attracted, retained, and charged higher fees to subscribers.
Elaborating on the ISP's practice, the labels explained,
"Rather than stop its subscribers' unlawful activity, Cox prioritized its own profits over its legal obligations.  [The ISP's] profits increased dramatically as a result of the massive infringement it facilitated."
The labels then took their argument a step further.
By refusing to shut down infringing subscribers, Cox "obtained a direct financial benefit."  The ISP wanted to "maintain the revenue that would come from their accounts."  Conversely, Cox had told labels it cut down its anti-piracy staff "for budget reasons."  At the same time, the ISP allegedly thwarted the labels' enforcement activities.
The lawsuit then notes major labels have categorized nearly 20,000 Cox subscribers as blatant repeat infringers.
Citing five specific examples of several infringers who have received over 60 notices, they wrote,
"Cox simply looked the other way."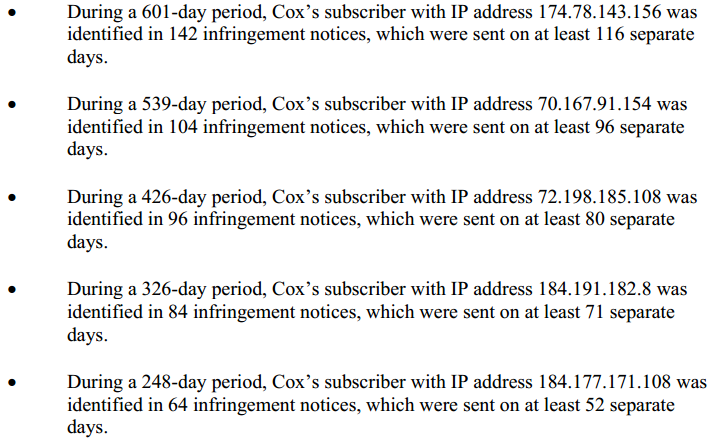 The labels have called for a court to rule against Cox on two counts.
First, Cox must be found liable for contributory copyright infringement.
The company "facilitated, encouraged, and materially contributed to" copyright infringement "on a massive scale."  It provided a network for its subscribers "to commit repeated infringement."  Cox also purposefully ignored and turned "a blind eye" to the unlawful reproduction and distribution of copyrighted works.
Second, Cox must be found liable for vicarious copyright infringement.
The labels allege the ISP has the legal and practical right and ability to supervise as well as control piracy activity.  Cox also derives a direct financial benefit from the practice.  For failing to terminate the nearly 20,000 infringing accounts, the ISP profited from "illicit revenue."  As such, Cox's willful, intentional, and purposeful actions have disregarded Plaintiffs' rights.
The labels have listed over 10,000 musical works and have asked the court for up to $150,000 per work infringed.  If the US District Court rules against Cox, it could cost the ISP up to $1.5 billion.
You can read the lawsuit below.
---
Featured image by Clyde Robinson (CC by 2.0)