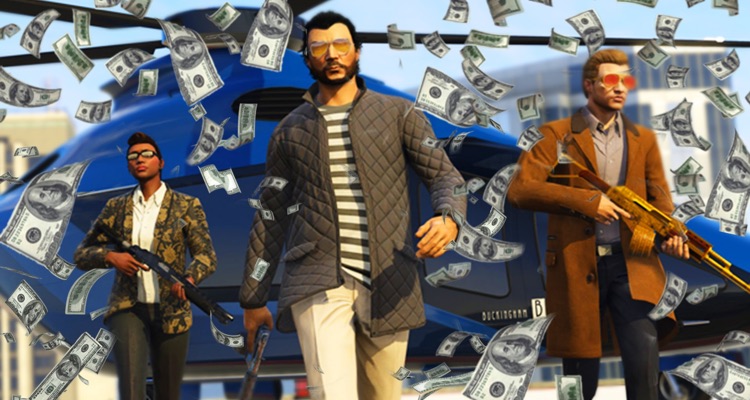 Warner Music Group is awash in cash after a flowing third quarter — thanks largely to a complete liquidation of its Spotify shares.
Life is good at Warner Music Group, thanks to the usual rainmaker: streaming music.  According to financial details filed early this morning with the SEC, WMG enjoyed a monstrous profit gain during the most recent quarter.
That massive profit boost was brought to you by Spotify.
During the most recent quarter, WMG liquidated its entire Spotify equity position, bringing the grand total cash-out to $504 million.
"During the three months ended June 30, 2018, the Company sold all of its shares of common stock in Spotify Technology S.A. ("Spotify") for cash proceeds of $504 million," WMG noted in its Q3 SEC filing.
Of that, WMG pointed to a net gain of $378 million, which includes an artist payout of $126 million (more on that later).
"The sale of shares resulted in an estimated pre-tax gain, net of the estimated royalty expense and other related costs, of $378 million, which has been recorded as other income (expense) in the quarter."
Back in May, we reported that Warner had cashed out a 75% Spotify stake, equating to roughly $400 million.  That has now been topped off by another $100 million — give or take a few million.
Accordingly, WMG's balance sheet is ballooning.  During the quarterly period ending June 30th, overall net income was $321 million versus $143 million in the prior-year quarter, according to the company.  That hardly seems to make sense until a whopping $317 million recorded gain from WMG's recent Spotify cash-out and foreign currency increases (minus a few costs and losses) is factored into the equation.
Here's how WMG framed it in an SEC filing.
"The increase was largely attributable to a $317 million gain (net of tax) on the sale of the Company's Spotify shares and foreign currency gains on Euro-denominated debt, which were partially offset by foreign currency losses on intercompany loans as well as higher non-cash tax expense related to higher pre-tax income, the impact of a reversal in valuation allowance and the benefit of foreign currency losses in the prior-year quarter."
But how much of that is going to artists, sub-labels, and songwriters?
The answer to that isn't entirely clear, but this looks like a payout-in-motion.  According to the label, artist payouts have already topped $126 million.  During the earnings call this morning, label CEO Stephen Cooper confirmed that $126 million had been "credited to artist accounts on their June 30th royalty statements which are issued around the world in August and September."
The label subsequently clarified that this payout figure also includes distributed sub-labels, depending on the specific contracts. We're not sure if there are greater payouts ahead to accommodate the latest $317 million engorgement.
During the call, Cooper claimed that WMG was the first label to announce an artist sharing plan back in 2016.  That will probably draw some quibbles from Sony Music Entertainment, which is also distributing handsome Spotify gains.  Though maybe this is a good argument to be having.
"In February 2016, we were the first major to announce a policy to share proceeds from equity in streaming services with artists," Cooper stated.
Throughout, Cooper has been careful to express confidence in streaming's future.
As mentioned, WMG has done two separate divestitures.  And during the first round, Cooper clarified that the decision to cash out wasn't a bearish reflection on Spotify — or any other streaming platform.
"This sale has nothing to do with our view of Spotify's future," Cooper stated.  "We're hugely optimistic about the growth of subscription streaming, we know it has only just begun to fulfill its potential for global scale.  We fully expect Spotify to continue to play a major role in that growth."
Closer to the present, Cooper pointed to a spirited horse race ahead, one that will include more than just Spotify and Apple Music.
"While Apple and Spotify continue to grow their global subscriber numbers, Amazon and YouTube are both off to a great start with their premium services," Cooper noted. "This increased competition is good news for our business, and we're happy to see other large tech companies, such as Facebook, begin to recognize the true value that music brings to their platforms."
The most recent quarter included a 7% year-over-year revenue bump for the past nine months, which was 'compounded' by favorable currency fluctuations.
"Amazing new music from our artists and songwriters and great execution from our global operators have driven our year-to-date revenue up 12%, or 7% in constant currency," Cooper shared (keep in mind that 'YTD' refers to the last three quarters, not the calendar year).
For the quarter itself, the core revenue gain was a bit subdued.  According to the company, total revenues grew 4.5% for the three months ending June 30th, which was reduced to 1.9% when measured on constant currencies.
Of that, digital revenues for the quarter grew a sizable 16.1%, or 14.1% on constant currencies.  That disparity suggests continued high-growth in streaming, but a continued drag in physical assets like CDs.  Unfortunately for Warner and other labels, that is proving to be a bit of a financial buzzkill, given the solid revenues those formats are leaving behind.
Overall, digital accounted for 60.1% of total revenue during the quarter, compared to 54.1% in the prior-year quarter.
As of June 30th, WMG reported a cash balance of $905 million, with total debt of $2.814 billion.  Separately, net debt was calculated at $1.909 billion.
Here's a really quick round-up of WMG's top-level financials for Q3.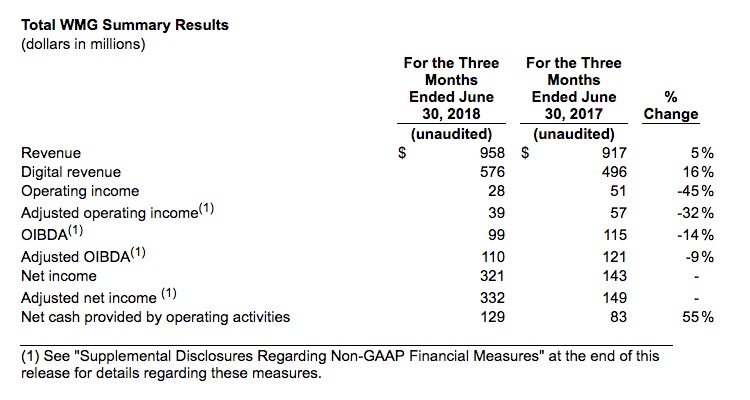 For far more detail, here's the 8-K, which offers a quick quarterly summary and breakdown.  And here's the 10-Q, which offers a far more detailed disclosure.
(The 8-K contains the release mentioned in footnote (1) above.)
---