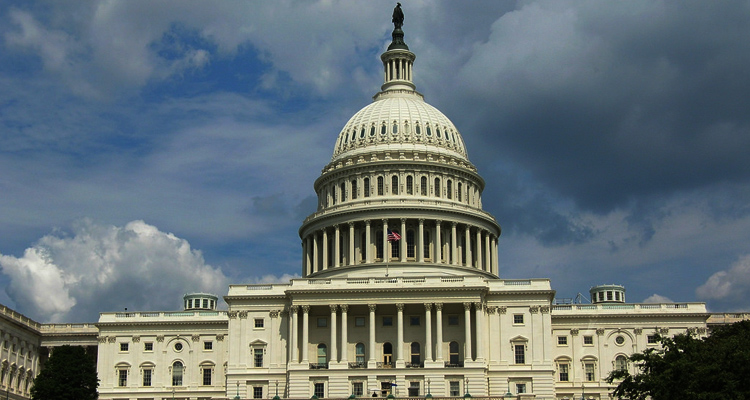 Did SESAC kill the Music Modernization Act, after all?  Now, the MMA's proponents face a seriously trimmed timetable for passage — and a significantly more complicated fight ahead.
The Music Modernization Act (MMA) ultimately survived a serious challenge from Blackstone Group's SESAC.   But that battle may have eaten precious time off the clock.  Now, insiders are pointing Digital Music News to a significantly shortened timetable for the MMA to pass, and mounting challenges from both Sirius XM Radio and Music Choice.
At present, it's actually unclear if the Music Modernization Act would have enough votes to pass in the Senate.  Currently, the bill has amassed 46 co-sponsors, out of a total body of 100 Senators.  Undoubtedly, organizations like the National Music Publishers' Association (NMPA) and Recording Industry Association of America (RIAA) are lobbying intently to rally on-the-fence legislators, though opponents of the bill are likely doing the same thing.
It's also uncertain if the MMA is still being prioritized.  As of Monday (August 13th), the Music Modernization Act isn't even listed on the US Senate's schedule of 'Active Legislation'.  That suggests a scheduling issue, with recent disputes by SESAC potentially causing the MMA to lose its place in line.
Currently, the Senate is debating a raft of bills related to firearms, opioids, health care, and sanctions against Russia, Iran, and North Korea.
According to a separate source, SESAC's contentious quarrel over the structure of bill may have cost the bill 3-4 weeks of lost time.  In fact, without an extended summer session, this bill may have already been toast.
Now, insiders have estimated that the MMA realistically has 7-8 weeks to pass the Senate, or it's probably dead.
In the words of the same source, that creates an 'extremely tight deadline' to wrap this up and get it on the President's desk.  The reason is that after early October, Senators are likely to shift their attention almost entirely to midterm elections.  Those elections already feature heavily contested races across the country, with many incumbents fighting for their political lives.
That leaves 8 weeks — at most — for this bill to be approved.
But even if the bill passes in the Senate, the House of Representatives will be required to review the Senate's modifications.  On paper, that process seems easy, given that the House passed the first version of the bill 415-0.  But that was before a raft of serious objections and issues were raised.  And it was also during a far calmer period in the Congressional calendar.
After the midterm elections are concluded, Congress then shifts into a 'lame duck session,' with a mix of re-elected and replaced legislators.  That generates a brand-new basket of problems, with just-elected Senators and Representatives typically reluctant to support inherited, in-progress bills.
Then, there's the well-funded counterattack from both Sirius XM Radio and Music Choice.  Both companies feel that the MMA is unfairly forcing them to pay royalties while giving traditional radio a free pass.
But instead of a SESAC-style compromise, the approach towards Sirius and Music Choice seems warlike.  "They can hire all the lobbyists they want to fight this," NMPA chief David Israelite hawked in an interview with Billboard.  "But I'd warn Sirius and Music Choice that they ought to tread carefully because they are dealing now with a creative class that is energized and focused and their entire content depends on those people."
That's certainly true, though it depends if Sirius and Music Choice care about that.  In Blackstone's case, the choice was to stand firm against a howl of protests and threats from various songwriters and music associations like the Nashville Songwriters Association International.
Ultimately, SESAC emerged with meaningful concessions related to the structure of the MMA's mechanical licensing body, the Mechanical Licensing Collective (MLC).  And, they got to save portfolio company Harry Fox Agency from near-certain extinction.
+ Music Modernization Act Update: MLC Will Be Prohibited from Licensing Synch, Lyrics, Performances
But beyond Sirius and Music Choice, other opponents are lurking.  That includes Oregonian Senator Ron Wyden, who is also attacking a major provision of the MMA with a competing bill.  Specifically, Wyden has questioned why the MMA's CLASSICS Act dramatically extends and complicates pre-1972 copyrights, while proposing a simplified provision.
The mass of moving parts is creating a complicated path towards eventual passage.  According to one source on the Hill, the MMA potentially faces an 'Atlanta Falcons problem,' referring to the team's historic loss to the New England Patriots during Super Bowl LI after a commanding halftime lead.
Sounds harsh, though maybe there's still enough time on the clock for the MMA to avoid that fate.
The most recent version of the Music Modernization Act (S2823) can be found here. 
---