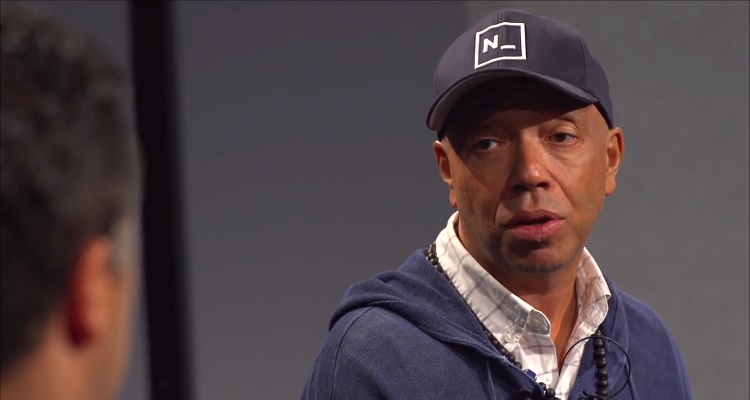 Amidst multiple sexual assault scandals, Russell Simmons quickly sells his home on the Sunset Strip.
Sold for $8.13 million after just a month on the market, the music mogul's home sits atop the Sunset Strip.  Simmons bought the property for $5.9 million 3 years ago.  The sale is part of a broader sell-off of valuable assets, and is rumored to be part of an attempt to flee the U.S.
---
Russia could ultimately block piracy video hub Yandex.
The Moscow City Court has ordered Russian video platform Yandex to remove links to pirated content.  The move comes after key television broadcasters in Russia urged the piracy video hub to remove their channels from its 'TV Online' service.  The platform obliged a few hours before the court order went into effect today, but plans to appeal the ruling.
---
Greta Van Fleet named Apple Music's Up Next Artist.
Along with the announcement, the Michigan quartet confirmed the group will release an exclusive short video on September 5th.
In a press release, Greta Van Fleet, which built its fan base on Apple Music, thanked the streaming music service for its support.
"We are elated that Apple has named us its 'Up Next' artist, especially as we are the first band to be given that honor.  Apple Music has been very supportive of us from the beginning and we really appreciate this recognition."
---
House of Blues Forward Foundation celebrates 25 years.
To celebrate the achievement, the organization has launched the 25th-anniversary campaign to raise $250,000.  With the campaign, House of Blues Forward Foundation aims to accelerate opportunities for the next generation of music industry leaders and innovators.  Sponsors include City National, Mastercard, Visa, Oracle, EPAM, and Go Vision.
---
Hispanics in the US now consume more music than ever before.
In its Descubrimiento Digital, the Online Lives of Latinx Consumers report, The Nielsen Company has found 70% of Hispanics in the US follow their favorite artists on social media, 43% higher than the total population.  44% feel good about seeing celebrities who share their ethnic background.
52% spent an hour or more a day on social media, compared with 38% of Whites.  24% spent 3 hours or more a day, compared with 13% of Whites.
45% use a streaming music service, 5% higher than Whites.
Hispanics also spend 32 hours listening to music per week.  46% of total listening time is on streaming music services, 15% on terrestrial radio, 4% on satellite radio, 14% on a digital music library, 12% from other sources, including on dedicated TV music channels, and 10% from physical copies.
---
Disney adds over 50 soundtracks to Amazon Music Prime.
The collection, already available on multiple streaming music platforms, includes Moana, Frozen, The Little Mermaid, Beauty and the Beast, and Snow White and the Seven Dwarves, among others.  Soundtracks from Disney-Pixar will also appear on Amazon Music Prime, including Coco, The Incredibles, and Toy Story.  US and UK Prime members can now access the soundtracks.
---
Nielsen adds measurement tools for Australian marketers.
Nielsen Digital Ad Ratings will provide marketers in the country with independent and comprehensive cross-device measurement of advertising audiences on YouTube, including those on computer and mobile devices.  Marketers will have access to demographics – including age and gender – from the YouTube mobile app.  They'll also see ad reach, frequency, and gross rating points (GRP).
---
Multiple European music organizations join #EuropeForCreators campaign.
Ahead of a crucial vote on September 12th, IMPALA, GESAC, CISAC, and SGAE have voiced their support for the #EuropeForCreators campaign.  Europe for Creators – a coalition of citizens, creatives, and nearly 250 organizations – has launched a broad-reaching movement to support the Copyright Directive.
Helen Smith, Executive Chair of the Independent Music Companies Association (IMPALA), said.
"Copyright reform is a fundamental part of Europe's bid to see more balance in the online world.  Unfortunately, the debate so far has been used to drive a false divide between creators and citizens.  Now it is time for creators across different sectors to unite and reclaim the narrative."
The International Confederation of Societies of Authors and Composer (CISAC) wrote,
"We are calling for Europe to protect the artists and creators who make our culture-and not the global monopolistic tech giants who profit from it.  This vote will send a signal about how we value culture beyond Europe to the world."
Véronique Desbrosses, General Manager of European Grouping of Societies of Authors and Composers (GESAC), wrote,
"Digital economic powers continue to profit as working artists struggle to make ends meet.  The balance between the revenue generated by Internet Platforms and the money they give to the creators who are responsible for their success, is entirely distorted."
---
British festivalgoers prefer heading to music festivals abroad.
Surveying over 1,000 festival partners and over 2.5 million users, Festicket, a UK online booking portal, has found festivalgoers who went to music events abroad rose 29% over last year.
Hungary saw a 773% increase in foreign festival visitors.  Portugal ranked second with 127%, followed by Spain with 132%, Belgium with 120%, and the Netherlands with 104%.
A whopping 92.5% and 75% of Hungarian and Spanish festivalgoers preferred attending a music festival abroad than one held in their country, respectively.
---
Crossover Music program launched to help Australian artists make it big internationally.
The music export program claims to use a network of industry specialists to deliver campaigns tailored individually to Australian artists.  Crossover Music will then use the exposure to promote artists to international labels, promoters, booking agents, and publishing.
James Adair, an artist manager, Tyler Treves, a radio promoter, and Joe Hay, a license reform consultant, founded the program.  Crossover Music will launch at the BIGSOUND conference next week.
---
A3C will provide $100,000 in services to hip-hop artists.
At its 2nd annual Creator Complex conference, All 3 Coasts (A3C), a hip-hop-festival, will connect independent artists and producers with creative professionals and company experts to create digital assets and provide insight.
A3C partners will also contribute $100,000 worth of free services and assets to over 500 artists and producers.  They'll get headshots, master music, make beats, record music, write a bio, develop a website, optimize their YouTube pages, audit social media, and add scratches to their records.
The Creator Complex takes place on Friday, October 5th at the Creative Media Industries Institute at Georgia State University.  All official 2018 A3C artists, producers, and DJs can attend the conference for free.
---
AMG expands its venue portfolio.
Academy Music Group Limited (AMG) has a new lease agreement with Manchester live entertainment venue, Victoria Warehouse.  Under the deal, the venue will be rebranded O2 Victoria Warehouse Manchester.  AMG has had a long-standing partnership agreement with O2 since 2009.
---
Sentric Music acquires key stake in Black Rock.
Boutique electronic music publishing company Black Rock Publishing provides artist publishing, neighboring rights representation, and record management services for EDM artists and companies.  Under terms of the deal, Sentric Music will maintain Black Rock's company and brand.  Kirsty Lawrence will also join Sentric, retaining her duties as the day-to-day contact for Black Rock's clients.  Black Rock's label, management, and artist clients can now tap into Sentric's global resource and infrastructure, including sync and administration services.
---
CMG announces a key hire.
Stephanie Onder will serve as Marketing Manager at Copperline Music Group (CMG).  She'll manage digital and promotional campaigns for the label's artist roster.
---
CD Baby announces a key hire.
Heli Del Moral will serve as the company's first Vice President of International Development.  In the role, he'll build CD Baby's business outside of North America and Europe.  Del Moral will join the company's Portland team on September 4th.
---
WMG makes a key appointment.
In a newly created role, Alfonso Perez-Soto will serve as Executive Vice President of Eastern Europe, Middle East, and Africa at Warner Music Group (WMG).  He'll oversee operations in the three markets, reporting to Stu Bergen, Warner Music Group CEO of International and Global Commercial Services.  Perez-Soto previously served as Global Business Development and Chief Commercial Officer of Emerging Markets.
---
Paul Taylor passes away.
The prolific choreographer and founder of the Paul Taylor Dance Company passed away in Manhattan.  He was 88.  Taylor launched the modern dance movement, creating 136 dances, including the Aureole, Esplanade, Company B, Promethean Fire, and Beloved Renegade.
---
Featured image by TYT Interviews (YouTube screengrab).