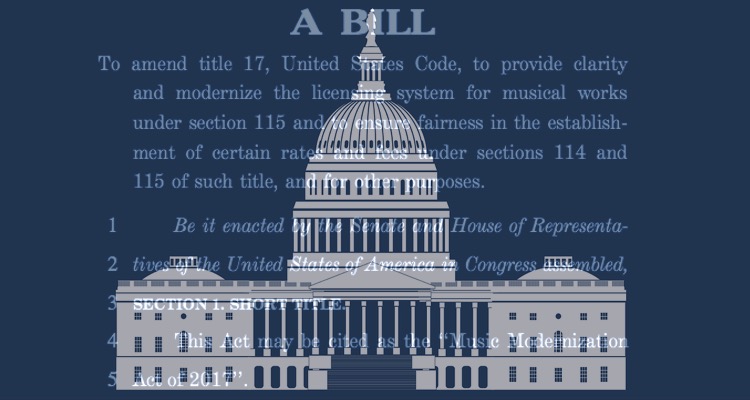 As the Music Modernization Act (MMA) amasses greater Senatorial support, Sirius XM Radio remains a threatening opponent.
At last count, the Music Modernization Act enjoyed overwhelming support from U.S. Senators.  Ahead of the weekend, attorney Dina LaPolt, an architect of the bill, pointed to 70 co-sponsors.  Earlier updates suggested 69, either of which is more than enough to pass the bill in the upper chamber.
Earlier, the House of Representatives unanimously passed the bill, 415-0.  And for those outside of the U.S., the Senate only has 100 members (two for each U.S. state) — meaning a serious majority already exists.
So who cares if Sirius XM Radio is making such a stink about this bill?
Major music publishers, that's who.  Over the past week, National Music Publishers' Association (NMPA) president David Israelite has started a war of words against Sirius XM Radio, whose opposition appears to be a serious threat.
On a laid back Labor Day (September 3rd), Israelite blasted Sirius XM for being 'hypocrites' and 'so pathetic'.  The salty tweet followed a Sirius XM Radio plug of its 'VOLUME' channel, which features interviews with artists and songwriters.
"I love having these conversations about songwriting and collaborating with some of my closest friends," show host Shane McAnally tweeted out.  "Y'all can check out all the episodes tomorrow… Labor Day marathon of Songville!"
Israelite was in no mood to chit-chat about the songwriting process.
Earlier, the trolling Israelite went on a Twitter tirade against Sirius XM CEO Jim Meyer, calling his arguments 'pure bullshit,' 'patronizing,' and 'disingenuous' while vaguely threatening repercussions against the satellite radio giant.  In a lengthy Billboard op-ed, Meyer promised to fight the Music Modernization Act, specifically because it fails to address serious royalty exemptions for traditional radio.
Sirius XM doesn't enjoy those same benefits, a lopsided landscape that Meyer says is simply unfair.  Accordingly, Meyer and cable-focused streaming radio service Music Choice have vowed to fight the bill until those aspects are addressed.
One question is why there isn't a compromise this time around.
Earlier, Blackstone Group waged a similar protest, specifically over its wholly-owned mechanical licensing entity, Harry Fox Agency.  Blackstone was concerned that the MMA would obliterate HFA, so terms were hammered out to limit the mechanical licensing responsibilities of the Mechanical Licensing Collective, which the MMA would create.  Blackstone came back on board.
But this time around, there seems to be no compromise afoot.  Instead, pro-MMA groups have vowed to fight Sirius, instead of working out possible changes to the MMA's provisions on radio royalties.
One compromise possibility could involve a delay or separation of the contested CLASSICS Act, which is part of the MMA and contains the controversial sections.  But that has never been mentioned.
Separately, the Music Modernization Act isn't on the Senate's 'Active Legislation' calendar.
That could be problematic for groups like the NMPA, especially as midterm elections put a squeeze on Senatorial schedules.  Or, perhaps the bill will enter the active docket tomorrow.
Either way, successful passage by the Senate would still require a re-vote in the House of Representatives, given that some changes were made to the bill since the House vote.  Then, after a final version is approved, it's off to the White House for approval.
All of which seems possible.  But not if Sirius finds a way to substantially delay a vote.