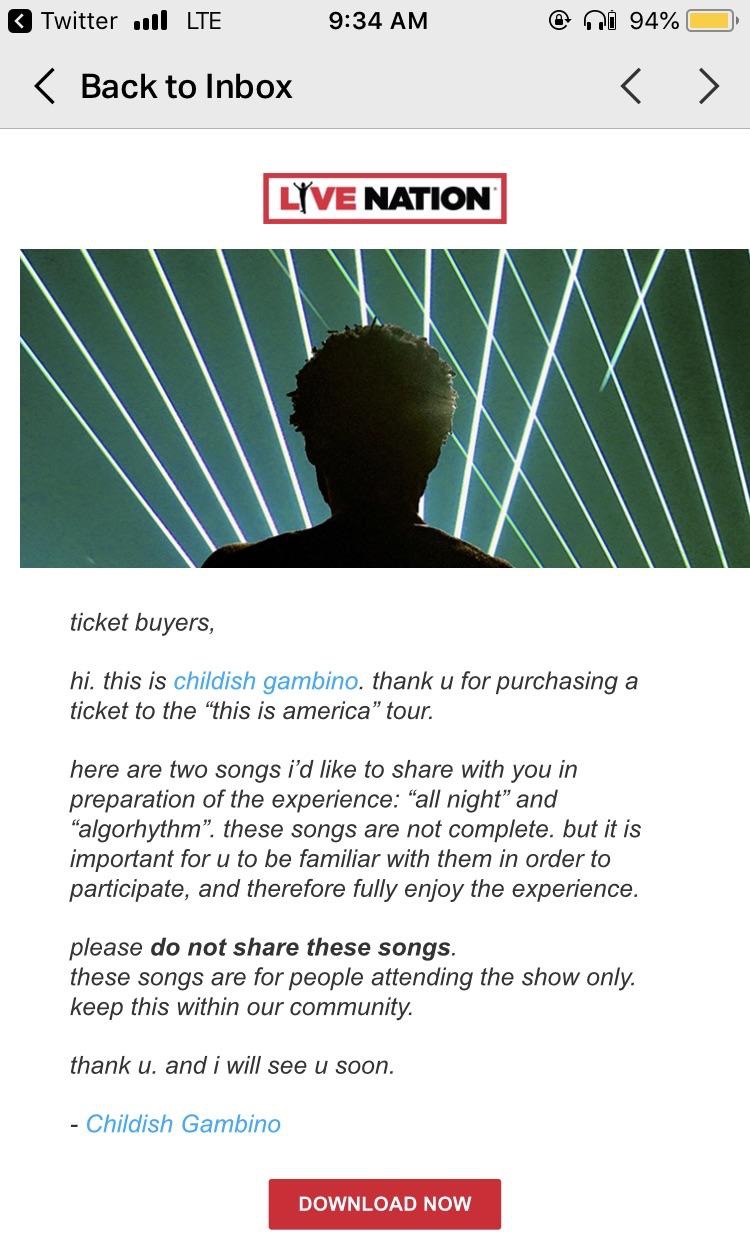 Childish Gambino's This is America tour starts this month, but fans who buy tickets will be treated to two unreleased tracks.
Those who have already purchased their tickets shared screenshots on social media of the email they received announcing the two unreleased songs called "All Night" and "Algorhythm."
The email says these two songs are not complete, but it's essential for the audience to be familiar with them to participate in the upcoming show and to "fully enjoy the experience."  The email asks ticket buyers not to share the songs as they're for people who are attending the show and to "please keep this within our community."
However, leaked versions of the songs have already made their way onto YouTube. You can hear both All Night and Algorhythm below.
The Algorhythm song has not made its way onto YouTube yet, but you can hear it here.
Childish Gambino This Is America Tour Dates
The multi-faceted performer will be joining Vince Staples for his This Is America tour, which will head across the United States through much of September and October. Check below for tour dates in the city closest to you. If you're interested in the show, you can purchase tickets here.
9/6 – Atlanta, GA
9/8 – Chicago, IL
9/10 – Toronto, ON
9/12 – Boston, MA
9/14 – New York, NY
9/15 – New York, NY
9/18 – Philadelphia, PA
9/19 – Washington, DC
9/22 – Houston, TX
9/23 – Dallas, TX
9/26 – Los Angeles, CA
9/27 – Oakland, CA
9/29 – Seattle, WA
9/30 – Vancouver, BC
10/2 – San Jose, CA
10/3 – Los Angeles, CA
10/5 – Phoenix, AZ
10/9 – Denver, CO
10/12 – Nashville, TN