Apple Music comes preloaded on iOS and works across all Apple products.  That alone seems to have made the difference for the streaming music service.
During Apple's Q3 2018 financial report, the company made a stunning revelation.
Confirming an earlier report on Digital Music News, Apple Music has overtaken Spotify in 3 key streaming music markets – the US, Canada, and Japan.
Now, it looks like Apple's streaming music service also has a higher conversion rate than its global rival.
It's all about the numbers.
Alongside Will Thompson, longtime Apple analyst Gene Munster published a new report.
According to Munster, Apple Music reportedly has 21 million subscribers in North America, up 1 million over Spotify.  That's due to high iOS ownership in the region.
Estimating 95%+ of Apple Music subscribers use iOS, the company has converted potential customers into paying customers 2.5 times faster than Spotify.
It's not only because they're on iOS, claims Munster.  iPhone owners apparently have more disposable income than Android owners.  Plus, Apple's direct ownership of iOS allows the company to distribute "a seamlessly integrated music experience," bundling the Music app.  The company can also prompt iPhone owners to subscribe.
In bad news for Spotify, the company's global subscriber market share has declined 3% to 62% over last year.  Apple Music, meanwhile, has grown 4% to 34% in one year.  And, in bad news for Pandora, the company lost a 2% global subscriber share, down now to just 4%.
Munster also found Apple Music still has room to grow.  Out of 780 million iPhone users around the world, only 45 million – 6% – pay for the service.
Face it – If you have an iPhone, you likely subscribe to Apple Music.
Due to high iPhone ownership, Apple Music has grown paid subscriptions 137% over the past 2 years.  Spotify had a 93% growth rate during the same period, while Pandora had just 45%.
Breaking down conversion rates.
While Apple Music converts subscribers 2.5 times faster than Spotify, this doesn't mean the Swedish streaming giant is in trouble.  At least, not yet.
Over the past three fiscal quarters, Spotify's conversion rate has remained stable at 0.24%.  Apple Music, meanwhile, has a 0.64% conversation rate.  Android subscriptions also make up less than 5% of total Apple Music subscriptions.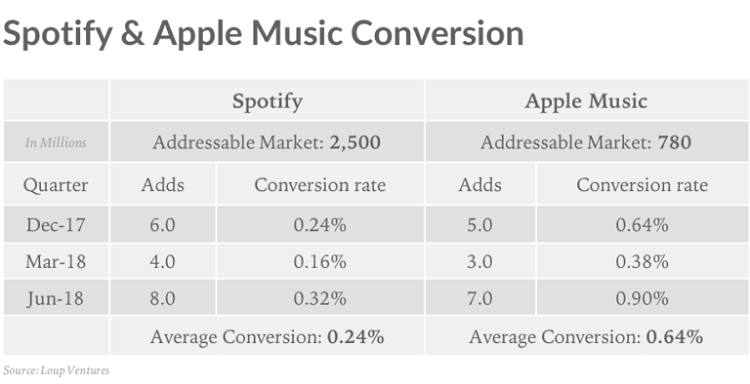 How Apple converts trial users.
Apple owns the operating system and the hardware.  So, it can bundle its services across all of its products.
For example, on iPhones and iPads, the company has preloaded the Apple Music app.
Apple services also work across the Mac and the HomePod, allowing users to easily pay for the service.  The company prompts its users to pay for a subscription, linking their credit and debit cards to their Apple ID.  All users need to do is simply start a trial, pay for the subscription via Apple Pay, listen, and start streaming.
Munster explains how Apple has scored market leadership in the US, Canada, and Japan.
"This strategy is a key driver of adoption of Apple services like their forthcoming original video content platform, iCloud, Apple Pay, Apple Music, and others."
---
Featured image by Kārlis Dambrāns (CC by 2.0).