The '70000 Tons of Metal' cruise is now selling tickets for its 9th voyage, which will kick off in January.  Every single cruise has been a sellout.
The 70000 Tons of Metal cruise features 60 brutal death metal bands each year on a luxury cruise with four stages.  The cruise started in 2011 and has enjoyed eight consecutive sell-outs since it started.
This year, it's more of the same, with death metal superstars like Obituary, Vomitory, Onslaught, and Coroner signing on as marquee performers.
Perhaps the blend of extremely brutal metal and placid Caribbean waters seems a little strange.  But hey: it's working.  As usual, a limited number of tickets are available, and another sellout is expected.  Starting October 3rd, limited 3,000 tickets will be available, with prices starting at $766 per person (plus taxes and associated fees).
Ticket price includes accommodation on board, access to all performances, meals, and special events that include a meet-and-greet with band members.
Earlier, we've covered a range of different floating festivals, including the Coachella Cruise and Kid Rock's Chillin' the Most cruise (which we personally experienced).
Turns out these floating musical barges are great ideas, and apparently have lots of recurring customers.  Accordingly, 70000 Tons of Metal 'Survivors,' those who attended a previous cruise, have already been given preferential buying options ahead of the October 3rd general availability date.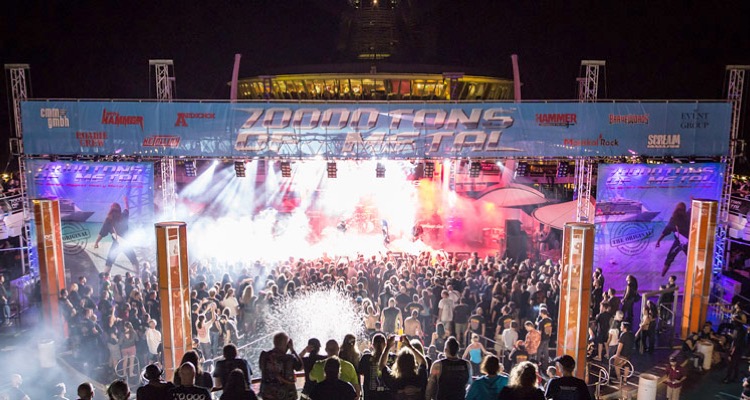 The show also revealed the first 28 of 60 bands that will be available, including:
Accept
Arkona
Coroner
Dark Funeral
Delain
Eluveitie
Ensiferum
Gloryhammer
God Dethroned
Grim Reaper
Heidevolk
In Vain
Kalmah
Ne Obliviscaris
Nile
Obituary
Onslaught
Persefone
Pestilence
Soulfly / Max and Iggor Cavalera Return to Roots
Subway to Sally
The Black Dahlia Murder
Tiamat (Wildhoney Show)
Twilight Force
Unleash the Archers
Visions of Atlantis
Vomitory
Warbringer
Max and Iggor Cavalera retired their show 'Return to Roots' in 2017, but will be bringing it back for 70000.  The band will be playing Sepultura's Roots album in its entirety.
Tiamat will be celebrating the 25th-anniversary release of their album 'Wildhoney' by performing the whole album during the cruise.  Additionally, Vomitory will be celebrating their recent reformation and 30 years of Swedish Death Metal on board with a special celebration.
The organizers say there will be more special performances announced soon. You can view a full list of the current line-up by checking out their site.