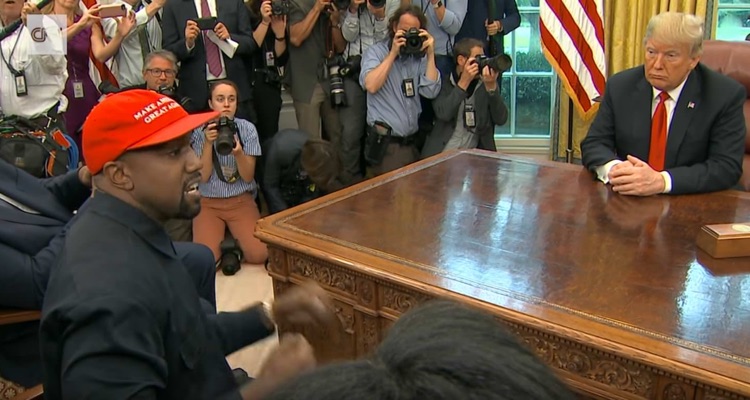 Kanye West's visit to the White House went even better than we expected.
After a weird mini-rant on the Saturday Night Live stage wearing his MAGA cap, Kanye West met up with President Donald Trump today for lunch at the White House.
Kanye wore the same MAGA hat he sported during his SNL rant and spoke about topics like prison reform and urban revitalization.
West even chastised a reporter attempting to ask two questions, saying, "I don't answer questions in simple sound bites. You are tasting a fine wine. It has multiple notes to it."
"Trump is on his hero's journey right now. He might not have thought he'd have a crazy motherfucker like me."
Kanye then went on a 10-minute uninterrupted rant on a range of topics.  That included his support for the current president and the reason Hillary's campaign didn't speak to him.
"I love Hillary. I love everyone, but the campaign 'I'm With Her,' just didn't make me feel — as a guy, who didn't get to see his dad all the time — like a guy that could play catch with his son.  There was something; when I put this hat on, it made me feel like Superman."
West mentioned that he was diagnosed with bipolar disorder, but stated he believed he had sleep deprivation instead after meeting with a neuropsychologist.
"So, he said that I actually wasn't bipolar. I had sleep deprivation, which can cause dementia 10 to 20 years from now, where I wouldn't even remember my son's name."
West touched on his admiration for Trump and probably became the first person to drop an f-bomb in the Oval Office publicly in his support for Trump.
"Trump is on his hero's journey right now. He might not have thought he'd have a crazy motherfucker like me."
He showed Trump a picture of a hydrogen-powered airplane dubbed the 'iPlane 1' and said, "this is what our president should be flying around in." Trump chuckled and continued to listen as Kanye spoke.
West was invited to the White House along with NFL player Jim Brown.  Earlier, several notable musicians industry executives were invited to witness the signing of the Music Modernization Act.
You can see the full rant in the video below, courtesy of CNN.