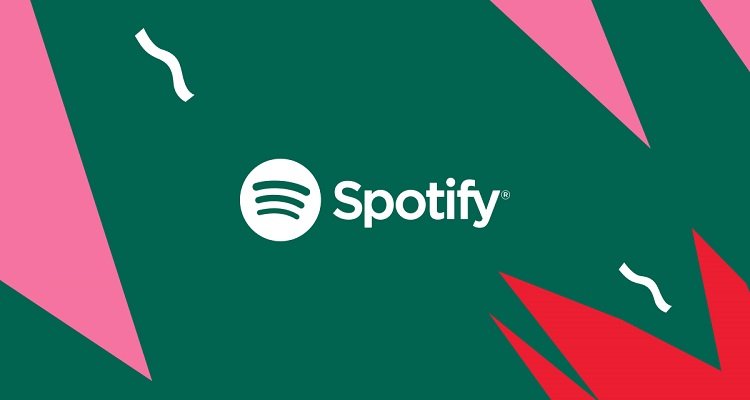 Looks like Spotify is taking even more control over the digital distribution chain than we thought.
Update: Since the publication of this article on Tuesday (Oct. 16th), Spotify has revealed a formal deal with Distrokid.  That deal not only includes preferential access to Spotify for Artists, but lets artists also distribute to other streaming services — including Spotify rivals.   Spotify is also investing in Distrokid, with a 'passive minority investment' announced.  The full Spotify announcement is below.
Spotify is now enabling artists to directly upload their tracks onto the platform through its Spotify For Artists beta.  But when it comes to outside distributors, the company is also exerting a bit of selective control.
Of course, artists and labels can use whatever Spotify-approved distributor they want.  And there's a large list to pick from.  But Spotify has a very small list they're recommending.  And they're throwing in a nice perk for using one of their favorites (more on that ahead).
In the FAQ section under the question 'How do I get my music on Spotify?', a tiny list of distributors is currently listed.
Perhaps most interesting is that Distrokid is boldly listed as a 'Spotify Preferred Artist Distributor,' with its name prominently displayed in enlarged lettering.
In fact, it's their logo image, soaring above all other options.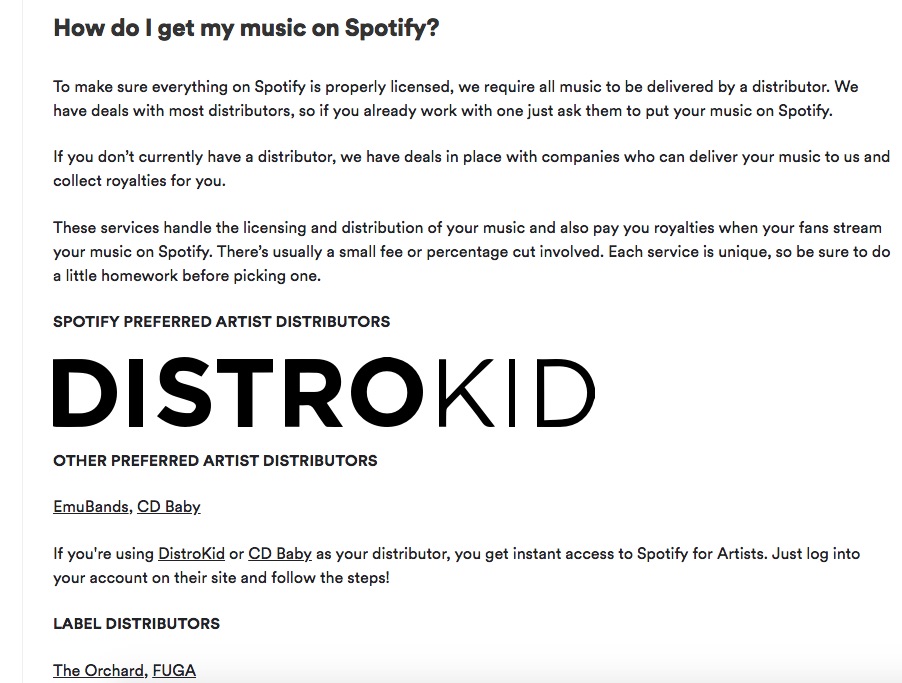 Below Distrokid, Spotify rattles off two other 'Other Preferred Artist Distributors': EmuBands and CD Baby.  Under 'Label Distributors,' another two names emerge: The Orchard and FUGA.
All of the distributors listed on Spotify's FAQ tend to cater to indie artists and labels, although Sony Music Entertainment wholly owns The Orchard.  Some of FUGA's bigger clients include Armada Music, Epitaph Records, Ultra Records, Tommy Boy Entertainment, Curb and Domino.
Of course, those five companies represent only a small selection of distributors that can help artists and labels get their music onto the service.  Notably missing are distributors like AWAL, Tunecore, Ditto Music, ReverbNation, Paradise Distribution, Symphonic, and many, many more.
Just last week, Distrokid announced a 'significant' capital infusion from Silversmith Capital Partners.  The plum Spotify recommendation certainly didn't hurt the fundraising effort — and we have a feeling Distrokid founder Philip Kaplan included it in his deck.
But this goes beyond a simple recommendation.
A small sub-footing in the FAQ states that Spotify For Artists uploads are in limited beta for now, but that CD Baby and Distrokid users are instantly eligible to be included in Spotify for Artists.  That's a serious perk, and more than just a sweetener for artists.
Which raises the next question.  Sure, Distrokid is great and all… but are they really that much better than everyone else?
Earlier, we'd conjectured whether Spotify was thinking about purchasing an established digital distributor, especially given the Herculean chores that its distribution initiative will introduce.  If that's the case, then Distrokid and CD Baby would likely be prime candidates for a well-priced pluck.
And it's worth noting (again) that Distrokid got an enlarged logo in the FAQ, while CD Baby didn't.  It's also worth mentioning that Distrokid's staff is a mere fraction of CD Baby's, and probably far less complicated from an acquisition standpoint.
Distrokid collects royalties and payments for artists and gives 100% of the money back to them.  Their prices start at $19.99 a year for unlimited songs and artists keep 100% ownership of their music.
The service is quickly becoming one of the most popular tools for getting music into Spotify thanks to its low fees and no commissions.
Overall, Spotify appears to be making it easier than ever to get onto the platform, which could shift the balance for grassroots competitor SoundCloud.  SoundCloud has become a breeding ground for new rap talent in the hip-hop community, thanks to its open nature and easily-accessed (and shared) content.
___________________________________________
Update (Wed. Oct. 17th): Early this morning, Spotify announced a 'passive minority investment' in Distrokid, one that includes distribution to other streaming platforms.   Here's the full announcement:
Today, we're happy to announce plans to enhance Spotify for Artists by enabling artists who upload to Spotify, via our recently announced beta feature, to seamlessly distribute their music to other platforms through DistroKid.

For the past five years, DistroKid has served as a go-to service for hundreds of thousands independent artists, helping them deliver their tracks to digital music services around the world, and reaching fans however they choose to consume music. The service has been a trusted and reliable partner to Spotify, which is why they're a natural choice to enhance the experience for artists using our beta upload feature. As part of this partnership, Spotify has made a passive minority investment in DistroKid.

We're excited to roll out this new technical integration in the near future, and hope to share more information soon.