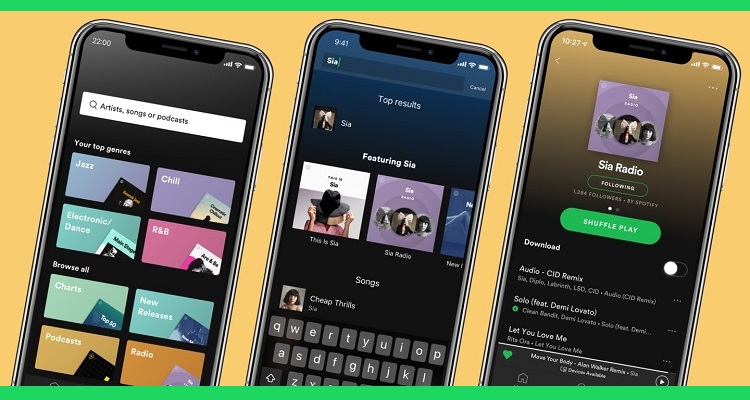 Taking a page out of Pandora's playbook, Premium subscribers on Spotify can now download radio stations.
Pandora hasn't had too much success competing with Spotify.
Last year, the company unveiled several premium subscriptions.  In a bid to compete with Spotify, the digital radio service undercut its rival's monthly price to just $5.  Just one problem: it really hasn't worked.  Despite having 76 million monthly active users, the company only has 6 million subscribers.
That's better than zero.  But Spotify has over 83 million.
So, to better take on the Swedish streaming music service, Pandora has borrowed – i.e., outright stolen – Spotify's key features.
In response to its rival's New Release Radar and Discovery Weekly, Pandora recently unveiled 'The Drop.'  Then, one-upping its rival again, the digital radio service opened its Artist metrics platform to the public.
Now, it's Spotify's turn to 'borrow' a beloved Pandora feature.
Say hello to personalized radio, powered by
Pandora

Spotify.

The Swedish streaming music service has unveiled a new feature for subscribers.

In a blog post, the company has confirmed Premium users can enjoy streamlined navigation, personalized search, and Endless Artist Radio.

As the name implies, streamlined navigation allows subscribers to better navigate through the app's extensive catalog.  The company has reduced its total numbers of tabs at the bottom of the screen from five to three.

Personalized search allows users to find artists, albums, podcasts, and top genres based on their listening history.  For example, when searching for a song, the app now creates a playlist based on what you've searched for.

Taking a page out of Pandora's playbook, Endless Artist Radio provides playlists based on their favorite musicians or songs.  Tailored to users' listening history, the new feature pulls up a personalized station.  The company has also removed the thumbs up and thumbs down gesture previously used to refine radio stations.

Spotify has also made Artist Radio playlists available offline for subscribers.

The company explains,
"If a subscriber wants a great playlist based on one of their favorite musicians or songs, they can simply search for it and start listening to one of the brand-new Artist Radio playlists.  These offer an endless listening stream personalized to the listener's own musical tastes.  They're updated regularly to keep things fresh—and what's more, they're even downloadable and available to play while offline."
The company will roll out the update to all Spotify Premium users on iOS and Premium.
---
Featured image by Spotify.