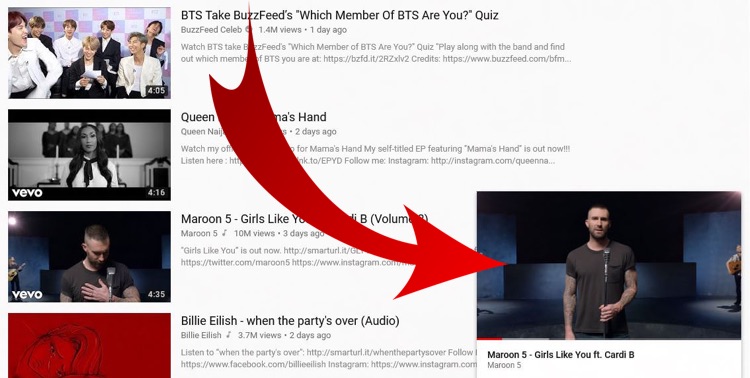 This should kick up play counts a bit.  YouTube is making it easier to navigate for other videos without ditching the first one.
Google has been hard at work on the YouTube app for Android, bringing a 'Mini Player' picture-in-picture mode to those with a YouTube Premium subscription.  Now, it looks like the convenience of being able to browse and watch at the same time in the same tab is coming to the desktop.
Google began testing a limited YouTube mini-player in March with a select group of participants. Now the feature appears to be rolling out to a far broader group of desktop users, regardless of the browser they use.  A small button appears on the video next to the caption button that lets you open any video in a mini-player.
The video appears in the bottom right-hand section of the screen and cannot be moved around, but users are free to browse YouTube while watching the video. The mini-player also comes with controls when you hover over the miniaturized player.
You're free to browse comments and even go to other pages on the site. The mini-player features play, pause, select previous video, and select next video functions.  Simply clicking the mini-player outside of these controls will return it to its full size.
A mini-player is something desktop fans have been asking for since the dawn of YouTube.
Certain browser extensions for both Chrome and Firefox enabled this feature in the past. For those who don't want to run any third-party code, it's now a part of the default YouTube experience.
Earlier this year, Google brought the long-awaited dark mode to desktop users, too.
That's just one of several recent improvements.  Just yesterday, YouTube announced support for live ticketing events with Eventbrite. That adds to existing Ticketmaster support, and could increase impulse buys for artists on the road.