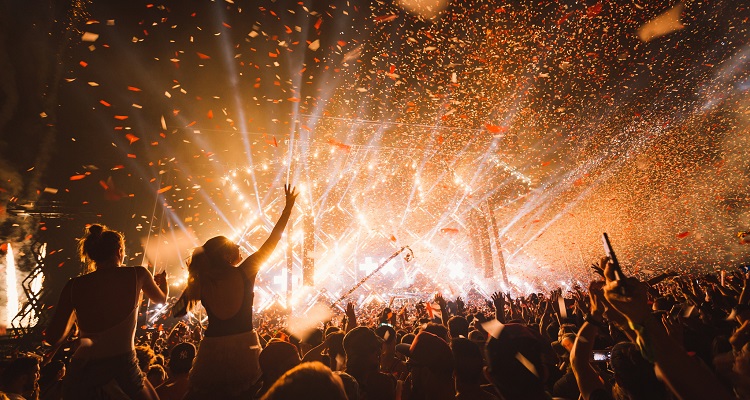 Expect concerts and music festivals to capitalize on the growing demand for "synergy" between events and brands in the live concert industry.  Here's the latest research from PwC.
According to a new study from Pricewaterhouse Coopers (PwC), the live concert industry will experience significant growth during the next few years.
Breaking down entertainment industries in the Global Entertainment and Media Outlook 2018-2022 report, PwC reveals live music revenue will increase at a compound annual growth rate (CAGR) of 3.3% heading into 2022.  This includes ticket sales and sponsorship.
According to the calculation, the live concert industry's total revenue will reach $31 billion in four years.  Ticket sales will make up $24 billion of that total.
The report touched upon other aspects of the music industry, including recorded music.
As expected, streaming continues to overtake other music sales formats.  PwC estimates streaming music will grow at a CAGR of 18%.  However, it won't match the strength of the live concert industry.  Streaming music revenue will grow to slightly over $23 billion by 2022.
Of course, the two are now happily intertwined, with streaming often propelling crowds towards live performances.
PwC found heritage music acts continue to generate the most revenue on the road.  U2, Guns N' Roses, Metallica, Depeche Mode, Paul McCartney, and the Rolling Stones took the six top spots in 2017.
Last year, the live concert industry generated 16% more revenue over 2016, bringing in $5.7 billion.
U2's Joshua Tree tour topped the Top 100 Worldwide Tours chart.  The growth in revenue was also boosted by a 5% growth in average ticket prices, which reached $84.63.
PwC also found EDM music festivals will continue to fuel the growth of the live concert industry.
"Electronic dance music (EDM) continues to draw large crowds.  These events are expanding internationally.  Miami's highly successful Ultra Festival markedly increased its overseas presence in 2017 and is now putting on events in Latin America, Europe and Asia, as well as South Africa.  Mexico's BPM Festival also is in expansion mode, and last year took its format to Portugal for the first time.  The outfit says it is scouting additional locations."
Consumers have also sought other live entertainment experiences.  Citing one example, ticket sales for eSports events have a projected CAGR of 21.1% over the next five years.
In addition, the report reveals the rise of convergence – stronger synergies between live events and other sectors.  These include e-commerce, licensing, and consumer brand products.  Consumers have apparently demanded and accepted different forms of live event experiences, avoiding a "one-size-fits-all" generic experience.
PwC says this convergence "[creates] an ever-expanding group of 'supercompetitors' and specialized, niche brands that are striving to secure the engagement and spending of increasingly demanding consumers."
Summarizing the report, Christopher Vollmer, Global Advisory Leader for Entertainment and Media at PwC US, explains,
"To succeed in the future that's taking shape, companies must revisit every aspect of what they do and how they do it.  This means going above and beyond in how they envision their business, generate revenues, create and organize their capabilities, and build and retain trust.  And, given the pace and scale of change under way, speed is vital."
---
Featured image by Veld Music Festival.