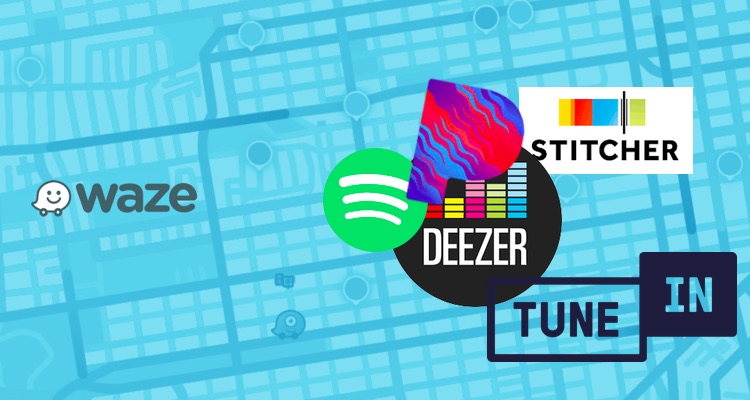 Looks like Waze is leveraging its commanding position on smartphone decks.
For those slogging through the modern-day travesty of superhighway gridlock, Waze has become an indispensable weapon.  Now, the company is looking to leverage its considerable presence of smartphones with integrated audio add-ons.
Spotify was actually first to this party, with a beta (or alpha) integration happening last year.  Well played Spotify, though all that bug-fixing and analytics-observing has now paved the road for other partners.
According to details shared by Waze with Digital Music News this morning, a beta version of the 'Waze Audio Player' is now being pushed.  In addition to Spotify, the partner list now includes Pandora, Deezer, TuneIn, and podcast platform Stitcher.
NPR, which has admirably been owning the dashboard across analog, digital, app, and podcast platforms, will also be a marquee partner.
In a nutshell, the Waze Audio Player is a well-integrated player that makes it easier — and safer — to listen to a range of audio platforms while also navigating traffic snarls.  The integrations essentially save the clunky step of having to toggle between apps, all while trying to enter a five-lane highway in rush hour traffic.
Not only does this save the hazardous and cumbersome app negotiation, it also makes the ride a little safer.  Of course, toggling between apps while driving is illegal in many locales, though compliance with those laws is typically shaky.
(And for proof of that, just glance at a few drivers in traffic, stopped or rolling…)
Pandora seems keen on the safety aspects involved.  "Whether you want to play a song, playlist, or album, or lean back and listen to personalized radio, you can do it safely and easily without ever taking your eyes off the road," said Chris Phillips, Chief Product Officer at Pandora.
Despite the presence of competitors — both direct and indirect — Spotify stands to gain handsomely here.
Spotify was first embedded into Waze in March of last year, and feedback was apparently pretty positive.  That pilot has already lured a number of Spotify subscribers, and Spotify has undoubtedly learned a few nuances along the way.
Keep in mind: this release is still in beta, so a few bugs could surface, especially for the next few weeks.
"We're dedicated to giving our users the best possible experience in the car," said Adam Fried, Head of Global Partnerships at Waze.  "Now we're able to make their drives even more enjoyable by seamlessly and safely delivering their favorite audio content while they're on the road.
"On top of this, our partners will also be able to create a personalized listening experience for their users by integrating with our Waze Audio Kit."
If you want to try this out right now, the easiest way is to join the Waze Beta Community.  Waze says the broader release will be happening in a few weeks.