T.I.-backed FLiK had an admirable mission.  Only problem: it's now worthless, and investors want their millions back.
We've documented a few rapper-backed cypto-collapses over the past year, including Ghostface Killah's now-worthless CREAM currency.  50 Cent famously declared himself an accidental Bitcoin millionaire, until the claim was shown to be fabricated.
Now, there's another sketchy rapper-endorsed crypto scheme gone sour.  FLiK Tokens, backed by T.I., promised to not only inflate in value, but also benefit artists and creatives in the process.  Neither happened, and investors are now suing the rapper and an associate for millions.
The securities class action lawsuit was filed in the U.S. District Court for the Northern District of Georgia on Thursday (November 1st), with damages exceeding $5 million, not including attorneys fees and court costs.
In total, 25 different investors are claiming that T.I. (aka Clifford Joseph Harris Jr.) and partner Ryan Felton raised millions for the crypto launch.  But the duo apparently made false representations and violated multiple laws, including numerous violations of federal and state securities laws.
Specifically, the complaint alleges that Harris and Felton orchestrated a 'pump-and-dump' scheme, all while hyping FLiK based on celebrity endorsements.  The pair even roped Kevin Hart into the hype-machine, though the comedian isn't named in the lawsuit.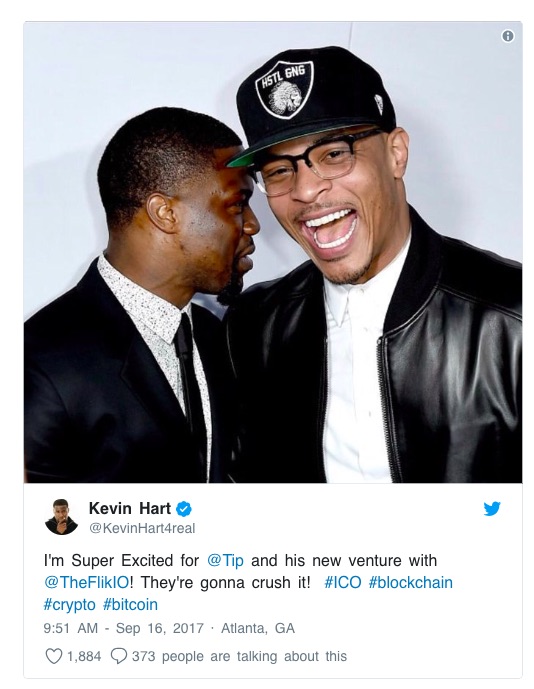 Of course, investing in speculative cypto-currencies was obviously high-risk, especially in the absence of established financial regulations.
But the suit alleges that investors were outright duped, adding insult to the extreme haircut experienced.
FliK Tokens were not only deemed a good investment, but a brand-new vehicle for artists to capture greater payouts.  Using blockchain transactions, FLiK promised that creators would capture up to 98% of their profits.
Maybe it was simply too good to be true.  At the start, Felton promised investors a near-25,000% return, from 6-cents to $14.99 per token, all in just 15 months.  In retrospect, that sounds laughable, though the claims were being made alongside wild run-ups in the value of Bitcoin, Ethereum, LiteCoin, and other leading cryptos.
The story on all three of those is now well known, though bullish buyers were frothily projecting wild increases ahead.  Tuition funds and home equity lines were leveraged to invest, leading to a crash of depressing outcomes and crushed dreams.
But T.I. and Felton also face another charge of embezzling money while the value of FLiK was briefly going up.  Those winnings were apparently converted into Bitcoin to hide the winnings.
Specifically, the case cites three specific securities violations.  That includes violations of Sections 12 and 15 of the Securities Act of 1933 and the Georgia Uniform Securities Act.