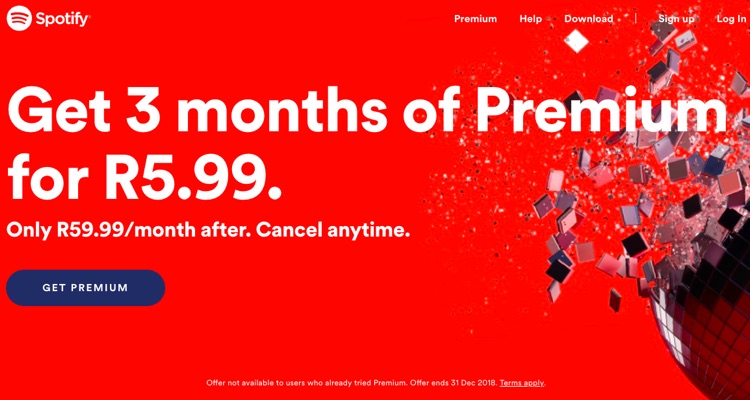 Spotify is hoping to entice a wave of new premium subscriptions in South Africa with some sweetheart holiday pricing.
The new trial offers South Africans Spotify Premium for the low price of R5.99, or about $0.42 USD.  The introductory pricing is good for three months, after which the subscription price will revert to R59.99, or $4.20 USD per month.
The offer is only available to new Spotify accounts, and expires after December 31st of this year.
Spotify has rapidly been expanding its services into new countries, with deeply-discounted pricing (at least compared to the U.S. and most of  Europe).
The rapid expansion demonstrates that Spotify is successfully executing deals with major labels, indies, and publishers, with flexible country-by-country pricing.
Case in point: the music streaming platform just launched in 13 Arab countries including Saudi Arabia and Egypt.  That includes sweetheart $5/mo. price tags, though this is by no means a slam dunk.  Alongside Apple Music's aggressive global expansions, a Saudi prince has backed French music service Deezer — so Spotify faces stiff competition for more than 300 million people.
With the recent launch, Spotify is now available in 78 markets worldwide.
On the music side, it looks like South Africans have a penchant for famous rappers.  A look at the top ten most streamed artists in South Africa shows heavy love for rappers like Drake, Post Malone, XXXTentacion, and Eminem.
But local flavor is also resonating.  Nasty C is the most streamed South African artist on Spotify. Other noteworthy South African artists who made the list include AKA, Jeremy Loops, GoldFish, and SnotKop.
Alongside MENA and South Africa, Spotify has also expanded into Israel and Vietnam.
It's estimated that the expansion into those latter three countries gives 160 million people access to the most popular music streaming service in the world.  Launch prices in Vietnam were at roughly $2.50 a month, and Israel was roughly $5.80 per month, so South Africa's monthly pricing is by no means unusual.
Indeed, average prices across the entire MENA region are hovering around $5, even in wealthy nations like UAE.