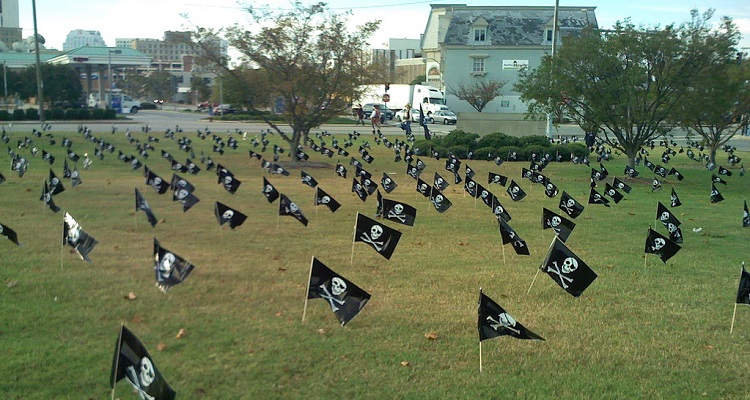 Once again, without truly understanding the consequences, the music industry has pushed for widespread site-blocking to take on piracy.  But what does the RIAA stand to benefit from the effort?
Eight years ago, the Recording Industry Association of America (RIAA) readily defended two controversial bills aimed at taking on piracy.
The Stop Online Piracy Act (SOPA) and the Protect IP Act (PIPA), a Senate companion bill, aimed at blacklisting websites hosting or linking to infringing works.  This, argued the RIAA, would prevent people from pirating content.
Critics – including major tech companies – slammed the bill, claiming SOPA and PIPA would severely hamper freedom of speech.
If approved, the US Attorney General had the power to seek court orders against ISPs.  The government would then order ISPs to block access to websites purportedly engaging in "theft of US property."  On a whim the US Attorney General – along with the entertainment industries – could silence any website deemed a threat.
Following a massive online blackout by major tech companies, both bills failed.
Undeterred, the music industry – led by the RIAA – has attempted to resurrect both bills in the form of 'changes' to existing legislature.
Welcome back, SOPA and PIPA.
According to a new report, the RIAA and the National Music Publishers' Association (NMPA) have drafted a joint letter to Vishal Amin, the Intellectual Property Enforcement Coordinator (IPEC).  He put out a call, requesting feedback for "improvements" on the newest Joint Strategic Plan for Intellectual Property Enforcement.
The letter reads,
"There are several changes that should be made legislatively to help legal authorities and third parties better protect intellectual property rights."
To fix the DMCA, write both organizations, the United States should implement site-blocking as a piracy tool.
"These include fixing the DMCA, making it a felony to knowingly engage in unauthorized streaming of copyrighted works, and investigating the positive impact that website blocking of foreign sites has in other jurisdictions and whether U.S. law should be revised accordingly."
Resurrecting SOPA and PIPA's controversial anti-piracy measure, the RIAA and the NMPA – without providing proof whatsoever – argue site-blocking has worked around the world.
"As website blocking has had a positive impact in other countries without significant unintended consequences, the U.S. should reconsider adding this to its anti-piracy tool box."
The Copyright Alliance agreed, pushing for the IPEC to "observe how other countries are enforcing copyright laws, and whether those enforcement efforts are effective."
"In addition to learning what remedies are effective, much can be learned from other countries in ensuring such remedies are proportionate and do not result in overblocking or other unwanted consequences."
As with the RIAA and the NMPA, the Copyright Alliance has failed to provide evidence to back up its claims.
The "unintended consequences" of site-blocking.
Speaking with Motherboard, copyright experts stated Homeland Security shut down 84,000 non-infringing websites in 2011.  The US agency had targeted pirating websites in a widespread copyright enforcement effort.  A similar Australian filtering campaign has accidentally taken down 250,000 innocent websites.
Just don't tell that to the RIAA, the NMPA, or the Copyright Alliance.
Explaining the music industry's narrow-minded anti-piracy strategy, Annemarie Bridy said,
"DNS blocks are easy to circumvent, because site operators can just register a different domain name in the same top level domain or move to a different top level domain.  It will always be a game of cat-and-mouse, with no real permanent effects."
She works as a Professor of Law at the University of Idaho.
Bridy added that the RIAA may willfully choose to ignore the consequences of site-blocking.
"The RIAA has an obvious interest in selling site-blocking to policy makers.  They've historically been dismissive of adverse effects on other people's speech.

"It's in the RIAA's interest to exaggerate the benefits of site-blocking and to downplay the costs.  That's what we'd expect them to do as lobbyists for the music industry, and that's what they do."
In fact, pushing for site-blocking may ultimately prove ineffective.
Sasha Moss, Federal Affairs Manager at the R Street Institute, explained,
"[ISP site filters] only incentivize bad actors to find new avenues to disseminate infringing content.  The only way to combat piracy is to create legal and accessible options for sharing content online."
In fact, continues Moss, the music industry has clearly ignored the lessons of SOPA and PIPA's legislative defeat.
"SOPA/PIPA was riddled with problems and it would be nonsensical to go down that road again."
Meredith Rose, a lawyer for Public Knowledge, a consumer group, warned site-blocking will ultimately hurt small businesses.
"In the end, there's a very real risk that you end up increasing concentration of market power because the dominant player is the only one who can afford to bear the new costs of the law.

"It's not always clear that the benefit from the law offsets the harms from increased concentration."
---
Featured image by Roger Gregory (CC by 2.0).