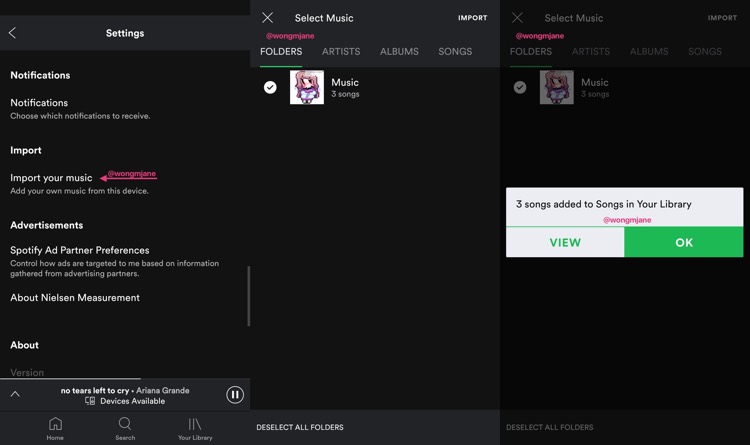 Spotify appears to be testing a new feature on Android devices to allow users to import songs.
Spotify already offers tens of millions of songs for instant streaming, but licensing issues continue to cause problems.  Platform exclusivity is another issue, leading to content gaps.
Beyonce's 2016 album Lemonade is still only available for streaming through Tidal, for example.  And SoundCloud is stuffed with remixes that can't be found anywhere else.
Now, Spotify may allow Android users to import their own music.
The move would allow users to fill in the gaps where Spotify's music catalog is lacking.  Fans of remixed EDM and lesser-known artists would then be able to listen to their music through the platform, with holdout releases also suddenly 'available'.
A Twitter user spotted the unreleased upload setting in the Spotify app on Android, alongside a new 'save for later' option for podcasts (see above).  That feature gives you a new playlist called Saved For Later that downloads podcast episodes for consumption while offline.
The new app also appears to show a reworked Library view for creating automatic playlists of your favorites.
The big idea behind the upgrade is this: if Spotify caters to every music listener's needs, there's theoretically no need for any other service.  Spotify has been cementing that future by offering exclusive podcasts and interviews with music industry insiders.
One bit of caution, however: despite the internal test, there's no guarantee we'll see these features available publicly any time soon.
Spotify's broader efforts have been geared towards making it a more open platform for both artists and listeners.
The new Spotify For Artists beta allows anyone to upload their music to the service, with partner Distrokid a key part of the functionality.
The company has also cemented new partnerships to make sure that Spotify is the first music streaming service for new Samsung devices.  Samsung is the world's largest Android manufacturer, which means this latest move could fuel Spotify's growth on the platform. The deal also covers Samsung smart speakers and TVs.