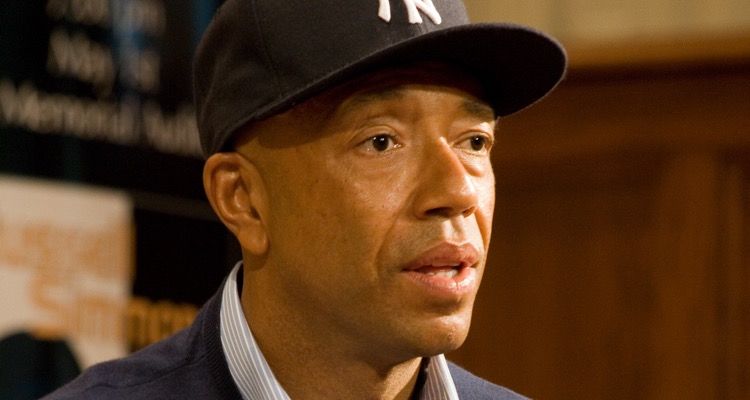 The music industry faced its fair share of sexual abuse allegations in 2018 .
As the year wraps up, Digital Music News has compiled the list of musicians and music executives that have faced abuse allegations — sexual or otherwise.
Russell Simmons.
To date, more than 15 women have accused the hip hop mogul of sexual misconduct, rape, and issuing sexual threats.
That includes Alexia Norton Jones, who has accused Russell Simmons of rape.  In a first-person account to Variety, she describes the sexual assault.
"It was such a fast attack.  I must have said no seven to 10 times, and then I acquiesced.  It was very fast.  I would say it happened in less than 10 minutes."
Russell Simmons has fought back against the claims.  In a statement to the New York Times, the hip hop mogul said,
"I have respectfully, factually, and comprehensively denied the charges of sexual violence against me."
A Jane Doe plaintiff has filed a $10 million lawsuit at the Los Angeles County Superior Court last March.  In the filing, Simmons has been accused of threatening the woman into having non-consensual sex, with separate threats to sexually assault the woman's son.
Simmons has vehemently denied all allegations.
Charlie Walk.
Suggestive comments to young female staffers.  Unwarranted and unprofessional advances.  Lurking on female staffers' social media accounts.  Dry-humping employees.  Grabbing vaginas.  Sending pictures of his penis.  Forcibly kissing staffers.  Tackling women on top of couches to lay on top of them.  Career advancement in exchange for sex.
This year alone, Charlie Walk has faced a slew of allegations, with accusations spanning over two decades.  Affected female staffers were in their 20s.
Following an internal investigation, Universal Music Group label Republic Records dismissed Charlie Walk.  The label made the decision based on findings of the internal review, which remain undisclosed.
No one has dared step forward to sue Walk.  Patty Glasser, Harvey Weinstein's bulldog attorney, was retained to defend the embattled music executive.
UnitedMasters' Steve Stoute has since defended the music executive.  Walk currently serves as a consultant for Stoute's company.
Andrew Lack.
NBC's current Chairman, Andrew Lack, allegedly refused to take action against Charlie Walk while at Sony BMG.
Female staffers had accused Charlie Walk of sending pornographic images and "other inappropriate missives."  One unnamed executive reportedly pushed Lack to act.  He refused to do so.
An NBC spokesperson denied he covered up Walk's behavior, stating,
"Lack had no knowledge of any allegations against Charlie Walk in the six years he was at Sony.  If he did, he would have acted within minutes."
L.A. Reid.
Early last year, Antonio 'L.A.' Reid abruptly exited Epic Records, a division of Sony Music.  According to Variety, Sony pushed him out following sexual assault accusations against the former top executive.
A former employee had detailed multiple occasions of 'inappropriate behavior.'
In one incident, Reid, a married man, allegedly "asked her to lie down in bed with him and give him a hug while the two were at a hotel while traveling on business."
Speaking about Reid's supposed ouster, a source told The Post,
"We are not allowing a culture like that in this company, no matter how much a person brings to the bottom line."
The accusations continued into this year.
An accuser told Variety,
"I felt relief because I was done.  However scary the reaction and fallout is — even however hard this is for my family to process — I am done carrying this heavy load.  It was like a weight had been lifted from my shoulders.  I didn't know how heavy it was until I put it down".
William Preucil.
In July, the Cleveland Orchestra suspended violinist William Preucil, its 23-year concertmaster, "until further notice."
The move came following the publication of an article by The Washington Post.  Violinist Zeneba Bowers claimed Preucil assaulted her in his hotel room following a lesson in 1998.  She had served as a fellow at the New World Symphony, a training orchestra for young professionals.  Other musicians also confirmed Preucil's behavior of inappropriate advances toward women.
Decapitated.
Earlier this year, Polish death metal band Decapitated faced serious sexual assault accusations.
Following a performance, they allegedly gang-raped and kidnapped one fan.  Police kept the band imprisoned for months while members awaited trial.
A close review of the evidence revealed the two accusers likely fabricated the gang rape and kidnapping story.  The band lost time, money, and fans in the process.  They had to cancel a lengthy US tour.
A judge in Spokane, Washington ultimately acquitted the group.
Orri Páll Dýrason
Orri Páll Dýrason, drummer of Sigur Ros', an Icelandic avant-rock band, left the group following sexual assault allegations.
Artist Megan Boyd detailed the alleged event on social media.  She describes waking up "with the feeling of being penetrated without my consent during a deep slumber" at least twice.
Boyd came forward after hearing Dr. Christine Blasey Ford's testimony against Brett Kavanaugh earlier this year.
Dyrason has since defended himself against Boyd's claims.
"In light of the scale of this matter, I have decided to leave Sigur Rós.  That is a difficult decision for me, but I cannot have these serious allegations influence the band and the important and beautiful work that has been done there for the last years.  A job that is so dear to me.  I will do anything in my power to get myself out of this nightmare, but out of respect for those actually suffering from sexual violence, I will not take that fight public."
Jeremy Geffen.
The late Jeremy Geffen battled serious sexual assault charges over a decade ago.
Yet, there was also a dedicated effort to scrub his sordid criminal record from the internet.
Ten years ago, the Los Angeles Police Department arrested Geffen for assaulting two underage girls.  He faced 15 serious charges, including 3 counts of rape, 1 count of attempted sodomy on a minor, and 1 count of forced sexual penetration with a foreign object.
Striking a deal with investigators, Geffen ultimately served a probation period of 5 years.  Police later reduced the charges to misdemeanors.
Following his tragic passing, a source reached out to Digital Music News.  The source told DMN that Geffen's management firm had actively "scrubbed much of [the news] from the internet."
Once our story went public, a PR executive begged us to take the piece down.
Noel 'Detail' Fisher.
According to TMZ, two women – Kristina Buch and Peyton Ackley – filed restraining orders against Noel 'Detail' Fisher.  They alleged that the producer raped and physically assaulted them.  Fisher also forced them to perform sexual acts in front of others.
Jessie Reyez, an Island Records artist, backed up Buch and Ackley's claims on Instagram.
"One night, over 6 years ago Noel 'Detail' Fisher tried this on me.  I was lucky and I got out before it got to this.  I didn't know what to say or who to tell.  I was scared.  Fear is a real thing.  The girls that came out are brave as hell."
Bebe Rexha, a singer and record producer, also confirmed a similar claim.
"He tried to do the same thing to me when I was a new artist.

"Glad these women came out.  It's scary.  He tried to with me, but I literally ran out of that studio.  Karma is a b—h."
Adam 'Adam22' Grandmaison.
Warner Music's Atlantic Records has canceled its venture deal with No Jumper Records.
The move came after two incidents of alleged rape came to light against Adam 'Adam22' Grandmaison.
A Pitchfork piece detailed both events, stating he assaulted and humiliated the women.
One woman said,
"At first I was OK with it, but quickly became uncomfortable as it went further than I wanted to go.  I told him I wasn't into it, but he didn't stop and became pretty angry.  Meanwhile, I'm not a big girl, I'm 5'4″ and Adam is well over 6'0″ and a pretty big guy.  I was terrified and froze while he had sex with my basically lifeless body.  I was too afraid to fight back in fear that he would hurt me, so I just laid there in terror.  I just remember staring out the window and praying it would be over soon."
Another woman said,
"I was like, 'No, just stop.' I was pushing him off me and my hands were pushing him, really just, barricading my vagina with my hands.  Like, 'No, don't go there, don't put your fingers in there, don't go anywhere there, I don't want that.'  And then he's 6'4″ and I'm like 5'3″.  I was like 120 pounds, if that.  He easily had 100 pounds on me.  When someone is that big and they have the ability to grab both your wrists with their one hand and pull your arms over your head, you can't do anything.  And if you try, it'll just get worse and more painful.  What are you supposed to do?"
The hip hop tastemaker, credited for boosting XXXTentacion, Tekashi 6ix9ine, and Lil Yachty's careers, has publicly lambasted the accusers.
"Viva la fake rape.

"I've done plenty of stupid s—t in my life.  But I've never raped or hit a woman."
Katy Perry.
On the season premiere of American Idol, Katy Perry grabbed 19-year-old contestant Benjamin Glaze and forcibly kissed him.
The move quickly prompted claims of sexual harassment.
Glaze, however, said he wouldn't press charges against the singer.
Ryan Seacrest.
Late last year, Suzie Hardy, a wardrobe stylist, accused Ryan Seacrest of sexual impropriety.  The alleged incident occurred over ten years ago on the set of E! News.
Hardy also demanded $15 million in an ugly blackmail extortion attempt.
An investigation conducted by an outside law firm cleared Seacrest on February 1st, 2018.  The firm found "insufficient evidence to support the claims."
Seacrest's attorney, Andrew Baum, issued the following statement.
"After Mr. Seacrest denied each and every one of Ms. Hardy's decade-old claims, after Mr. Seacrest refused to pay Ms. Hardy any money whatsoever, and after an independent legal investigation did not support her claims, Ms. Hardy went to the press attacking the legitimacy of the investigation.  Now, after being refused money, and unhappy with the independent legal investigation, Ms. Hardy now claims to have spoken to the authorities.  We will continue to cooperate and we remain confident that Mr. Seacrest will once again be cleared of any wrongdoing."
Heather Parry.
Heather Parry, an Executive Producer at Live Nation Productions, has faced a slew of abuse allegations.
During her time at both Live Nation Productions and Adam Sandler's Happy Madison, she reportedly bullied employees.  Former employees described Parry as "manipulative, demeaning, and verbally abusive."
Especially hard on female employees, Parry frequently employed the terms "f—ggot" and "c—nt."
At one point, the executive producer became upset at a black employee.  Parry reportedly said,
"Black people, you can't count on them for anything."
Parry also regularly called a Happy Madison receptionist "fat."
Several former employees working under Parry have left the entertainment business altogether.  Several suffer from ongoing panic attacks, and others have actively sought therapy.
Other employees were forced to answer Parry's phone calls on the weekend "with extreme demands."  A former production employee had to arrange her underwear drawer and "oversee her home remodeling job."
At Happy Madison, Variety discovered Parry's job requirements for her assistants.  She demanded "[assistants] had to keep track of [her] prescriptions, make sure her car was serviced, take care of her dog (including pouring melted butter on the dog's food), and make sure that Parry's home was kept stocked with Mountain Valley water."
Wynn Wygal, a former Development Executive at Live Nation Productions, summarized her poor experience with Parry.
"She's an emotional terrorist."
XXXTentacion.
The late XXXTentacion had a reputation for extreme violence against women.
He regularly abused his pregnant girlfriend, Geneva Ayala, in a very violent manner.
Following the rapper's fatal shooting, his ex-girlfriend received thousands of dollars for reconstructive eye surgery after grim pictures came to light.
XXXTentacion – real name Jahseh Onfroy – allegedly assaulted Ayala while she was pregnant with his child.  He had threatened to kill her multiple times.  According to court testimony, he even threatened to murder the unborn child.
After one particularly violent assault, Ayala was punched so hard she developed vision problems.  Bone fractures also caused her to lose sensation in her face.  She faced the prospect of blindness in one eye.
At the time of his death, XXXTentacion fought felony charges on aggravated battery on a pregnant victim, false imprisonment, strangulation, and witness tampering.  The rapper claimed complete innocence throughout.
Garrett Clark Borns – BØRNS.
Last September, several women on social media alleged singer and songwriter Garrett Clark Borns –BØRNS – took advantage of them sexually while they were intoxicated.
The women described the singer's predatory behavior.  At least two of the women were underage at the time of the alleged misconduct.
The allegations started on September 21st.  A woman posted a statement on Twitter stating that Borns was a user and a manipulator.
According to her, she met Børns in 2015 and struck up a friendship with him.  After meeting him for drinks, she expected to go to a bar.  Instead, she wound up at his house.  There, she became intoxicated.  Børns allegedly took advantage of her in this state.
"Once everything happened I went to the bathroom and started bleeding.  I was completely shocked from the blood and started to get it together and realized what just happened.  I blamed myself for that night because I didn't say no even though I was intoxicated."
Borns has responded to the allegations on his Instagram, stating that he is both hurt and angered over the allegations.
"All of the relationships I have had were legal and consensual. They ended abruptly, and that obviously caused hurt feelings, but for anyone to suggest anything beyond that is irresponsible."
Tekashi 6ix9ine
Prior to his arrest earlier this year, rapper Tekashi 6ix9ine – real name Daniel Hernandez – faced sexual abuse charges.
He reportedly abused a 13-year-old girl multiple times.  Hernandez had pleaded guilty to three counts of using the girl in a sexual performance several years ago.
Tekashi now faces a 32-year prison sentence if found guilty of charges of racketeering, conspiracy to commit murder, robbery, narcotics trafficking, and multiple firearm offenses.
Asia Argento.
Though not a musician, X-Factor Italy dropped Asia Argento following a series of child abuse allegations.
The fallout came after actor Jimmy Bennett alleged that he received a $380,000 settlement to cover up his sexual encounter with Argento when he was only 17.  Argento says the payment was made by her boyfriend, the recently deceased chef Anthony Bourdain.
The allegations stem from a 2013 encounter with the actress in a California hotel room.  The legal age of consent in California is 18.  Argento had become acquainted with Bennett as he had a starring role as her son in the 2004 movie, The Heart is Deceitful Above All Things.
Argento has flatly denied that any sexual impropriety occurred between herself and Bennett.
Instead, she says she accepted the financial settlement at Bourdain's urging to avoid any "long-standing persecution" of her character.
John Amato.
According to the Daily Beast, a probe deployed and conducted by Billboard's managerial team found countless instances of sexual harassment by former CEO John Amato.  Valence Media, which owns The Hollywood Reporter-Billboard Media Group, apparently hired an outside consultant to probe into the issues.
Interviewing almost a dozen sources, The Daily Beast wrote,
"Investigators learned about a widely witnessed event in which Amato made sexual overtures at a young marketing staffer at the Sundance Film Festival in 2014.  It wasn't the only time he allegedly made comments to a younger colleague.  Two people said staff were off-put when he made a similar advance on a female staffer after the 2017 Billboard Awards in Las Vegas."
Amato had reportedly buried stories of sexual misconduct against Charlie Walk, a close friend.
Julian Holguin.
Amidst the investigation into Amato's alleged sexual harassment, sources pointed to similar misconduct by Julian Holguin, Valence Media's Executive Vice President of Partnerships.
The Daily Beast wrote,
"In an email to human-resources director Angela Vitacco, a non-employee witness detailed how during a night out, Holguin repeatedly inquired with employees about whether they could attend a strip club, and asked repeatedly whether the strippers would sleep with him.

"He would go on to make NUMEROUS requests + inquiries regarding not only where strip clubs might be located…but also (verbatim) 'Do the strippers here f—k?" said a witness in an email to Billboard HR, obtained by The Daily Beast.

"'He would go on to ask this exact question no fewer than 7 times w/in my ear shot.  There was also a comment along the lines of him wanting to 'eat some stripper snatch' as well as disgusting references to how 'beat up' he liked them."
Charlamagne Tha God
Last July, an online petition emerged, urging iHeartMedia to fire 'The Breakfast Club' radio show host Charlamagne Tha God.
32-year-old Jessica Reid accused Charlamagne – real name Lenard Larry McKelvey – of raping her when she was 15.  At the time, the 22-year-old McKelvey pleaded guilty to a lesser charge of contributing to the delinquency of a minor.  He denied any other wrongdoing.  McKelvey was assigned three years of probation.
According to Reid, witness testimony, and police reports, Reid and an unnamed friend were given some sort of liquid that "tasted like soda" by men at the party on June 8th.  Both girls then blacked out.  Reid's friend awoke to find a strange man trying to kiss her.  After she stopped him, she found Reid in a separate room crying uncontrollably.
The staff at a nearby hospital confirmed the assault after examining Reid.  Police conducted a thorough investigation, arresting McKelvey on July 2nd.
The case didn't go far.  At the time, Reid became uncooperative.  The prosecution felt that they wouldn't be able to convict McKelvey without more assistance from her.  Joslyn, Reid's mother, feared Reid would suffer more with public attention.
Reid simply wanted the closure she felt she never gained as a child so she could finally move past the horrific moment.  On social media, people around the world supported Reid's decision by posting messages with the trending #Justice4jessica tag.
---