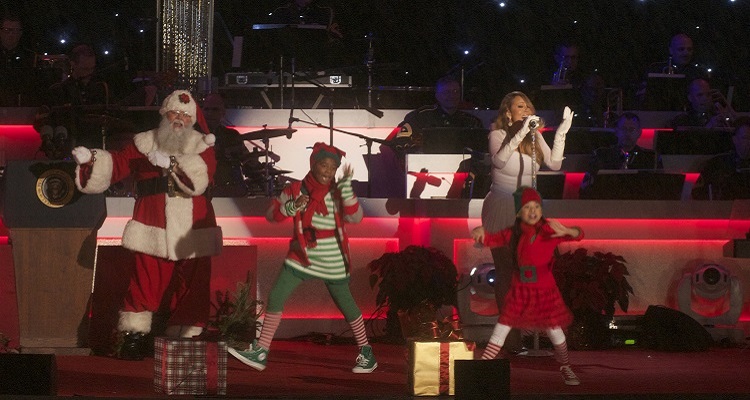 Mariah Carey's 1994 hit just beat out XXXTentacion and Drake on Spotify.  But, was it really worth it?
According to Billboard, Mariah Carey's hit, 'All I Want For You,' has emerged as one of the highest-charting Hot 100 hits in 60 years.
The 1994 song came close behind David Seville & The Chipmunk's 1958 hit, 'The Chipmunk Song.'  That song hit No. 1 for four weeks starting on December 22nd, 1958.
On the chart ending December 22nd, 2018, Carey's track became the top-charting song of the season on the Hot 100.
Last year, 'All I Want For You' hit the Top 10 for the first time, landing at No. 9.  Last week, the song rose to No. 7.  Her song has now bested Kenny G and New Kids on the Block's Christmas tracks as the highest-charting holiday song in the Hot 100's history behind 'The Chipmunk Song.'
Now, the song has broken a record on Spotify.
Move over, XXXTentacion and Drake.
'All I Want For Christmas Is You' reportedly took 15 minutes to write.
Yet, on December 24th, Carey's popular Christmas track hit 10,819,009 streams on Spotify.  This beats XXXTentacion's 'Sad!', which hit 10.4 million streams on June 19th.  Carey also beat out single-day individual track records set by Drake's Scorpion earlier this summer.
On Twitter, Pop Crave, a pop culture news and music site, confirmed,
"All I Want For Christmas Is You" by Mariah Carey has broken the Spotify record for the most streams in a single day with over 10.8 MILLION streams.  The previous record was held by XXXTentacion's "SAD!" with 10.4 MILLION streams on June 19th.

Congratulations, @MariahCarey!"
On Instagram, Carey thanked her fans, writing,
"Such an amazing Christmas gift! THANK YOU #L4L."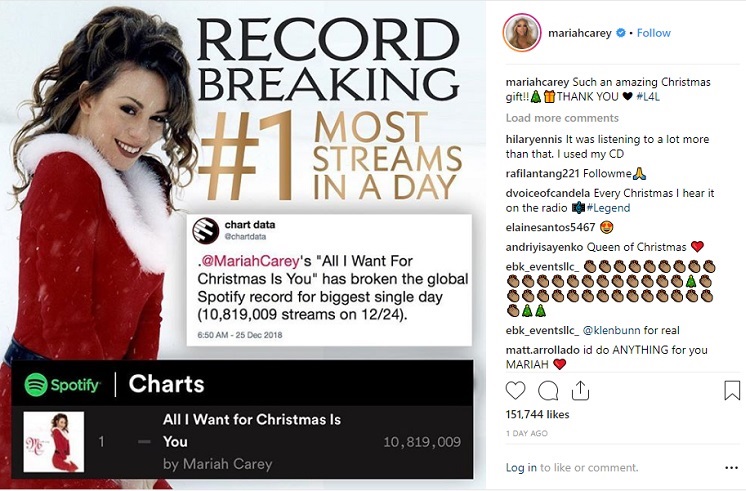 Underscoring the service's poor payouts, however, Carey's song didn't generate a lot of money.
Per Rolling Stone, at $0.006 per stream, the track's nearly 11 million streams would've netted her label just under $66,000.  That number is split among various rightsholders, including co-writers, producers, label executives, and publishers.
The figure remains mostly consistent with our coverage of streaming music services' artist payouts.
---
Featured image by The United States Army Band (CC by 2.0).