`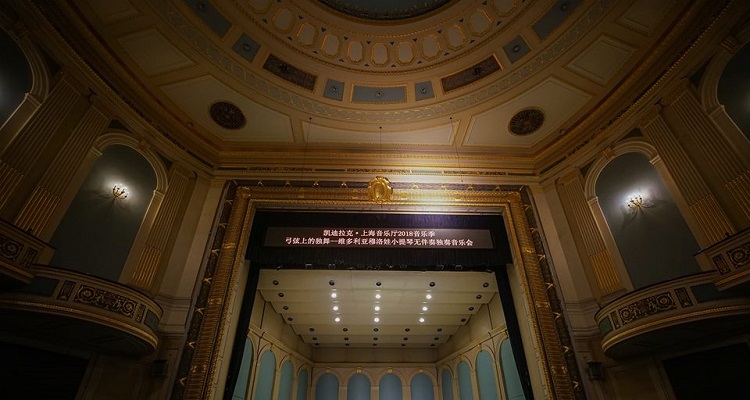 The Shanghai Concert Hall will finally receive a major makeover.
A popular 88-year-old Chinese concert hall will finally receive a much-needed 'facelift.'
The Shanghai Concert Hall will close in March of 2019 for major renovations.  This comes 15 years after the venue moved to its current site.
In a statement, the concert hall said it would reopen in January 2020.
The theatre currently has a total of 1,149 seats divided into two floors.  The first floor has 25 rows with 663 seats.  Its second floor has 17 rows with 486 seats and an exquisite gold foil dome.
The stage is a frame structure, with a width of 11.13 meters (36.52 feet) and a table depth of 13.13 meters (43.08 feet).  The total stage area measures about 145 square meters (1,560.77 square feet).  Its lifting pool has an area of 29.74 square meters (320.12 square feet).
The facility comes equipped with two Steinway D-274 pianos, among other things.
During the makeover period, engineers will completely wrap the Shanghai Concert Hall for repair and maintenance.  Fang Liang, the venue's General Manager, confirmed engineers will upgrade the stage facilities to meet higher demands.  Liang didn't explain what changes would be made.
First built in 1930 by Chinese architects, the Shanghai Concert Hall served as a rare Western classical-style building in the city.
In 2003, engineers moved the theater 66.46 meters (218.04 feet) southeast.  This allowed for the construction of the Yan'an Elevated Road.  At the new site, engineers quadrupled the Shanghai Concert Hall's size.  They added marble pillars, Roman chandeliers, and other structures to match the hall's original 'vintage' feeling.
Engineers also updated the stage facilities.  This includes adding an LED central banner screen.
Backstage, the Shanghai Concert Hall added 2 large makeup rooms, with each accommodating around 40 people.  The venue also added a middle dressing room, which can accommodate ten people, and a deluxe dressing room.
Each year, the venue has hosted over 500 concerts.
You can view photos of the Shanghai Concert Hall below.
---
Featured images by Shanghai Concert Hall.