Spotify's 'Preferred Distributor' tier just got a shake-up.
Last October, Digital Music News broke the news that Spotify had selected 5 preferred distributors: CD Baby, Distrokid, EmuBands, FUGA, and The Orchard.  Now, Spotify is clearly defining two tiers: 'Preferred' and 'Recommended,' with 'Preferred' now occupied by just three companies: Distrokid, CD Baby, and The Orchard.
Others weren't so lucky.  Artist distributor EmuBands has been moved to the Recommended level, while FUGA has simply remained at Recommended.
Believe Distribution Services is now also a Recommended Label Distributor.
As far as we can tell, the update appeared early this (Wednesday) morning on the Spotify for Artists page.
Previously, label distributors weren't clearly differentiated.
Now, there's a clear distinction between Preferred and Recommended for label distributors — which matches the delineation for artist distributors.
"We've defined a set of standards for distributors, and we're able to recommend the following list of companies who have demonstrated their ability to work well with both artists and Spotify," the Spotify for Artists page states.  Then, the Preferred partners are listed first (with their shiny logos), followed by the 'Recommended' others (with no logos).
Here's what the new recommendations look like for artist distributors.
As you can see, the key difference between a 'Preferred' and 'Recommended' partner boils down to one word.  Preferred partners reach Spotify's 'highest standards for providing quality metadata and protecting against infringement,'  while the Recommended partner meets the 'basic standards for providing quality metadata and protecting against infringement' (italics added by DMN).
All three artist distributors offer 'instant access to Spotify for Artists for all of their users.'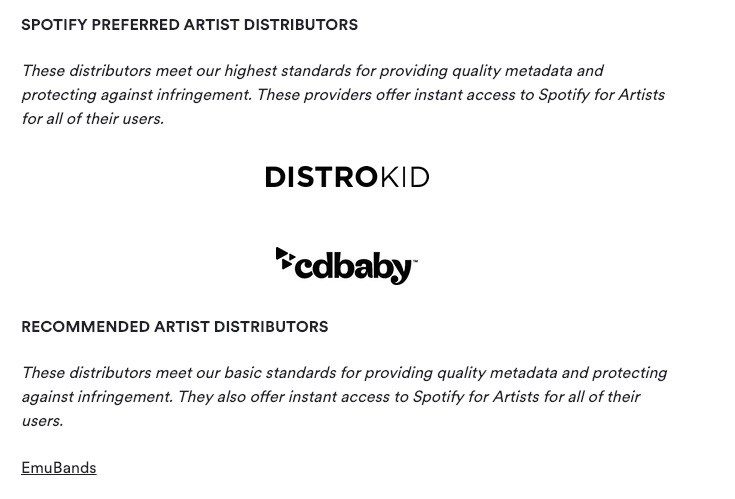 Worth noting is that CD Baby used to be listed below Distrokid without a logo (see archive here), but now clearly joins Distrokid in the hallowed 'Preferred' circle with logo branding.  That's a nice little bump, especially since CD Baby is also a preferred distributor over at Apple Music.
Actually, scratch that.  CD Baby is technically a 'Preferred Plus' distributor at Apple Music, and actually tops Apple's list of distributors.  Distrokid, by comparison, is listed as just a 'Preferred' partner at Apple Music, and is way down the ranking (though it's still an accomplishment to get listed at all).
All of which means that CD Baby is easily one of the top-ranked artist distributors in the world, with the highest accolades afforded by both Spotify and Apple Music.
It makes us think that CD Baby could be prime for a monster acquisition ahead — but that's just conjecture.
As for Distrokid, Spotify now has a sizable investment stake in the distributor.  That made Spotify's selection of Distrokid as a Preferred Artist Distributor a bit controversial a few months ago, though it looks like the streaming platform is addressing those concerns.
"Our investment in any provider does not affect who is featured on this page, nor does it affect any decisions about how content is treated on Spotify's service," the company assures.
Over to the label distribution side, The Orchard is now cleanly taking the cake.
In perhaps a telling typo, Spotify refers to its 'Preferred Label Distributors,' while referencing a group (i.e., more than one) in its description.
"These distributors meet our highest standards for providing quality metadata and protecting against infringement," teh streaming giant states.
That suggests that either Spotify is aiming to add more partners later, or, they simply didn't proof the wording on the page (hey, it happens, even at DMN).
FUGA and Believe are listed as 'Recommended Label Distributors'.  FUGA is additionally listed as a 'Recommended Delivery Platform,' though we're not sure what the difference is between the two.
The Orchard, one of the longest-running digital distributors, is wholly owned by Sony Music Entertainment.