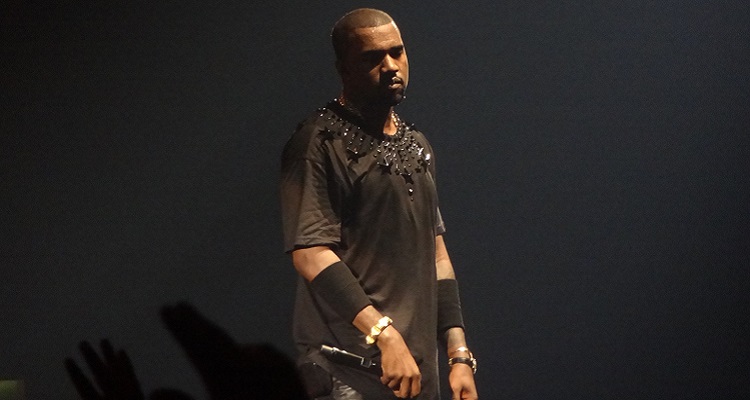 According to the latest research, the average length of a song is getting shorter by the year.
According to a new report, the average length of a song is now significantly shorter. The average length of a song on the Billboard Hot 100 has decreased by 20 seconds in the past five years.  Songs now average 3 minutes and 30 seconds — and are steadily shrinking.
6% of hit songs also averaged 2 minutes and 30 seconds or shorter last year, and sub-3 minute songs are becoming increasingly common.
Breaking down Kendrick Lamar's albums and songs, Quartz found a steady shift towards shorter tracks. In good kid, m.A.A.d. city, for example, the 5th track, 'Money Trees,' starts in the 19th minute. But in To Pimp a Butterfly, the 5th track, 'These Walls,' starts in the album's 16th minute.  And in DAMN., the 5th track, 'FEEL.', starts much sooner, at the 12th minute.
The average track length on good kid, m.A.A.d city is 5 minutes and 37 seconds. All tracks on Lamar's album are 3 minutes and 30 seconds or longer.  Some tracks even surpass the 6-minute limit,  including 'Money Trees,' and the 12-minute+ 'Sing About Me, I'm Dyin'.'  The entire album lasts 68 minutes and 23 seconds.
But Kendrick is clearly shifting to shorter length songs. DAMN.'s average track length stands at 3 minutes and 57 seconds.  The entire length of the album stands at 54 minutes and 54 seconds.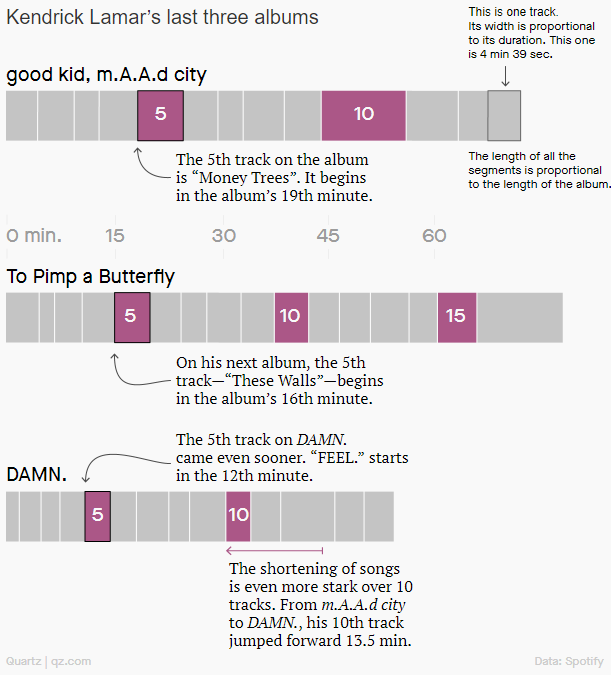 This trend also applies to other artists.
Breaking down Drake's latest albums, Scorpion and More Life, Quartz found the rapper's songs have become shorter.  His albums have also become longer.
Kanye West also follows this trend. His 2016 album, The Life of Pablo, had eight tracks less than 3 minutes long.  In contrast, 2010's My Beautiful Dark Twisted Fantasy only had two.
Nicki Minaj and J. Cole also followed suit. Squeezing extra songs into Queen, Minaj's latest album tracks have shortened 11% over Pink Friday. Tracks on J. Cole's latest album, KOD, have shortened 29% over those on 2014's Forest Hill Drive's.
Rappers aren't the only ones shortening their songs.
Tracks on Eric Church's Desperate Man have shortened 21% over those on Mr. Misunderstood. Jason Aldean's Rearview Town's tracks are also 18% shorter than My Kinda Party.
According to Quartz, low streaming music payouts may have caused songs to decrease.
Spotify, for example, pays major artists between $0.004 and $0.008 per stream.  So, every song on West's newest, shorter album receives the same royalty payment as those on his older works.
Mark Richardson, Pitchfork's former editor, explained,
"[T]here has never been this kind of financial incentive to make shorter songs."
So, what should we expect in the near future?  Thanks to the rise of streaming music, until artists receive better payment from streaming, we can probably expect longer albums with shorter songs.
---
Featured image by Pieter Jannick Dijkstra (CC by 2.0)