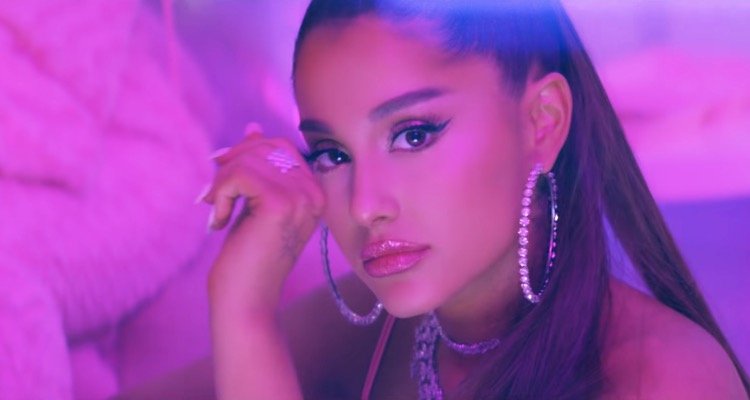 Spotify streaming records have been broken once again.
'Thank u, next' was an incredibly strong single for Ariana Grande.  But '7 rings' is now proving even stronger, at least out of the gate.  According to stats released by Spotify, the latter track racked up nearly 15 million plays in a 24 hour period, a new record for the platform.
'7 rings' was released on Friday; the 15 million-mark was in sight by late Saturday.  After 24 hours, the track had been played 14,966,544 times.
That's a huge milestone, but one likely to be broken soon enough.  The earlier 24-hour record holder was Mariah Carey, whose 'All I Want for Christmas Is You' reached 10,819,009 on December 24th of last year.
The record was quickly blasted out by Ariana Grande's manager, Scooter Braun.
Incidentally, 'thank u, next' has also been destroying records of its own.  The track reached 100 million plays in just 11 days in November, itself a record.  The song has been a smashing success and likely led momentum towards to latest '7 rings' success.
But Grande's latest chart-smasher isn't without controversy.
Over the weekend, Princess Nokia alleged that '7 rings' was plagiarized from her earlier track, 'Mine'. "Does that sound familiar to you? 'Cause that sounds really familiar to me," Nokia tweeted.
In reality, the tracks do have similarities, though direct plagiarism seems a stretch.
Unsurprisingly, '7 rings' is also hogging top spots on rival streaming platforms, most notably Apple Music, YouTube, and iTunes.
In fact, the track may have broken records on other platforms as well, though Spotify reported their milestone first.
Meanwhile, Grande is feverishly preparing to headline Coachella after a last-minute cancellation by Kanye West.  The rapper reportedly bowed out after demanding the construction of a massive, dedicated dome in the middle of Coachella's grounds (the offer was quickly refused).
Grande is now rescheduling Sweetener tour dates to make the impromptu double-weekend headliner slots work.