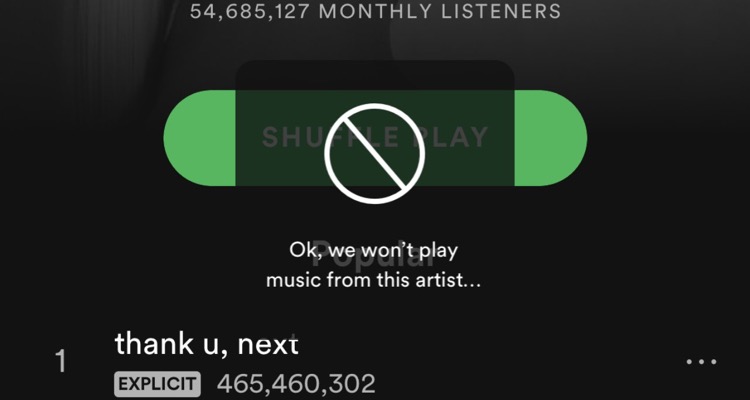 Spotify has made plenty of changes to its platform to enhance discoverability.  But a new feature lets users block artists.
In the latest version of the iOS Spotify app, a new feature lets users select "don't play this artist."
The feature blocks an entire artist from playing across the service. Songs from a blocked artist won't show up in your library, playlist, chart list, or radio stations.
The block feature doesn't work on songs in which the artist is featured.  For example, a Chris Brown block would stop "Look At Me Now" from playing, but not "Freaky," which features Brown's vocals.  But maybe comprehensive blocking will arrive in a future update.
The recent focus on R. Kelly's numerous sexual assault allegations is re-energizing the blocking debate.
A #MuteRKelly protest sprung up on Twitter, and RCA Records recently dropped R. Kelly from its roster.  Previously, Spotify had removed R. Kelly's songs from its curated playlists.  Now listeners on iOS can block the rapper entirely.
Spotify has seriously been considering blocking artists since 2017 — and perhaps earlier.  The streaming giant recently decided not to actively block artists platform-wide, but now appears to be handing the keys to its users instead.
Last year, Spotify attempted to police its selection of music by adopting a controversial 'Hateful Conduct Policy'. Under that policy, music from rappers like XXXTentacion and Kelly were briefly removed from the service.
Spotify reversed that decision after severe backlash from the hip hop community over censorship and a lack of transparency.  With this new blocking feature, Spotify is leaving it up to users to remove offending artists from the service.  That could prove to be the perfect compromise, while avoiding touchy censorship and morality policing issues.
Right now, the blocking feature is only available for iOS users. There's no word on when the feature will be rolled out for Android users.  Apparently, Spotify users have been asking for this basic feature for years.
Spotify also shares its end-of-the-year stats for most popular artists and albums.  Will we see a stat for the most blocked artist on Spotify in 2019?