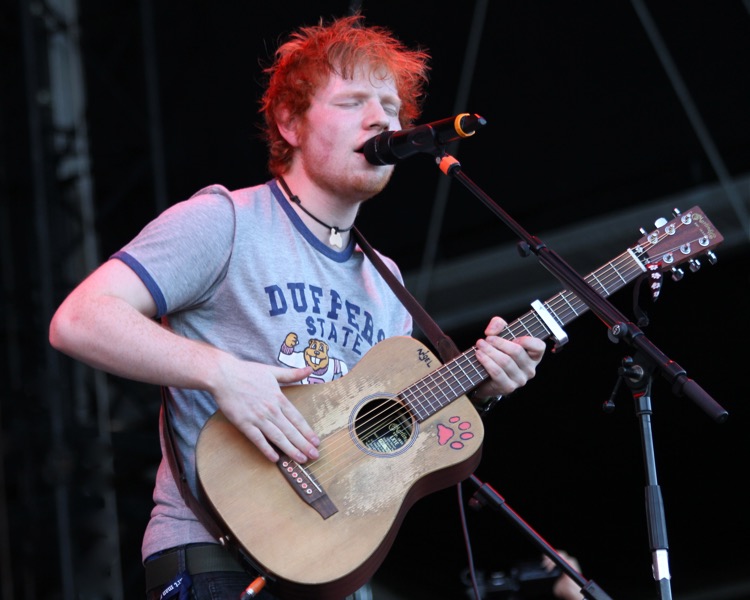 Ed Sheeran made a surprise visit to the National Association of Music Merchants (NAMM) conference in Southern California this week.
The singer-songwriter revealed a new line of acoustic guitars, just like the smaller guitars he uses in his shows.
The new 'Sheeran by Lowden' guitar line is in partnership with Irish guitar maker Lowden. The guitars are based on two of Lowden's existing guitars, but revamped to Sheeran's specifications.
In a promotional video that showcased the new line, Sheeran reveals how he longed for a Lowden guitar as a child.
Sheeran finally got his first model the 'Wee Lowden' in 2013 when George Lowden himself gifted the model to him. The Wee Lowden has been recreated as one of the two designs on offer, with eight total models in the Sheeran line.
Sheeran says he's launching his own guitar line in the hopes that young people will be inspired to pick them up.  At present, guitar ownership among young people is dropping off as a hobby, a major factor in Gibson's recent bankruptcy.
"There are fewer guitar bands and fewer artists using guitars now, and not as many kids picking up guitars," Sheeran stated.  "That is something I would like to change by getting these great quality guitars, made in Ireland, into kids' hands and encouraging them to learn and progress."
Prices for the Sheeran by Lowden range of guitars weren't announced alongside the new line.  But you can bet they won't be cheap.
Lowden works with wood sources to craft its guitars from sustainable material such as old church benches, barn wood, and naturally fallen trees.  The company also claims to work with aerospace engineers to find new ways to make guitars.
Sheeran's worldwide tour hits the road again in February 13th starting in Brazil.  His latest hit, "Shape of You," was recently certified diamond with more than 10 million streams.