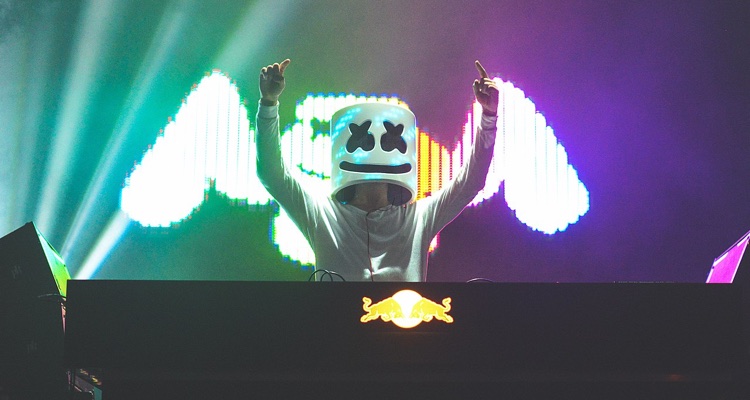 Marshmello's two 10-minute sets in Fortnite are having a ripple effect for the EDM artist's YouTube channel.
With more than 10 million Fortnite players tuning in to the concert last weekend, fans are now turning to YouTube for more.
Marshmello's official YouTube channel's daily views have skyrocketed to 40 million views over the weekend. He is now sitting at #31 on the YouTube Music global artists chart.  The EDM artist moved up eight spots from #39 on the previous week's charts.
The sudden rise in popularity demonstrates that promotion in a hugely popular game like Fortnite can do wonders for artist exposure.  It will be interesting to see if this effect continues into week two after the concert.
Will Marshmello keep rising on the YouTube Music Top Artist chart?
The concert was heavily advertised by Epic Games and Marshmello to Fortnite and EDM fans.  A special map with weapons turned off was created with a stage for the performance.  More than 10 million people watched the performance across the globe.
The event probably generated tons in revenue for Epic Games and Marshmello, too.  Several cosmetic items were released with the iconic EDM artist's branding.  That includes a pickaxe dubbed the "Marshy Smasher," and two new dances called the "Marsh Walk" and "Keep it Mello."
Players could earn the items for free by completing challenges in the game.
You can check out a view of the in-game concert below.
Marshmello's in-game appearance to millions of fans offers a hint at how live concerts could be changed by technology in the future.
The increased exposure — even after the event — suggests that in-game appearances might be the next "big" thing for artists everywhere.
Epic Games hasn't released any details about revenue generated from gamers during the concert. The Marshmello items were free to obtain, but required plenty of play-time to unlock.
Fortnite recently crossed the $2 billion in profit threshold, making it a powerhouse for promotion to millions of players worldwide.