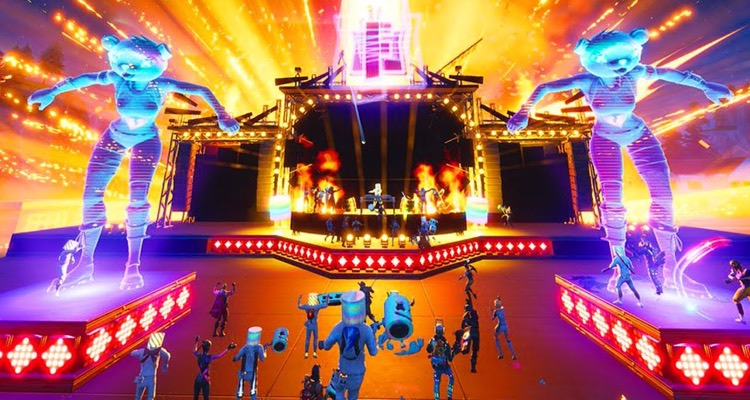 The fascination around music and gaming skyrocketed last weekend with the virtual Marshmello concert in Fortnite.
The following article comes from Beat Fever, a proud partner of DMN.
Boasting 10+ million users, the Fortnite event featured a virtual stage with gravity defying jumps, virtual merchandise and branded skins.
It was only a 10 minute show, but the impact has been far-reaching. Songkick reported more fans looking for tickets on its platform during the past 4 days than the past 3 months combined. Marshmello's YouTube channel received 4MM+ extra views over the weekend following Fortnite.
Plus, the activation drove the most searches for Marshmello in the last 12 months via Google Trends.
For most that read about it, the Fortnite event may have felt like a wild leap into the future of music.
It's actually a natural progression in the global rise of interactive experiences, illustrating the shift in Gen Z from passive consumption to interactive engagement. What is leading the charge? Gaming.
Gaming has been at the forefront of innovating interactive experiences for over 30 years. Estimated at over 2.2 BILLION gamers globally, the audience is playing and growing.
With the Fortnite event, the question is not if Interactive Music is going to take off, it's when.  More importantly, how will Interactive Music impact the entire music system?
What happens when passive listeners who only listen to songs on streaming services transform into active players, engaging with the music? Let's look at some examples, featuring music games and user-generated performances.
In the case of Fortnite, it was an interactive community experience. Users were able to experience "being" Marshmello, floating through the air in zero gravity and all while connected with each other.
Minecraft created the Coachella festival, featuring two stages, a ferris wheel and a slew of artists. Immersing users in a way similar to a festival, showcasing artists with fireworks timed to go off in Minecraft with the drop.
Mobile has seen a massive surge in Interactive Music with the likes of Musical.ly and Beat Fever.
Musical.ly went from idea to music powerhouse by letting teens videotape themselves lip-syncing to their favorite songs. Short clips, combined with personalized dance moves and performances, made music interactive. Users feel like they are part of the song.
Another example of total interactivity via mobile includes Beat Fever. Launched in late 2017 as a mobile music game (think Guitar Hero), Beat Fever has over 9 million players tapping to the beat of a song preview (30-90 seconds) followed by a prompt to listen to the song on Spotify, Apple Music and other platforms, with over 175 million clicks made to-date. By combining your eyes, ears and body, Beat Fever drives a deep connection with songs in a matter of seconds. You feel like you're playing the song, almost creating it.
After launching songs from artists such as Janet Jackson and Daddy Yankee, Beat Fever unveiled virtual listening parties and live shows, making livestreaming interactive. Artists like TI, Mariah Carey and Meek Mill used it to interact with fans in real-time around launch of their albums, seeing "Championships" reach #1 for Meek and "All I Want For Christmas" break records.
The time is right for massive innovation to penetrate the billions.
Fortnite wasn't the first, but they're one of the biggest to shine the light on the link between gaming and music because of their size and reach. With over 2 Billion smartphones on the planet, 2019 should be ripe for mobile platforms to bring music to life in innovative ways.