Despite an apology from Gucci, calls for a boycott against the fashion designer are gaining steam.
It's unclear what Gucci was thinking when it released its near-$900 black 'wool baclava jumper' last week.  The sweater featured a partial face mask that closely resembled racist blackface costumes.
Adding fuel to the fire, the sweater was introduced during Black History Month, and immediately after numerous Virginia political leaders were found applying or condoning blackface.
The lineup sparked an overwhelming response on Twitter, and a rapid apology by Gucci.
"Gucci deeply apologizes for the offense caused by the wool balaclava jumper. We consider diversity to be a fundamental value to be fully upheld, respected, and at the forefront of every decision we make," the company stated.
The product in question was quickly pulled from Gucci's lineup, though several prominent protesters are now calling for a boycott.
That includes rapper T.I., who urged followers to boycott the brand for at least three months.  "If you go against the movement… it won't go unnoticed," the rapper declared.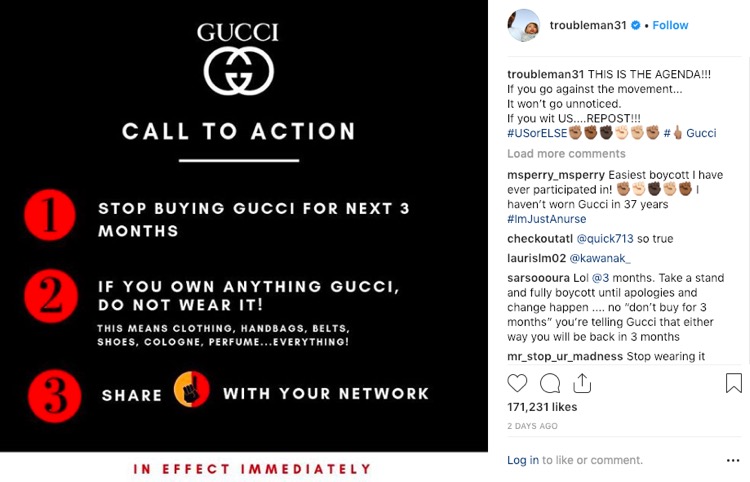 In a separate Instagram post, T.I. was boiling over in frustration over Gucci's design decision.
"We all gotta stop buying, wearing, and supporting this piece of sh*t company and all piece of sh*t companies until they learn to respect our dollars & value our business!!!!" T.I. blasted, while noting that he's "a 7 figure/yr customer & long time supporter" of Gucci.
"Our culture runs this sh*t!!!" T.I. exclaimed.  "We (people of color) spend $1.25 trillion/year (but are the least respected and the least included) and if we stop buying anything they must correct any and all of our concerns."
Soulja Boy also denounced Gucci over the offensive sweater, declaring on Instagram that it was time to 'cancel Gucci' in favor of Fendi.
"Gucci is cancelled," Soulja Boy stated.  "I'm shocked, and I'm appalled, and I feel disrespected.  I supported your brand with hundreds of thousands of dollars, and y'all came out with a shirt with blackface on it."
View this post on Instagram

@gucci
Separately, Spike Lee has denounced both Gucci and Prada for releasing highly-offensive items. The director excoriated Prada for releasing a keychain that closely resembles an infamous sambo doll.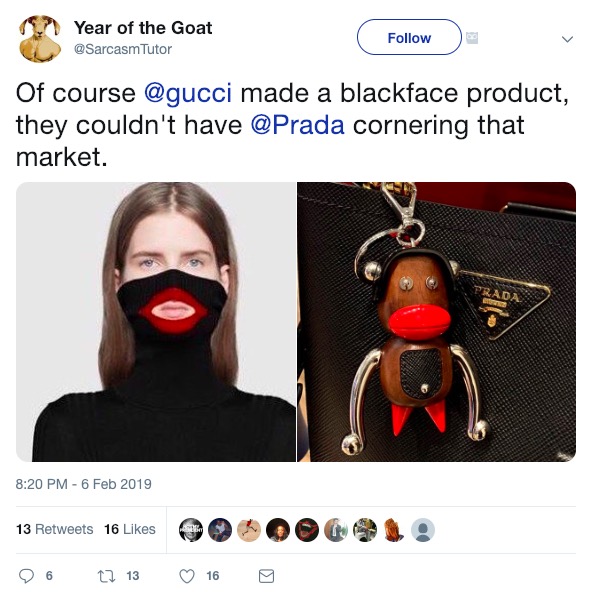 "It's Obvious To Da Peoples That They Don't Have A Clue When It Comes To Racist, Blackface Hateful Imagery," Lee wrote on Instagram.
"WAKE UP."
Separately, T.I. has now expanded his boycott calls to include Prada and Moncler, also accused of releasing a blatantly racist item.
Now, it looks like the broader hip hop community is also taking notice.
At the 61st Grammy Awards, discussion of the mishap continued, suggesting broader action by the hip hop community.  That could spell serious trouble for the brand, given the important cultural impact of rappers and their high-end tastes.