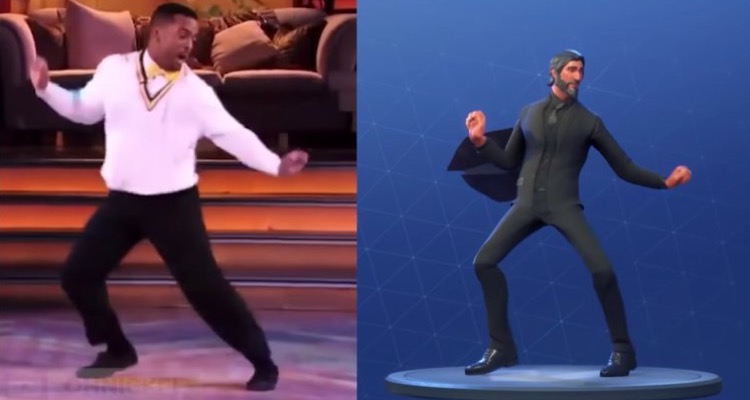 Alfonso Ribeiro recently submitted a copyright registration application for his iconic 'Carlton Dance,' but now he's facing trouble in court.
The dance became famous after Ribeiro's character Carlton performed the moves in an episode of The Fresh Prince of Bel-Air.  The dance has been parodied in games like Fortnite and NBA 2K as an emote that players can perform.
The copyright registration for The Carlton is an essential aspect of Ribeiro's lawsuits against two major game publishers. Ribeiro is suing game studios Epic Games and Take-Two Games for featuring an emote similar to The Carlton in Fortnite and NBA 2K.
Correspondence with the California Office's Performing Arts Division revealed that Ribeiro's copyright registration was refused.  The refusal states that the choreographic work Ribeiro is attempting to copyright is just a "simple dance routine."
"The dancer sways their hips as they step from side to side, while swinging their arms in an exaggerated manner. In the second dance step, the dancer takes two steps to each side while opening and closing their legs and their arms in unison.

In the final step, the dancer's feet are still and they lower one hand from above their head to the middle of their chest while fluttering their fingers. The combination of these three dance steps is a simple routine that is not registrable as a choreographic work."
The dismissal brief points to the fact that the dance was created for a nationally syndicated TV show, and therefore NBC owns the dance rights, if there are any. Ribeiro did not try to copyright the dance when the episode first aired in 1991, "presumably because he knows that he does not own the copyright," the motion states.
"The copyright notice for the episode in which it first appeared … lists solely 'National Broadcasting Company, Inc.' Thus, Plaintiff's copyright claims fail as his allegation that the 'Dance' was created for an episode owned by NBC means that he has not plausibly alleged ownership of a valid copyright."
While Ribeiro's failure to register for a copyright when the dance was new doesn't doom the case, it certainly doesn't look good.
The brief also mentions Ribeiro's submission of his performance, including the dance on ABC's Dancing With the Stars.
The correspondence further calls into question whether Alfonso himself created that entire choreographed work. It mentions the fact that professional choreographers traditionally create dances for their celebrity partners on the show, bringing into question the authorship of the full dance submitted as evidence.
"We question whether the application names the correct author or authors for this work," reads the letter.