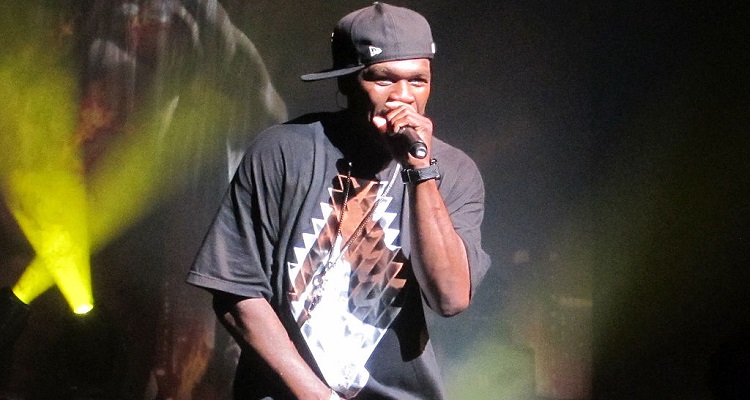 A personal grudge against 50 Cent may cause a decorated NYPD precinct commander to lose it all.
Deputy Inspector Emanuel Gonzalez is now under criminal investigation.  The New York Police Department confirmed the news.
Naming 50 Cent during a roll call, the Brooklyn precinct commander reportedly told officers to "shoot him on sight."
Gonzalez allegedly made the threat on June 7th, 2018.  The rapper would've attended an NYPD-sanctioned boxing match that night in the Bronx.
Hearing the precinct commander give the order against 50 Cent, one unnamed police officer remarked,
"The inspector just said that at roll call.  I'm like WTF."
Since the news went public, Gonzalez has tried to pass the order off 'as a joke.'  He has served at the NYPD for almost 30 years, and remains on active duty.  The unnamed officer said the Internal Affairs Bureau's Group 1 has now opened an investigation into Gonzalez's remarks.  The group handles police corruption cases for captains and above.
50 Cent – real name Curtis Jackson – only discovered the threat yesterday morning.
Speaking about Gonzalez's order on Twitter, Jackson explained that this only underscores the corruption inside the NYPD.
"This is how I wake up this morning.  This guy Emanuel Gonzales is a dirty cop abusing his POWER.  The sad part is this man still has a badge and a gun.

"I take this threat very seriously and I'm consulting with my legal counsel regarding my options moving forward."
A rep for the rapper explained,
"Mr. Jackson takes this threat very seriously and is consulting with his legal counsel regarding his options going forward.

"He is concerned that he was not previously advised of this threat by the NYPD and even more concerned that Gonzalez continues to carry a badge and a gun."
The commander's threat reportedly came during an ongoing feud with 50 Cent.  A month before telling officers to shoot Jackson on sight, 50 Cent had reportedly filed a complaint.  The rapper had allegedly threatened Gonzalez on Instagram.  Jackson claimed the precinct commander shook down the owner of Love & Lust, a local club.
50 Cent wrote to his 18 million+ followers,
"Get the strap.  F—k this commander.  Blast this fool."
This, claimed Gonzalez, left him "in fear of his safety."
Jackson quickly deleted the post.  The NYPD investigated Gonzalez's complaint, but refused to file charges.
The precinct commander also faces a lawsuit from Imram Jairam, owner of Love & Lust.
In the suit, Jairam claims Gonzalez demanded 11 'free' round-trip tickets to Puerto Rico.  He also allegedly asked the owner for a generator for a doctor following Hurricane Maria, which devastated the region.
Jairam claims that after denying Gonzalez's request, the precinct commander 'hammered' the club with violations.  This move allegedly caused the local club to lose its liquor license and ultimately close its doors.
In a statement, Jairam stated Gonzalez "should be stripped of his badge."
"This just shows his personality.  This is a guy who should be protecting us."
---
Featured image by Alyssa Tomfohrde (CC by 2.0).