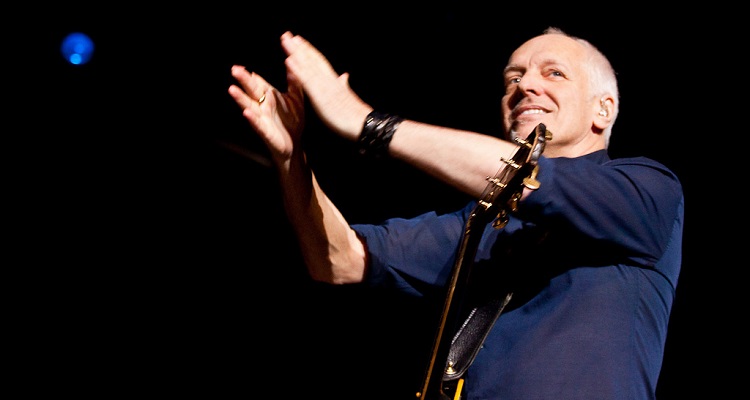 Peter Frampton has revealed his struggle with an incurable disease.
Ahead of the launch of his farewell tour this summer, Peter Frampton has confirmed a new personal struggle.
Speaking on CBS This Morning: Sunday, the rock musician revealed that he is battling with a rare and incurable disease – inclusion body myositis (IBM).  The progressive muscle disorder is characterized by muscle inflammation, weakness, and atrophy (essentially, a wasting away of the body).
IBM usually presents itself in adults over 50.  The rate of progression varies from person to person.
Doctors first diagnosed Frampton with the disease three and a half years ago after he collapsed on stage.  Last fall, he noticed the effects 'speeding up,' leading him to plan his final tour.
Speaking with co-host Anthony Mason, he said,
"The reason I'm calling it the 'farewell tour,' again, is because I know that I will be at the top of my game for this tour, and I will make it through this and people won't be saying, 'Oh you know, he can't play as good.'  I can.  But we just don't know for how long."
Symptoms of myositis include trouble standing up from a chair, difficulty climbing stairs or lifting arms, trouble swallowing or breathing, tiredness after standing or walking, and muscle pain and soreness that last for weeks.
Frampton remains confident that he'll remain at the top of his game for the farewell tour.  Yet, expressing his concern, he added,
"I'm a perfectionist.  I do not want to go out there and feel like, 'Oh I can't, this isn't good'.  That would be a nightmare for me.  It's my passion.  I've been playing guitar for 60 years.  Started when I was eight and now I'm 68.  So, I've had a very good run."
Acknowledging that his family has had a difficult time after the diagnosis, he expressed the unconditional love and support he has received from them.
"I said, 'Look, it's not life-threatening. It's life-changing….'  They've been phenomenal, everyone.  Every one of my ex-wives has been wonderful, I have to say."
That farewell tour will kick off on July 18th in Tulsa, Oklahoma, and will wrap up on October 12th in San Francisco.
For each ticket sold, promoters will donate $1 to the Peter Frampton Myositis Research Fund.
---
Featured image by tleparskas (CC by 2.0).