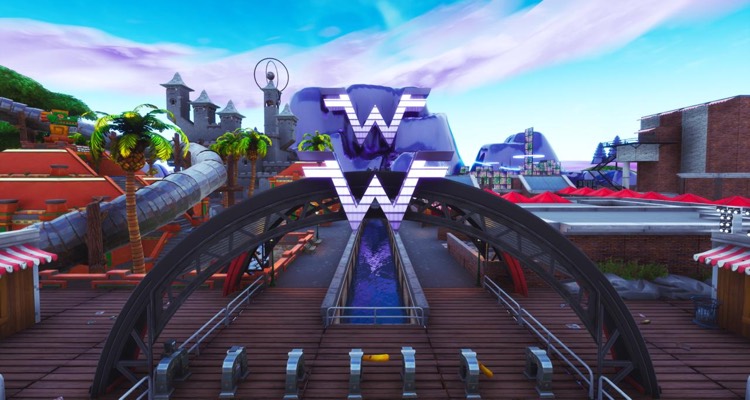 After Marshmello shattered Fortnite player records, we naturally predicted that the game would become a vehicle for music talent promotion.
Weezer is now the next artist to take advantage of this cultural phenomenon for promotion alongside Fortnite Season 8.
The season 8 update in Fortnite includes an entire island dedicated to the band, called Weezer World. The island is a giant Weezer-themed amusement park with several different activities.  These activities can be done solo or as part of a group.
Four songs from the band's new album, The Black Album, are streaming on loop on the island.  Rivers Cuomo has been an avid supporter of Fortnite, so it's no surprise to see Weezer represented in the new season.  Back in 2018, Cuomo tweeted about playing the game with his daughter.
Now, the only question is whether we'll see a digital Weezer concert in Fortnite.
Fortnite continues to remain popular among gamers, but revenues fell 49% in January 2019.
That's partly because EA surprised-launched a competing battle royale style game called Apex Legends.
Other musicians that have been associated with Fornite include Drake, Chance the Rapper, and Post Malone.  Will Fortnite season promotions become a brand-new way for artists to digitally tour?
The Marshmello performance was noteworthy, though Weezer introduces a different demographic.  This broad appeal and launch in Season 8 even has the band's official Twitter account joking, "Fortnite Weezon 8 live now!"
Fortnite Weezon 8 live now!

— weezer (@Weezer) February 28, 2019
Weezer's appearance in Fortnite is probably the biggest digital game promotion since Duran Duran performed in Second Life.
It also speaks volumes about how well music and gaming mix in online communities like these. Twitch streamers often help popularize EDM artists like Marshmello by featuring their beats on stream to an audience of thousands.
But Weezer World in Season 8 of Fortnite may represent a whole new level of collaboration.