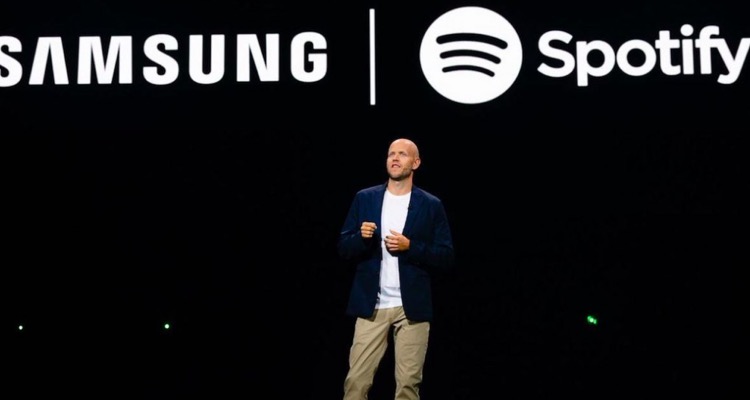 Spotify has expanded its partnership with Samsung, even bundling 6 months of Premium on select Galaxy devices.
Last summer, Samsung officially unveiled a long-term partnership with Spotify.
The new deal would allow the streaming music giant to serve as the 'go-to' music service provider on all Samsung devices.  This would allow Spotify to finally compete with iOS' built-in Apple Music functionality.
Samsung has a vast portfolio.  This includes a growing list of Galaxy smartphones and tablets, smart TVs, the Galaxy Watch, and various Galaxy Home devices.
The aim of the partnership remains to create a built-in 'seamless' streaming music experience for Samsung users.  The company's Bixby voice assistant will use Spotify as the preferred option to find and play music.
Now, both companies have expanded on their long-term partnership.
Catching up to Apple Music.
At around the same time as Samsung's announcement, Apple unveiled its own long-term partnership.
US telecommunications conglomerate Verizon would offer select customers a 6-month subscription to Apple Music.  The new promotion applied only to users on the company's high priced Unlimited plans – Go Unlimited, Beyond Unlimited, and Above Unlimited.
Verizon has since expanded its partnership with Apple Music.  Subscribers on two plans – Beyond Unlimited and Above Unlimited – now have full access to Apple Music.  Go Unlimited users still only have access to six months of Apple Music.
Now, seemingly playing catch-up, Spotify has confirmed the next step in its strategic partnership with Samsung.
Starting today, the streaming music app will come pre-installed on millions of new Samsung mobile devices worldwide.  In addition, customers in the US who purchase select Samsung Galaxy devices may qualify for up to six months of Premium.
Speaking about the announcement, Sten Garmark, Vice President of Consumer Products at Spotify, said,
"This partnership makes it easy for Samsung mobile users to access their favorite music and podcasts on Spotify, wherever they are and however they choose to listen."
Patricio Paucar, Vice President of Marketing at Samsung Electronics America, added,
"Our goal is to deliver the best possible mobile experience to our consumers, and Spotify is the ideal music partner to help us make that vision a reality."
---