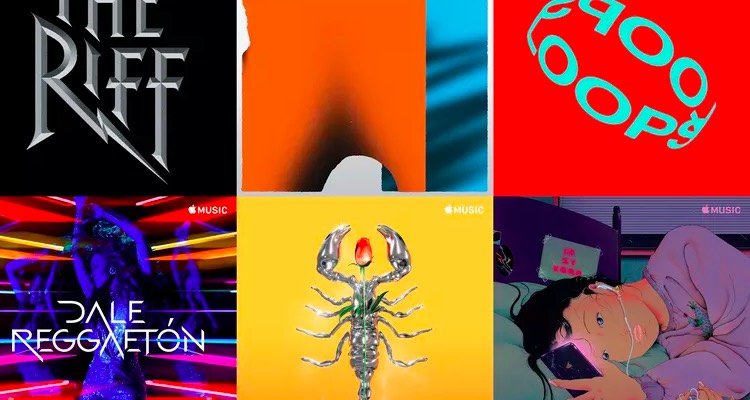 Apple reached out to several high-profile designers of album art, from the creator of the AC/DC logo to the designer of Migos' album, Culture.
Rachel Newman, Apple's global director of editorial, says the new artwork is meant to connect directly with the communities for which it is intended.
Playlists on Apple Music have always had a uniform presentation across genres.  This new visual update gives these playlists a far zippier visual look.
Some of the playlists sporting the updated artwork include Hip Hop Hits, The Riff, and Dale Reggaetón (all pictures above).  The original 'album art' is slowly being unveiled over the next couple of months.
In terms of quantity, Apple is planning to redesign thousands of Apple Music playlists, with only hundreds done so far.  So this is a pretty serious effort.
Apple Music has become the most popular music streaming service in the United States, overtaking Spotify's subscriber count.
Custom playlist art is a great way to differentiate from a competitor that is well-known for its playlist offerings. Spotify often promotes its Rap Caviar playlist, spawning live events and merchandise based on the popular playlist.
But will flashy 'album art' give Apple Music a playlist edge?  Maybe, maybe not, though it certainly won't hurt.  And presentation matters.
Apple contracted Gerard Huerta to design some of the new artwork you'll see for playlists. The Riff's new look is an homage to the classic AC/DC logo Huerta designed, but his name is credited on many more albums. He did lettering for bands like Blue Öyster Cult, Boston, Foreigner, Alvin Lee, and Ted Nugent.
Huerta says he directly drew inspiration from his old work, which is exactly what Apple wanted for these pieces.
Also contracted to design new artwork for the Hip Hop Hits playlist was Stole Stojmenov, who designed the cover for Migos' Culture album.
Apple specifically contacted artists and producers within the genres for the playlists being redesigned.